Latest News from Thorneyholme Road
April 2002 Newsletter

Appointments
Rod Kenyon has been appointed vice chairman in addition to his duties as Chairman of selection.

This seasons men in charge are:
1st XI captain Damian Clarke
2nd XI captain Len Dewhurst
3rd XI captain Dave Kennedy
A Team captain Mick Donnelly
Under 17 captain Mark Croasdale
Under 15 manager Ken Dunne
Under 13 manager Mick Donnelly
Under 11 manager Saf Ali
Scorers
1st XI Lionel Cooke
2nd XI James Ormerod
3rd XI tba
A Team tba
Functions
Last Saturday we held a very successful Chairman's Night at the club. Star turn was our old friend Fizeek, who stepped in at short notice when the original artist was unable to appear. A total of £230 was raised for club funds.
Friendly
Last Sunday we beat Read by 9 runs in a friendly.
Accrington 165-9 Read 156-5
Paul Clifford hit an unbeaten 54 on his debut for the club.
Junior Cricket
There have been some changes to the Under 13s fixtures printed in the Club Membership book. The matches affected are against East Lancs and Lowerhouse. Check the fixtures page for full details. The Under 13s had a great cup win at Burnley on Wednesday. Read Matthew Donnelly's match report.
New players
Paul Barratt will be playing in some matches. Steve Birtwistle, who now lives in Sheffield will be available alternate weekends. All rounder Tofeeq Khan, who played for the club between 1993 and 1996 before joining Enfield returns. Paul 'Cockney' Clifford joins from Rishton, Waheed Hussian from Enfield, Mabs Hussain from Church, Steve King from Rishton and Robert Airey from Church. Robert of course began his career at Accrington. Not playing this season is Mark Demaine. Former skipper Mas Ahmed informed the club last week that he wished to return to his old club Enfield.
Brian Bishop
The club was saddened to hear of the death of Brian Bishop in March. Brian played for the seconds and thirds in the 1960s and 1970s, emigrating to Australia and returning in 1977. Brian holds the club record for most runs in a season, over 500 for the 3rd XI in 1980. Brian also played for the Old Band Club in the North East Lancs League and was the chairman of the NELL for a time.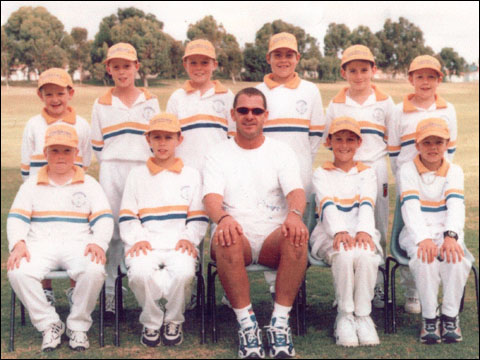 Cockburn CC Under 10s. Josh Stevenson is far left on the back row.
Mark and Dorrinda Stevenson send their regards and best wishes to everyone at the club from Australia. Mark is working for himself and Dorrinda is assistant manager of a retail store.
Mark is coaching Cockburn City Soccer Club's Under 18's side and also Cockburn C.C.'s Under 10 side. Mark attended a match between Western Australia and South Australia at The WACA and met up with former Accrington pro' Ryan Campbell. No fewer than seven former Lancashire League professionals played in the match - Ryan Campbell, Marcus North, Matthew Nicholson and Joe Angel for the home side, with Greg Blewett, Brad Young and Ben Johnson turning out for the visitors.
Alven Burrows will be standing down as cricket treasurer in September
Mechandise
Duncan Warburton is taking orders for cricket sweaters in club colours. Club caps are also available at £8 each and Lancashire League ties, priced at £5 can also be obtained from Duncan. New club pens are also available for only 50 pence.
Great Weather Lottery
Please support the club in raising funds for the future by subscribing to The Great Weather Lottery. For just £1 per week you can win up to £10,000 per day. For details contact Peter Barratt (234666) or Alven Burrows (234897).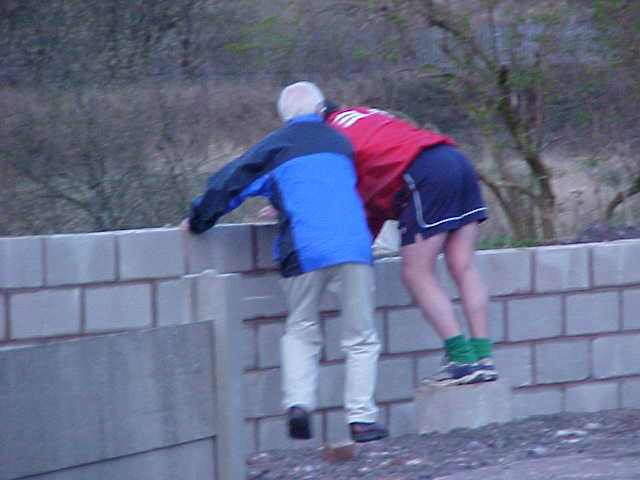 A brief inspection of the wall or are they trying to escape?
New wall
The wall at the Huncoat End is in the process of being rebuilt by Accrington and Rossendale Building Dept 1st and 2nd years.
Thanks
Are due to Wayne Roe for the foundation work on the wall and also to Roy Mills for painting the new gates and also the sightsceens.
New Groundsman
We desperately need a new Groundsman. If you know of anyone who is interested or can help out yourself please contact Peter Barratt 01254 234666.
April 20th Ashraf steps in
April 17th Mas-sive blow for Accrington
April 4th Accrington lose their Prince
February 16th 2002 Accrington sign Ashwell Prince