The road to glory (1911 - 1916)
Accrington's next professional signing was nothing short of sensational. The previous season had seen the arrival of the first overseas professionals at Bacup and Rawtenstall. Alex Kermode and E.B. Dwyer were both Australians who had played county cricket for Lancashire and Sussex respectively. Accrington signed the first international Test cricketer to play in the Lancashire League,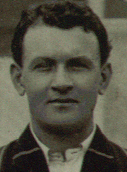 Charlie Llewellyn
Charles Bennett Llewellyn, the South African all rounder. Llewellyn was a forcing left handed batsman, a slow to medium left arm bowler and a brilliant fielder, particularly at silly mid off where he took some amazing catches. Up to this point he had played ten of 15 Test matches for South Africa. From 1899 until 1910, Llewellyn had played for Hampshire scoring 1,000 runs in a season five times. In 1901, 1908 and 1910 he completed the double and on two occasions he scored two centuries in a match. By any standards, in any era, Charlie Llewellyn was a star player. He was 34 years old, a modest unassuming person and an excellent coach. In his time at Accrington, Llewellyn would score 6276 runs at an average of 32.2 and he would take 979 wickets at 10.4 each between 1911 and 1925 in two spells as professional broken by the First World War and resumed in 1921. He scored ten centuries for Accrington and took 100 wickets in a season six times.
Llewellyn at Accrington 90 years on
Inspired
Although he arrived in Accrington on April 13th 1911, Llewellyn missed the first four matches of the season. In spite of this he still managed to create a new club batting aggregate record of 768 runs at an average of 48.0. Billy Ormerod seemed to be inspired by the new professional, engaging in many huge partnerships with Llewellyn over the next five seasons, the first of these being a second wicket stand of 206 against Haslingden on July 22nd, a match that featured Llewellyn's second Accrington century. In each of Llewellyn's first three seasons, Accrington finished in the top four in the league. All this time the younger amateurs like Johnny Pollard and Arnold Chadwick were improving and a new fast bowler Alan Walmsley was emerging from the 2nd XI. Billy Morley from Church and Jimmy Ramsbottom from Enfield joined the club and in 1913, the league's leading amateur batsman George Parker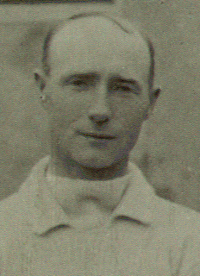 George Parker
left Haslingden for Accrington. The pieces of the jigsaw were finally beginning to fit together. The signing of Parker was a real bonus for the club because even at 38 years of age Parker was still a formidable batsman. George was the only batsman, amateur or professional, at this time, in fact until 1929, to score 1,000 runs in a season in the Lancashire League. He had also scored eleven centuries for Haslingden. With Llewellyn, Parker and Ormerod to call on, Accrington had a formidable batting line up.
Record score
During the 1912 season, Llewellyn had played in the Triangular Test Series in England between the hosts, Australia and South Africa, scoring half centuries against both countries. 1913 was the season that Charlie Llewellyn etched his name in the Lancashire League record books. On July 16th Accrington entertained Bacup in a mid week match, Wednesday being half day closing in both towns. The home side batted first with Australian professional Alex Kermode opening the bowling for Bacup. Llewellyn came to the crease at the fall of the second wicket to join his captain, Billy Brown. When he had scored 15, Llewellyn was dropped at cover. How Bacup would pay for that miss. Llewellyn drove and cut 31 boundaries, being particularly severe on Kermode, to set a new Lancashire League record score of 188 not out. He dominated a sixth wicket stand of 154 with Arnold Chadwick, whose contribution was 22 before Brown declared the innings closed. Kermode finished with 1-105 with Accrington making their highest ever league total. In those days there were no sixes, Llewellyn cleared the boundary on many occasions, under todays conditions he would have made over 200. When Bacup batted, Llewellyn took 5-64, but the visitors managed to hang on for a draw.
Match scorecard
In the last game of the season, at Rawtenstall, Johnny Pollard scored his maiden century for the club. Captain Billy Brown left Accrington at the end of the season to play for Rochdale as professional in the Central Lancashire League.
Champions
In 1914 Accrington finally won the Lancashire League championship. They won 16 games, drew 8 and lost 2 to gave them 40 points, four more than runners up Todmorden. The championship was secured in the penultimate match at home to Colne, one of the best sides in the league. The visitors, acknowledged as being one of the strongest bowling sides in the league, eventually finished third. Colne batted first and were dismissed for 101 with Alan Walmsley taking 6-52. Accrington won the match with three wickets down and batted on to score 269 all out. Llewellyn scored 57, Chadwick 55, Johnny Calvert 41, Cec Fitton 37 and Billy Morley 28. The final game of the season was to be played at Rawtenstall. The Accrington players made their journey to Bacup Road in a state of the art motor char-a-banc, followed by three more carrying officials, second team players and supporters. Wagonettes, taxicabs and tram cars were also used by the enthusiastic supporters. Unfortunately, due to rain, the game was never started, being called off at half past three. It was then that the Presentation Ceremony could begin. League President Dr Crawshaw of Ramsbottom, who was an Accrington man, presented the cup to Accrington captain Jimmy Ramsbottom. During the proceedings, Alderman Dewhurst remarked that he would like to see the team win the league for three years in succession! After the presentation, the triumphant procession made its way home to a champagne celebration dinner at the Commercial Hotel, which was fittingly the Lancashire League headquarters. There had been a tremendous team spirit, led by Charlie Llewellyn who always played for the good of the team, never himself. Alan Walmsley had a marvellous season, taking 44 wickets which included 8-35 against Haslingden, 5-17 at Rishton and 5-19 at Burnley. Llewellyn had scored 700 runs and taken 96 wickets, Billy Ormerod scored 368 runs, George Parker 344, Arnold Chadwick 342, Johnny Calvert 307 and Ramsbottom, Morley and Pollard had also scored over 200 runs each. Johnny Pollard had also taken 31 wickets and David Parkinson had an excellent season behind the stumps. George Wade and Cec Fitton also made useful contributions with the bat and a young Bill Finney made his first appearance in the side.
Photograph of 1914 Championship side
Undefeated
The 1915 season opened against the background of the First World War. Jimmy Ramsbottom and Alan Walmsley were both in the army. All rounder Nathan Smith joined the club from Church and Alec Jackson returned from a professional engagement in Scotland. The campaign was to be even better than 1914, with the team not only retaining the championship, but going through the whole season undefeated, the first time in history that this had been achieved. Accrington won 18 matches and drew the other 8, gaining a record 44 points in the process. The team scored a phenomenal 3,760 runs, two short of Rawtenstall's 1911 record. Remarkably, Accrington only used twelve players throughout the season and this only happened due to Johnny Calvert leaving the area. The team won eleven of the first thirteen games, the other two being rained off against Ramsbottom and Church. Included in this was a remarkable sequence of six completed games when Accrington scored over 200 in five innings for a a total output of 1352 runs for the loss of 38 wickets in the six matches. Four players scored centuries in three matches in a nine day period, Llewellyn (129* and 103), Parker (102*) and Ormerod (106*) as the runs and victories flowed and flowed. As the season drew to a close the relentless Accrington machine steamrollered teams to defeat. With three matches to go, Accrington had still to play Llewellyn's favourite team, Bacup twice. The title was a virtual formality at this point and Bacup were bottom of the table. In the home fixture, Accrington scored 190-6 and Bacup were dismissed for 81, Llewellyn taking 7-27. The return fixture gave Accrington an even more comprehensive victory. The champions made 197 and then Llewellyn took 6-8 as Bacup were bundled out for 21. In his first spell as professional, Llewellyn's performances against Bacup were astonishing:

Home

Away

1912

100

9 - 23

92*

6 - 42

1913

188*

5 - 64

83

5 - 52

1914

18

7 - 23

50*

6 - 45

1915

39

7 - 27

16

6 - 8
The final game brought an easy win over Nelson to give Accrington the championship by a huge 12 point margin from Ramsbottom. League Secretary Mr Barlow presented the cup to captain Arnold Chadwick much to the delight of the huge crowd. During the presentation, there was a suggestion that had Ramsbottom been able to play Accrington (both matches were rained off) they would not have gone through the season undefeated. After the ceremony the players drove around the town, displaying the cup, to the celebration dinner at the Commercial Hotel. Once again a splendid team effort, garnished by some superb individual performances, had made Accrington head and shoulders the best team in the league. George Parker had topped the league batting averages with 580 runs at 41.4, Nathan Smith and Billy Ormerod both topped 500 runs, Arnold Chadwick (366 runs), Billy Morley (261) and Johnny Calvert (172) also made telling contributions with the bat. On the bowling side Llewellyn (107), Alec Jackson (69), Johnny Pollard (17) and Nathan Smith (12) were the only bowlers required.
Photograph of 1915 Championship side
Incredible
The 1916 season was played without professionals due to the War. Before the season started the club were concerned about its bowling strength, having lost Llewellyn and Nathan Smith, who had returned to Church. But as it happened it was the bowling that made the major contribution to Accrington's third successive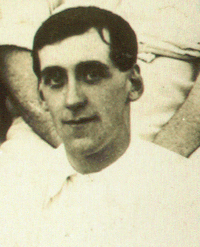 Johnny Pollard
championship. Johnny Pollard and Alec Jackson took an incredible 200 wickets between them with slow left armer Pollard setting a club record of 108 wickets which still stands to this day. Right arm pace bowler Jackson was the perfect foil for his left handed partner. In the first seven matches, Pollard took 39 wickets, claiming five wickets on five occasions and seven wickets twice. He took five or more wickets fourteen times during the season in the 24 matches that he played in. The club extended its unbeaten run to just short of two years, until Ramsbottom won a game they seemed destined to lose at Acre Bottom. Accrington had batted first and scored 146. In reply, Ramsbottom were 87-7, staring defeat in the face. It was then that a spirited display of hitting turned the game their way and Accrington's long unbeaten run had ended. The return fixture was eagerly awaited and proved to be one of the most exciting in the club's history. The club finished the season with 41 points, two more than runners up East Lancs, having won 17, drawn 7 and lost 2 matches. Once again Arnold Chadwick received the cup. In addition to their 200 wickets, Pollard and Jackson both exceeded 400 runs as did George Parker (587) and Arnold Chadwick (450). Billy Ormerod, in his final season, scored 228 runs and Stephen Heys 242. There would now be two years without Lancashire League cricket.
Photograph of 1916 Championship side
Between the wars(1919 - 1939)
Rockin' and rollin' into the 50s (1940 - 1958)
Champions again (1959 - 1964)
Rising stars (1965 - 1973)
The Worsick Era (1974 - 1983)
The Bumble is back (1984 - 1989)

Put to the Test (1990 - 1999)
The New Millennium (2000 - 09)

Back to Earth (2010- )
Factfile
Junior Success
Accrington and District League Days
Early Days (1846 - 1890)
In league with the best (1891 - 1910)