Between the wars (1919 - 1939)
On the resumption of league action in 1919, Accrington signed George Leach the former Sussex middle order batsman and right arm fast medium bowler as professional. George had two seasons with the club, helping it to third place in the league in 1919 when he took 108 wickets and scored 602 runs. Accrington also retained the Hacking Cup, a forerunner to the Worsley Cup, in 1919 by defeating East Lancs in the final. The club had also won the trophy in its first season, 1917. As Accrington roared into the 1920s the team was changing. The championship side was breaking up with Billy Ormerod retiring, Arnold Chadwick living in London, George Parker coming to the end of his career and both Johnny Pollard and Alec Jackson leaving to take up professional appointments in other leagues. New names were emerging like all rounder Stansfield Smith, batsman Johnson Moore, son of John, slow left armer Dick Eddleston and wicketkeeper Jim Inman.
The club's first season in the open Worsley Cup was quite a successful one with Accrington reaching the semi final, losing to eventual winners Nelson. The club's first match in the competition was at home to Burnley on May 5th. The visitors were bowled out for 58 with Leach taking 6-27 and Jackson 4-26. Johnny Pollard hit an unbeaten 21 in Accrington's 6 wicket win. A home tie against Rishton was next up with Accrington winning by 11 runs. Billy Brown returned to stand in for Leach as professional and he top scored with 30 as Accrington made 134. Pollard took 4-35 and Jackson 3-22 as Rishton were bowled out for 123. An August Bank Holiday Monday trip to Seedhill was going to plan when the home sides brittle batting line up was dismissed for 95 but home professional Geary and Alf Pollard took 5 wickets each to destroy Accrington for 50. Only Jim Inman with an unbeaten 19 made double figures as Accrington's innings ended in less than an hour.
Opening batsman Bill Finney was growing in stature, scoring his only century at Church in 1925 when he totalled 562 runs for the season. Charlie Llewellyn returned in 1921 for his second five year spell, still capable of playing big innings and also taking 100 wickets in three more seasons. In 1924, Accrington reached the final of the Worsley Cup, playing Colne in a much postponed game. Colne batted first and scored 118 and then bowled out the home side for 67. At the end of the 1925 season, Accrington had finished fifth in the league. Llewellyn was now 48 years old and the club had to look elsewhere for a professional for 1926.
The fastest bowler in England
More overseas professionals were now coming in to the Lancashire League, although interestingly two former Accrington amateurs were engaged by league clubs in the mid 1920s. Johnny Pollard signed for Enfield in 1924 and Haslingden engaged Billy Brown for 1923 and 1924. For the new season Accrington signed the man regarded as the fastest bowler in England, Harry Howell from Warwickshire. Howell was 35 years old, right handed and had played in 5 Test matches for England. He took 87 wickets at 8.1 each and scored a brilliant century against Bacup but unfortunately he did not complete the season and the club had to engage several substitutes. In spite of this the team finished in fourth position in the league and there were several highlights also. Alec Jackson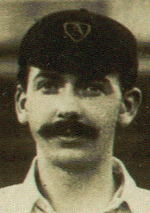 Alec Jackson
(107) and Stan Smith (80) both made their best scores for the club in a 183 runpartnership against Church and Bill Finney scored an excellent 72 not out in the Worsley Cup win over Church. The following season, the club turned to a different type of player, a young inexperienced left arm spin bowler called Hedley Verity from Yorkshire. Although Verity was to go on and play 44 Test matches for England, the first of these in 1931, he did not have a successful season with Accrington. He scored only 95 runs, 24 of these in the first match at Bacup, and took 67 wickets at 13.1. The low point in the season was the debacle at Lowerhouse when Accrington were dismissed for 9, seven players including Verity failing to score. Around this time outstanding amateurs, apart from those mentioned previously, were few and far between. In 1927 the club celebrated its Golden Jubilee at Thorneyholme Road and to mark the occasion, former Accrington player S.M. Holden produced a book chronicling the events and characters in the club's history up to that point in time.
Quite a character
William Abel succeeded Verity for the 1928 season. Abel played for Surrey from 1909 until 1926. He was a hard hitting right handed batsman and a medium pace bowler. Abel was also professional for Colne in 1927 and had what was described as 'a peculiar flourish when batting which makes him very interesting to watch.' He took 80 wickets at 19.8 and scored 380 runs at an average of 18.1 as the club rose to seventh place in the league. In 1929 and 1930 Abe Waddington, the former Yorkshire and England left arm medium fast bowler was Accrington's professional. Abe was quite a character and he was very popular at the club. On one occasion with Accrington making slow progress in passing the Church score he ran out to bat at the fall of a wicket, without pads on and made the winning hit off his first ball.
Bradman
A last minute withdrawal by the signed professional left the club with a major headache prior to the 1931 season. Pat Morfee from Kent, the former Nelson and Todmorden professional who had also helped the club in 1926, was signed as professional. The club finished in twelfth place in the league and once again drastic action was called for. In August 1931 Accrington offered terms to the number one batsman in the world, Don Bradman.
Former Accrington captain Ronnie Laughlin, had just made his Lancashire League debut in 1931 when the Accrington Secretary Gideon Holgate made the 22 year old Bradman an offer reputed to be worth £500 a season to sign a three year contract.
Ronnie recalled: "Gideon Holgate felt that Bradman was very interested in coming to Accrington. In those days, communication was by cable and that took some time. Gideon felt that it was only the delay in cabling that caused Bradman to change his mind. He was about to get married and he talked it over with his bride to be. I don't think that sponsorship came into it. There was no such thing at the time. Being a Bank Manager, Gideon was very aware of the financial implications. I believe he approached the cotton mill owners in the town to ensure that enough people would support the club would to cover any losses."
Weeks of speculation ended with the following telegram:
'Regret decline offer. Appreciate pleasant nature of negotiations.
Writing full details, Badman.'
If Bradman had come to Accrington, he would have broken his touring contract with the Australian Board of Control, which prevented him from playing for an English club before 1932.
There is some speculation that Learie Constantine had some involvement in the approach to Bradman. Constantine was professional at Nelson at the time and had just been on the West Indies first tour to Australia in 1930 - 31 and played against Bradman in the test matches.
Ronnie Laughlin had another near miss with Bradman in 1958, whilst in Australia on business: " The company that I worked for needed someone to go out to Australia and I was the only director who wasn't married at that time. I had to visit all our agents in the five Australian cities. When I was in Adelaide, I checked in to the South Australia Hotel. I discovered that Don had checked out of the hotel half an hour before I got there."
Overseas professionals had become more and more common in the Lancashire League in the 1930's and although Accrington were disappointed that Bradman didn't decide to join the club, Ronnie Laughlin was impressed with the Australian who eventually did sign for Accrington, Alan Fairfax from New South Wales.
"Alan Fairfax was probably the leading all rounder in the world at the time. He was just as exciting a batsman as Bradman, coming in at number five for Australia and he opened the bowling as well. In those days, you needed to have a bowling professional to be successful. He definitely made a better Lancashire League professional than Bradman would have done," said Ronnie.
Disappointing
In his two seasons at Accrington, Fairfax's bowling was a little disappointing totalling 94 wickets in all but his batting was at times brilliant. After a slow start Fairfax scored three centuries in 1932, the last one against Learie Constantine's Nelson at Accrington is reckoned to be one of the best ever played for Accrington. Every time that Constantine bowled short, Fairfax cracked the ball to the boundary with ease in a superlative exhibition of stroke play. The following season, Fairfax created a new batting record for the club in scoring 952 runs at an average of 52.9. After leaving Accrington Fairfax moved down to London where he opened an indoor cricket school. During the 1930s the bulk of the amateur bowling was done by Dick Whittaker, a medium paced outswing bowler signed from Enfield in 1930. In his eleven seasons with Accrington he was leading wicket taker in nine of them, taking 485 wickets in all at an average of 15.8. In 1935, he bowled an unchanged spell of 36 overs against East Lancs, taking 5-58. Dick was also capable of a swift 30 or 40 with the bat and in his first season at the club in 1930 he scored 331 runs at an average of 25.5. Another player who joined the club from Enfield was Bert Walker, an early order batsman who shared in a 127 run opening partnership with Bill Finney in 1935 against Constantine's Nelson. Walker enjoyed sixteen seasons at Accrington, scoring just short of 4,500 league runs for the club.
Runners up
Accrington's next professional was Dick Tyldesley, the former Lancashire and England slow bowler who had two seasons with the club. Tyldesley took 1509 wickets in his First Class career, which included seven Tests between 1919 and 1931. He then had two seasons with Nantwich, taking over 100 wickets in both, a tradition that Dick continued in his first season at Accrington when he took 103 wickets at 10.6, leading the club to runners up spot in the league behind Nelson. The champions proved to be a cut above Accrington at Seedhill on May 11th dismissing the visitors for just 12 with Constantine taking all 10 wickets for 12 runs. Johnny Pollard, in his last full season before retiring, took 33 wickets, George Higgins 35, Dick Whittaker took 55 and Bill Finney scored 529 runs as the club enjoyed its best season since 1916. The following season, another old boy returned to play out his career, Billy Brown, as Accrington enjoyed a run to the Worsley Cup Final. In the semi final Accrington had to travel to Haslingden. The home team batted first and scored 155, a total passed by the visitors thanks to Bill Finney who scored 88 not out. The final was played at Accrington with Todmorden the opposition. The visiting professional was Fred Root, the former Leicestershire, Derbyshire, Worcestershire and England player, who regularly took over 100 wickets per season in league cricket. Todmorden batted first and reached 133-3 when their innings was suspended in accordance with the rules. Accrington were dismissed for 78 with only Tom Walmsley (24) and Bert Walker (17) making double figures, Fred Root taking 8-32. No doubt the headlines in the local Todmorden press would read 'Root routs Accrington!' The club finished the season in ninth place in the league with Dick Tyldsley taking 96 wickets.

Barn door Bailey
The club's professional for the next three seasons was Jim Bailey from Hampshire, who was like Charlie Llewellyn, a left arm slow bowler and a left handed batsman. Known as 'Barn door Bailey,' Jim was a solid opening batsman who was very stubborn and difficult to dislodge. He had an unusual career in County Cricket, playing for Hampshire from 1927 to 1933 and returning for a second spell from 1938 to 1952 when he became the last Hampshire player to date, to complete the double, which he achieved in 1948 at the age of 40. Bailey left Hampshire after 1933 to qualify for Middlesex, but abandoned that in the face of strong competition from fellow left arm spinners Jack Young and Denis Compton. It was then that Accrington stepped in to sign Bailey for the 1936 campaign. In his first season he scored 384 runs and took 81 wickets as the team finished 11th in the league. In the Worsley Cup, however, Accrington again enjoyed a run to their third final, defeating Rishton, Church and East Lancs en route. The final was played at Rawtenstall on Tuesday and Wednesday August 25th and 26th.
Worsley Cup winners
Accrington captain Tom Walmsley won the toss and elected to bat on a perfect looking wicket. Bill Finney and Bert Walker put on 88 before both departed in quick succession. Wickets tumbled regularly until Bailey and Harold Parmley steadied the ship to take the score to 130-6 when the innings was suspended. When Rawtenstall batted, Jim Bailey, bowling medium pace, and Dick Whittaker were the opening attack. The home side lost Hitch at 15 to Bailey and when Whittaker claimed professional Archie Slater and Hargreaves both l.b.w., Rawtenstall were 61-3. Parmley dismissed Howarth and when Bailey returned to bowl his spinners, he soon bowled Taylor to have Rawtenstall 84-5. Play continued until 7.30 when Rawtenstall closed with 7 wickets down, having passed 100. On Wednesday they carried the score up to 130 without further loss when the innings was suspended. When Accrington resumed their innings they soon lost Parmley to be 132-7 with much resting on Jim Bailey. Young Ronnie Fitton joined him and together they put on 34 much needed runs until both fell within 6 runs of each other to leave the last pair at the crease. Whittaker and Bill Hartley ground out 26 vital runs until Slater dismissed Hartley to leave Rawtenstall requiring 69 to win with 3 wickets remaining. Whitehead and Coupe edged along cautiously until Ronnie Laughlin was recalled to the attack. Laughlin, who had claimed Cowell's wicket the previous evening, mopped up the tail to register figures 4-8 in 5.5 overs as Rawtenstall were all out for 160. Accrington had won their first trophy since 1916 much to the delight of their vociferous supporters.
Match scorecard
Records galore
The following season, Jim Bailey became the first English professional to score 1,000 runs in a season as he smashed club records galore. Six times in succession Bailey scored half centuries out of a final total of eleven in the season. He also broke Alan Fairfax's club record batting aggregate by scoring 1,050 runs. In spite of this the club finished bottom of the table with only two wins all season. Around this time three young batsmen were emerging who were to be the backbone of the amateur batting line up until the late 1950s and beyond: John Marsland, Les Carter and Lindon Dewhurst. Jim Bailey began the 1938 season with a mountain of runs. In the first game of the season at Lowerhouse, Bailey (118) and Les Pilkington (64) put on a club record opening partnership of 179 against their old adversary Fred Root, now professional at Lowerhouse. Would the headlines in Tuesday's Accrington Observer read: 'Accrington rout Root' as poor old Fred took 1-67 in his 19 overs.

1939 saw the introduction of the 8 ball over in the Lancashire League and Jack Iken to Accrington. 21 year-old Iken was qualifying for Lancashire having joined them from Staffordshire. The county loaned him to Accrington as match professional but during the course of the season Lancashire called on him several times at weekends meaning the club had to recruit substitute professionals. Iken scored 591 runs and took 53 wickets as his great enthusiasm for the game rubbed off on his tea-mates. This brilliant close to the wicket fielder was to enjoy great success in the years to come with Lancashire. In his First Class career with Lancashire he scored 17,968 runs with 27 centuries and took 339 wickets with his leg breaks. The left handed Iken also played in 18 Tests for England between 1946 and 1955. In 1958 he returned to Staffordshire until his retirement in 1958. In 1939 Accrington finished in seventh position in the league. As the season drew to a close the dark shadow of a Great War once again descended on the world.

Rockin' and rollin' into the 50s (1940 - 1958)
Champions again (1959 - 1964)
Rising stars (1965 - 1973)
The Worsick Era (1974 - 1983)
The Bumble is back (1984 - 1989)
Put to the Test (1990 - 1999)
The New Millennium (2000 -2009)
Back to Earth (2010- )
Factfile
Junior Success
Accrington and District League Days
Early Days (1846 - 1890)
In league with the best (1891 - 1910)
The road to glory (1911 - 1916)