In league with the best (1891 - 1910)
Encouraged by the success of the Football League, formed two years previously, the annual conference of local Lancashire Cricket Clubs, held at Mr James Sutcliffe's Bull Hotel in Burnley in October 1890, agreed to adapt the league principle to cricket in the area. Representatives of the thirteen clubs decided to call it the North East Lancashire Cricket League. In its first season the winners of the league could not be settled on points. Due to the fact that most clubs had already completed their arrangements for 1891 it would not be possible for all the clubs to meet each other, so the winners would be decided on a percentage of possible points. Clubs would only be allowed to have two professionals, unless they had already engaged three, in which case their opponents would be allowed to engage extra assistance. G.W. Briggs of Leeds was enlisted as Willis Cuttell's partner for the 1891 season. Briggs was a very erratic bowler who enjoyed little success and by mid season the club had parted company with him. George Walton of Leicestershire stepped in until the end of term. In their first season of league action, Accrington finished bottom of the table having played 20, won 4 and lost 9 which equalled 37.5%. East Lancs were champions having played 13, won 6 and lost 1 which equalled 69.23%. The league meeting held at the Commercial Hotel, Accrington on 16th March 1892 decided to change the name to the Lancashire Cricket League.
Lancashire League
With Willis Cuttell having signed for Nelson, Accrington turned to Leicester born batsman William Tomlin to partner his county colleague George Walton for the 1892 campaign. The club's first game in the Lancashire League was at Rishton on April 23rd. The home side batted first and made 94 all out. Johnny Bank returned the best bowling figures with 3-8 off 5 overs. Accrington won the game with some ease, finally making 131-6 with Tomlin scoring 97 not out.
Match scorecard
Play in the early days of the league continued until 6pm even if a result had been achieved earlier. Sometimes a second innings was commenced although performances from subsequent innings were not included in the averages. The first nine games yielded seven victories and two losses, including an early season double over Enfield, the second of which included a remarkable bowling performance by a substitute. Walton and Tomlin were required by their county, so Accrington engaged Yorkshire off spinner Saul Wade as substitute professional. Enfield needing 55 to win, were dismissed for 14 with Wade taking 7 wickets for 6 runs in his 6 overs. Saul's services were required several more times during the season and on one of these occasions, against Lowerhouse on July 23rd, he scored one of the first Lancashire League centuries (104 not out). The home game against Church the previous week was a nail-biting affair. George Walton took 9-24 to dismiss the visitors for 41 but when Accrington batted they were bowled out for 38. Rivalry between the two clubs, even to the present day, has always been quite intense. A tradition carried out for many years, until 1975 when the law stepped in, was the whitewashing of the scores on the boundary wall on what is now Blackburn Road. So serious was the rivalry in the 1890s that in 1893 the Church supporters ambushed their counterparts. When they arrived to tar out 1892s defeat and replace it with victorious whitewash the Accrington supporters were stoned. The latter half of the 1892 season was not a happy one for Accrington, they lost their last eight games to finish the season in 10th place with 18 points.
Impressed
So impressed were Accrington with Saul Wade that they signed him up for the 1893 season along with John Beaumont the former Yorkshire and Surrey fast bowler. Beaumont was 38 years-old with a high action which enabled him to extract steep bounce from helpful wickets. In his one season with the club, he took 94 wickets but only scored 137 runs at an average of 5.2. For Saul Wade, however, this was to be the first of many full seasons at Accrington. Although he was not engaged for the following season, Wade returned as an amateur in 1897 and continued in this capacity until 1904. During his time at Accrington, he scored 2058 runs and he took 94 wickets. In 1910, Saul Wade scored 49 against Accrington when playing for Church. Johnny Bank had the distinction of being the first amateur in the Lancashire League to score a century when he made 111 not out at Rishton on July 8th 1893. John Redfearn of Yorkshire and home grown Fred Whittaker were the 1894 paid men. Neither player could bat but Whittaker did take 68 wickets and resolved to return as an amateur when league rules allowed, in 1896. The club had had four poor seasons of league cricket and the 185 members demanded better. The club decided to sign a top class player to revive interest. Jack Mee from Nottingham was engaged for 1895 along with Yorkshireman Walter Taylor. This proved a successful combination, Accrington being runners up to Nelson. Team members at this time included Johnny Moore (captain), Bobby Horne, Johnny Bank, Bobby Clegg, Enoch Hacking and S.M. Holden.
Controversial
Jack Mee's partner in 1896 was another Yorkshireman Johnny Briggs who regularly didn't turn up for matches and was dismissed in August. After several years of trying to sign him, Walter Hall of Derbyshire was finally secured for the following season. Hall was a lower order right handed batsman and a right arm medium pace bowler with a low action, able to extract lift and movement from the wicket. He was considered one of the finest league professionals of his time. In his first season at Accrington, he took over 100 wickets, just as Mee had done in 1895. The best game of 1897 was at Todmorden. The home side declared at 5pm on 202-9 leaving Accrington 95 minutes to get the runs, which they did for the loss of 2 wickets, Walter Hall scoring 87 not out and J.F. Knutton 80 not out. During the season there had been problems with Jack Mee and he was not re-engaged. His replacement was controversial Yorkshire and England left arm spinner Bobby Peel, who had been sacked by Yorkshire for being drunk on the field. Not surprisingly Peel only lasted one season to be replaced in 1899 by medium pacer Alfred Eldridge who had played for Glamorgan and Wiltshire although he came from Kent. From 1900 onwards clubs were only allowed one professional and for Accrington that could only be Walter Hall. The club's amateur strength was now increasing, Billy Ormerod from Church (1898) and Harry Heaton from Colne (1899) were both to prove highly successful amateur batsmen, capable of scoring heavily and consistently. Young all rounder Jack Finney was emerging and Jim Ingram, former Enfield professional joined the club from Church. This improvement in amateur standards along with the success of Hall, who from 1900 to 1902 took over a hundred wickets a season, including a record breaking 126 in 1901, meant that Accrington were now one of the leading clubs in the league. The club's amateur batting aggregate record regularly changed hands between Billy Ormerod and Harry Heaton, increasing it to over 600 runs for the first time. Jim Ingram became the first Accrington amateur to take 50 wickets in a season, a feat he achieved in 1902.
Local derby
In the local derby at Church in 1901, Jack Finney scored a club record 149 and then took 5-26 in a big win for Accrington. The 1901 season though really belonged to Walter Hall. His 126 wickets were achieved in only 23 matches, as three were rained off. Four times he took eight wickets in a match, twice he took seven, six times he took six and three times he took five to give him a total of 126 wickets at 7.6 runs per wicket. On no occasion that season did Hall take less than three wickets in a match. The following season, the devastation continued. Haslingden were bowled out for 11 (Hall 6-3), Nelson for 13 (Hall 8-12), Enfield for 14 (Hall 4-11), Church for 28, Bacup for 38 (Hall 8-21) and East Lancs for 46 (Hall 6-23). In the tied game against Rishton, Walter took 9-44. The season yielded exactly 100 wickets for him as Accrington were runners up in the league. The following season though, the club slipped down to 5th place, the amateurs didn't perform as well as in 1902 and Hall only took 65 wickets, so a new professional was sought for 1904.
Ben Taylor was engaged and enjoyed two seasons with the club, taking 101 wickets in his first season and 72 the year after. The highlight of Taylor's spell were two outstanding achievements by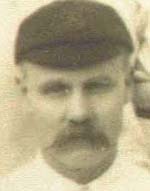 Billy Ormerod
Billy Ormerod.
In 1904 he raised the amateur batting aggregate record to 643, a total that stood until Graham Beech broke it in 1977, and in 1905 he achieved a record score for the club of 169 not out against Haslingden at Accrington on June 12th. This innings is still the highest on record at the club for an amateur and has only been bettered by Charlie Llewellyn's 188 not out in 1913.
Languishing
Left arm medium pace bowler George Littlewood was professional between 1906 and 1909 enjoying some success with the ball, but very little with the bat and as a result Accrington were languishing in the lower reaches of the league. Positive action was needed. The club signed Tom Rushby the Surrey right arm fast bowler, who in 1909 had taken 119 wickets for his county. This created great excitement in the town. Unfortunately, Rushby and the committee didn't always see eye to eye and after a season in which he took 109 wickets at 7.2, he returned to his native county. Around this time the young amateurs emerging were all rounders Johnny Pollard, Alec Jackson and Billy Brown and left handed middle order batsman Arnold Chadwick. A new era was about to begin.

The road to glory (1911 - 1916)
Between the wars(1919 - 1939)
Rockin' and rollin' into the 50s (1940 - 1958)
Champions again (1959 - 1964)
Rising stars (1965 - 1973)
The Worsick Era (1974 - 1983)
The Bumble is back (1984 - 1989)
Put to the Test (1990 - 1999)
The New Millennium (2000 - 09
Back to Earth (2010- )
Factfile
Junior Success
Accrington and District League Days