Shane Warne
Friday March 4th 2022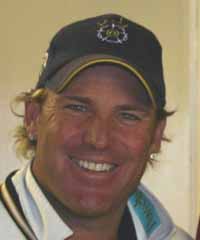 Shane Warne
©Nigel Stockley
Former Accrington professional Shane Warne has passed away suddenly at the age of 52.
Warne had one season at Accrington in 1991 before going on to become one of the greatest players in the game.
After retiring from international cricket in 2007, he continued to play T20 franchise cricket until 2013 and then worked in the media in addition to holding coaching roles at T20 franchises.
Accrington Cricket Section Chairman Len Dewhurst said: "I cannot believe the news regarding Shane Warne.
"Shocked is an understatement.
"Only last Saturday the likes of Martin Whittle, Damian Clarke, Dave Parsons and myself were all out celebrating with Neil Holmes for his 50th birthday, talking about the good times and memories of Shane amongst others.
"I am truly saddened.
"All our thoughts and prayers are with Shane's family."
In his season at Accrington he enjoyed a good season with the ball, taking 73 wickets at 15.4 each, but he only scored 330 runs at 15.0
Shane's most memorable performance was in the Matthew Brown Worsley Cup 1st Round win over Ramsbottom at Thorneyholme Road. Accrington batted first and made 166 all out. Ramsbottom seemed to be coasting home at 78-0 when Accrington captain Andy Barker, after trying five different bowlers, turned out of desperation to Nick Marsh who had never before taken a wicket at 1st team level. Marsh obliged by having Ian Bell caught behind by Mick Wilson for 43. Even though Shane Warne dismissed Ashworth at 94, it seemed a mere hiccup. Rain intervened and play closed at 107-2 after 32 overs.
Play resumed on the following evening with Ramsbottom needing 60 runs to win off 18 overs with 8 wickets remaining. Martin Whittle dismissed Heaton and Simpson and then Shane Warne returned to have Brian Taylor stumped by Wilson without scoring. In a superb spell, Warne dismissed both Bryson and Dearden to leave the game in the balance. With one over to go, Ramsbottom needed 9 to win with 3 wickets left. Warne's first three balls beat the bat but Fielding hit the fourth ball for six. In trying to repeat the shot, Fielding was stumped by Mick Wilson to leave Ramsbottom needing 3 to win off the last ball. Warne's delivery was missed by Haslam to give Accrington an unlikely first win of the season.
Accrington went out of the cup in the next round at Burnley when Warne (51) scored his first half century for the club. Illness and abandoned games meant that Shane only played in one more game before June 29th, the first league win of the season against East Lancs at home when he took 4-44. The break seemed to do him good because in his next two games he took eleven wickets, 6-63 at Rishton and 5-35 at Ramsbottom, but unfortunately the team weren't winning. The second victory of the season was at home to Enfield with Warne taking 2-36. He also enjoyed a good game at Rawtenstall, taking 6-49 and scoring 33. The beginning of August at last brought another win, again at home, with Warne taking 5-36 against Colne. He also took 5-69 at Bacup the following day, but once again Accrington were beaten. In the next double header a fortnight later, Warne took 9 wickets, 4-58 against Rishton and 5-50 at Haslingden when he also scored 51. Colne were again defeated the following week when Warne took 6-33. Shane was called home early to prepare for a forthcoming tour, so he played his final two games for Accrington in the last weekend in August. He took 6-27 at Lowerhouse and the following day at home to Burnley, he took 1-72 in 20 overs and scored 27, batting at number four.