Player Profiles
Shane Warne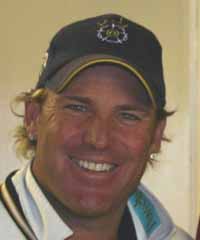 Shane Warne
©Nigel Stockley

Date of birth: 13th September 1969
Place of birth: Ferntree Gully, Victoria
Batting style: Right handed lower order
Bowling style: Right arm leg spin

Profile:
The committee at Accrington Cricket Club could never have envisaged that the man they decided not to re-engage for the 1992 Lancashire League season would some 15 and a half years later announce his retirement from Test Cricket as not only the leading Test wicket taker of all time, but also arguably the greatest bowler that the World has ever seen.
Shane announced his retirement from Test cricket after playing a leading role in regaining the Ashes for his Australian team after comprehensively winning the first three Tests of the 2006-7 series.
He'll never be the same again they said. The years have taken their toll they said.
At the age of 34, after being out of the game for 12 months after taking a banned diuretic, Shane Warne returned to Test Cricket in Sri Lanka in March 2004.
His performances since his return in February had been modest to say the least and at the end of the second days play in Galle, Warne had figures of 2-110 as his side were under the cosh. Bowled out for 220, the Aussies were struggling to halt the Sri Lankans march to almost certain victory on a spinning wicket as the hosts swept to 352-6, 132 in front. Who would have believed that three days later, Shane Warne, the 'Man with the Midas touch' would walk off the field a match winner once again with 10 wickets under his belt, including his 500th Test Match wicket.
Who said there would be no fairytale ending this time?
The man who made leg spin bowling popular again is rightfully acknowledged as the best at his art there has ever been. Leg breaks, flippers, googlies and top spinners imparted with great spin and accuracy make Shane Warne the complete bowler.
After retiring from international cricket in 2007, he continued to play franchise T20 cricket until 2013 and then he worked in the media.
Shane passed away suddenly at the age of 52 on March 4th 2022 on the Thai island of Koh Samui.

Shane Keith Warne was professional at Accrington in 1991. He enjoyed a good season with the ball, taking 73 wickets at 15.4 each, but he only scored 330 runs at 15.0
Shane's most memorable performance was in the Matthew Brown Worsley Cup 1st Round win over Ramsbottom at Thorneyholme Road. Accrington batted first and made 166 all out. Ramsbottom seemed to be coasting home at 78-0 when Accrington captain Andy Barker, after trying five different bowlers, turned out of desperation to Nick Marsh who had never before taken a wicket at 1st team level. Marsh obliged by having Ian Bell caught behind by Mick Wilson for 43. Even though Shane Warne dismissed Ashworth at 94, it seemed a mere hiccup. Rain intervened and play closed at 107-2 after 32 overs.
Play resumed on the following evening with Ramsbottom needing 60 runs to win off 18 overs with 8 wickets remaining. Martin Whittle dismissed Heaton and Simpson and then Shane Warne returned to have Brian Taylor stumped by Wilson without scoring. In a superb spell, Warne dismissed both Bryson and Dearden to leave the game in the balance. With one over to go, Ramsbottom needed 9 to win with 3 wickets left. Warne's first three balls beat the bat but Fielding hit the fourth ball for six. In trying to repeat the shot, Fielding was stumped by Mick Wilson to leave Ramsbottom needing 3 to win off the last ball. Warne's delivery was missed by Haslam to give Accrington an unlikely first win of the season.
Accrington went out of the cup in the next round at Burnley when Warne (51) scored his first half century for the club. Illness and abandoned games meant that Shane only played in one more game before June 29th, the first league win of the season against East Lancs at home when he took 4-44. The break seemed to do him good because in his next two games he took eleven wickets, 6-63 at Rishton and 5-35 at Ramsbottom, but unfortunately the team weren't winning. The second victory of the season was at home to Enfield with Warne taking 2-36. He also enjoyed a good game at Rawtenstall, taking 6-49 and scoring 33. The beginning of August at last brought another win, again at home, with Warne taking 5-36 against Colne. He also took 5-69 at Bacup the following day, but once again Accrington were beaten. In the next double header a fortnight later, Warne took 9 wickets, 4-58 against Rishton and 5-50 at Haslingden when he also scored 51. Colne were again defeated the following week when Warne took 6-33. Shane was called home early to prepare for a forthcoming tour, so he played his final two games for Accrington in the last weekend in August. He took 6-27 at Lowerhouse and the following day at home to Burnley, he took 1-72 in 20 overs and scored 27, batting at number four.
Soon after leaving Accrington he gained a place in the Australian Test side and has since gone from strength to strength. A highly successful tour of England in 1993 brought him 34 Test wickets, including the legendary ball that turned the series against Mike Gatting. No stranger to controversy, Shane has been a central figure in the Australian side that is regarded as the top side in World Cricket. Shane has played in over 100 Test matches and is first spin bowler to have taken 500 Test wickets in addition to over 370 One Day victims at the highest level. Shane played his first season in County Cricket at Hampshire in 2000 and he also received the ultimate accolade of being named as one of Wisden's five 'Cricketers of the Century.'
Shane shone like beacon in the year that cricket became popular again in England thanks to the fantastic 2005 Ashes Series which proved to the the best in the games history. It is hard to believe now but it was 1991 when Shane had one season as professional at Accrington as a fresh faced inexperienced 21 year-old with just 1 First-class match behind him. At times Warne seemed to be playing against England on his own with him leading a constant rearguard action after his batsmen had been ripped out by England's potent attack. Warne made 249 runs, including 90 at Old Trafford but it was his 40 wickets at 19.9, including two ten wicket hauls, that confirmed his status as arguably the best bowler of all time.
On a personal note I must pay tribute to a remarkable man. Club members tend to follow the exploits of their former players and I was no different when Shane left Accrington in 1991.
In over 30 years at Thorneyholme Road, Shane was the only overseas professional who ran Practice Nights. He would decide who would bat and bowl in both nets and who would take fielding drills.
As well as leading an active social life, Shane practiced and trained harder and more often than any other player I have known. I felt when he left the club he hadn't achieved all he would have hoped in the Lancashire League.
As we all know, Shane went on to become one of the greats on the field. Off the field he was often in the news, but inspite of this he was a great ambassador for the game of cricket.
I went to see him at Headingley in May 2006 to film an insert he had agreed to do for a Re-Union Night at Accrington. The match was Michael Vaughan's comeback game for Yorkshire and after a very long hard day in the field I waited for Shane to appear after he had rested with his team-mates.
This proved to be a real eye opener for me as over 50 fans waited outside the players tunnel for Shane to appear, which he did after around ten minutes. He signed autographs for every last supporter, posed for dozens of photos with fans of all ages and then finally he sat down and did a brilliant off the cuff spiel for the camera.
Thanks Shane, it's been a pleasure for cricket fans worldwide. Batsmen can now breathe a sigh of relief.
(NCS, December 2006)
SHANE'S STATS AT ACCY
| | | | | | | | | | | | |
| --- | --- | --- | --- | --- | --- | --- | --- | --- | --- | --- | --- |
| Club | Season | Inns | N.O | H.S. | Runs | Av | Overs | Mdns | Runs | Wkts | Av |
| Accrington | 1991 | 22 | 0 | 51 | 330 | 15.0 | 354.3 | 67 | 1128 | 73 | 15.4 |
| | | | | | | | | | | | |
| | | | | | | | | | | | |