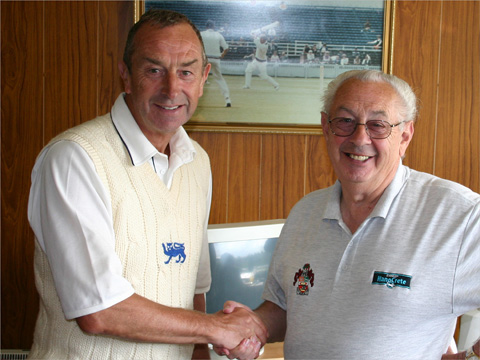 David Lloyd and Peter Barratt

The Club is saddened to announce the death of Club President and Life Member Peter Barratt at the age of 74.

A committed family man Peter leaves his wife Iris to whom he had been married for 51 years, children Paul, David and Vickie and several grandchildren.

Peter began his working life at Howard and Bullough at the age of fifteen and rose to the post of Chief Draughtsman as the company eventually evolved into Platt Saco Lowell. He retired in 2000 and did voluntary work with Dial-A-Ride before becoming a JP for around ten years.

He was a Governor at Mount Carmel School and also a member of Knights of St Columba.

Peter joined the committee at Accrington Cricket Club in 1987 when his son Paul was playing in the first team. He was responsible for signing the man who would become the most famous cricketer in the world, Shane Warne in 1991.

In 1993 Peter became Club Chairman until ill health forced him to step down. He immediately became Club President in 2004. Peter and his wife Iris were made Life Members in 2001.

Peter lived and breathed Accrington Cricket Club and was respected throughout the Lancashire League. No-one ever worked harder for Accrington Cricket Club than Peter.

Paul Barratt said: "Many thanks for the kinds words and condolences in relation to PJB, rest assured it does make a huge difference and is of immense comfort to know that people whose life he touched, thought so much about the man he was, I know all your support will get us all through these sad and trying times. Even lots of people he met whilst visiting his family here in New Zealand have already help and supported me and the family, just a small measure of the man and the impression he made on others.

"I too like many others have shed tears and feel that there is now a huge void in my life, however I can also assure we as a family have also laughed a hell of lot remembering fondly the good times and the positive impact my father had on our lives, hopefully all who knew him can also do the same and we will all remember him as the great, caring and selfless man he was.

"I will be back in the UK for the funeral and a few days either side so I hope to catch up with a number of you and even try and watch a bit cricket, good luck to Jimmy and the boys for the rest of the season, Peter was extremely proud of you all and all associated with his beloved ACC and would want you to keep working hard and continue to keep the club moving forward."

Peter's friend Ian McCrae paid his own tribute:"Peter Barratt , or "Mr. Accrington Cricket Club", as my wife, Margaret refers to him, and with good reason. His commitment, involvement and love of A.C.C was obvious. [More]

If you would like to send your own tribute to Peter please follow this link.