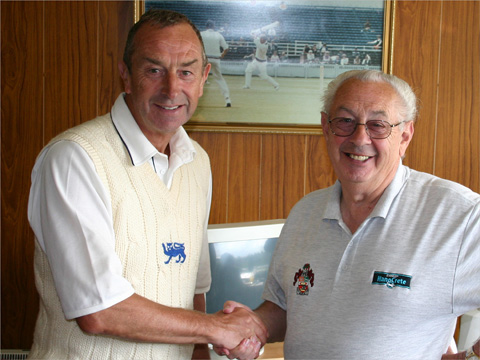 David Lloyd and Peter Barratt
The following tributes have been paid to Club President and Life Member Peter Barratt who died at home on Wednesday May 4th at the age of 74.
Peter's friend Ian McCrae paid his own tribute:"Peter Barratt , or "Mr. Accrington Cricket Club", as my wife, Margaret refers to him, and with good reason. His commitment, involvement and love of A.C.C was obvious. [More]
If you would like to send your own tribute to Peter please follow this link.
Jim Wilkinson: " The fact that Peter won't be there when we (Church) visit Accy this weekend is a great sadness.
I was at a pre-season friendly there between the clubs and remember thinking in a few weeks time I'll be sat in the scorers' room with Lionel and Peter buzzing about, looking forward to it greatly.
During my years as Sports Editor on the Observer, Peter was always unfailingly helpful and obliging but also supremely loyal to his club – he told you exactly what you needed to know and not what you didn't need to know if he felt so!
Having joined the scorers' fraternity these last two years or so visits to Accrington have been a real pleasure with Peter and his team sorting you out with everything you needed while having a lovely time chatting and reminiscing like we older 'uns do.
But one thing which struck me last year, during a chat when we were ribbing Lionel a bit about his disdain for technology (he clearly regarded me having a laptop to score on as utter paganism), was listening to Peter say how those who now followed his occupation of draughtsmanship – of which I know precisely nothing – were able to use the wonders of technology available to their great advantage and he was clearly someone who wasn't intimidated or fazed by progress and development.
It was the mark of a guy who, while knocking on a bit, hadn't lost touch with the modern world.
That was a very useful outlook to have on cricket too, because while most of us always think their era was best, it's vital that those who lovingly smooth the running of their clubs can empathise with the current game and the present-day players.
The fact that Peter seamlessly knitted the various elements together as he went about his business mean that, like many club stalwarts we are lucky enough to have around the league, his knowledge and enthusiasm are virtually irreplaceable.
My condolences to Peter's family and friends – I was hoping he would be around a little longer and will miss him on Sunday.
"

Terry Neville: "It was a privilege to have known Peter and an even greater privilege to have been numbered amongst his friends. A true gentleman; he will be sadly missed. Sincere condolences to Iris and the young Barratts."

Michael Horsfield: " Peter a grand bloke and true gentleman."
Todmorden Press Officer Cathy Rudderforth: "I would like to send sincere condolences on behalf of Todmorden Cricket Club to Peter Barratt`s family, many members have expressed their sadness at the passing of such a genuinely nice person, and staunch supporter of local cricket.

"On a personal note, I have chatted to Peter on many occasions whilst scoring for Todmorden, and I found him to be a person of great integrity, much warmth and kindness, with a great sense of humour. He was also very knowledgeable about cricket and extremely committed to his club. The Lancashire league will definitely be the poorer for his passing. "

Alan Worsick: "Having known Peter for over 30 years I was saddened to learn of his sudden demise. Peter was involved in many roles be it mowing the outfield, rolling the wicket even down to bringing me a glass of iced water whilst we were in the field on a hot day! He will be sorely missed by the Club and his friends.

"My thoughts are with Iris, David, Paul and Vickie at this sad time. "


Brian Heywood: "I would like to send my condolences to the family of Peter Barratt, and to all at Accrington Cricket Club where Peter was a good friend to everyone.

"Peter set the tone at Accrington where, even in the toughest times, his
example of quiet encouragement helped produce an environment that was very friendly, tolerant and supportive for the players. It is an environment that has helped the youngsters now coming through to flourish.

"I will never forget the courage and humility Peter showed in fronting the difficult EGM of 2007 when the club's jeopardy was made public and the committee asked for help. It was pivotal to Accrington CC turning the corner.

Peter always put the interests of the club first. No-one deserved or will have enjoyed Accrington's recent successes more."


David Stubbs: "I am extremely saddened to hear of the passing away of Peter. A man for whom I had the utmost respect during my time at the club. Only when someone has passed away do you truly understand the work load that they carried and I am absolutely sure that over the coming weeks and months, that will become clear for all to see. He was a selfless, tireless worker for the club who's integrity was beyond reproach and I can only conclude by saying Accrington cricket clubs loss, is heaven's cricket club's gain. My condolences go out to Iris and family. RIP Peter..."

Paul Ashworth: "I am saddened to hear of the passing of Peter, I was involved for many years at Nelson and as secretary of the Junior Inter league competition, Peter was always so helpful and friendly, it was a pleasure to have had associations with Peter and have felt his passion for Cricket and in particular his beloved Accrington. My thoughts are with his family and friends at this sad time."
Bobby Loomba: "I'm so sorry to hear this sad news. I saw him on sunday at Rawtenstall and we had good long chat. I always found Peter a courteous man and he will be terribly missed. My condolences to the family and the club."
Accrington captain Jimmy Hayhurst paid tribute to Peter: "On behalf of the players I would like to extend our condolences to Iris and all Peter's family. Peter was Mr ACC and at some point or other did nearly every job at the club. He went about his work and never complained. Even when his workload was heavy he always tried to get the job done. He will be a hard act to follow as he did so much. It's a sad time for the club and it's members. I'm just glad his last memory of ACC was a record breaking win and myself and all the players will do our utmost to work hard for him for this season and seasons to come. Thank you Peter for all your work. You will be sadly missed."
Len Dewhurst: "Peter was one of the best Guys I have ever known , a true gentlemen who supported me and many more people throughout his life , when my father died he was the first person there to make sure I was ok , he was a tireless worker for club , players and members , he has left a immeasurable gap in the life of many and the club , I who have known him all those years shed tears yesterday and all my thoughts go to Iris , Paul David and Vickie and all his family, he was Mr Accrington CC."
Ian Johnson: "After knowing Peter since i was 10 years old he worked tirelessly to try to improve the club and will leave a big hole at the Cricket Club. From taking us to junior matches to the upkeep of the ground he will be sadly missed and the thoughts of all my family go out to Peter's."
If you would like to send your own tribute to Peter please follow this link.

David Ormerod: "

Peter was Accrington C.C. through and through, the time and effort that he bestowed on the club was immense. From driving the heavy roller to key decision making at the club and virtually everything in between, Peter has been ever present. Peter made me feel immediately at home on my return to Accrington C.C. and he was always extremely supportive of the teams efforts, whether winning or losing he would have a smile for you and a pat on the back at the club.

"He will be sorely missed, not only at his beloved A.C.C. but also around the whole Lancashire League. Our thoughts are with Iris and all his family at this sad time."

Rob Heys: "Really sorry to hear the sad news about Peter, we worked together on a number of things involving the football club and the cricket club, everything from parking for away supporters at the cricket club to arranging work permits for players coming to Accrington Stanley from abroad. He was Accrington through and through, myself and all at the football club send our condolences to those involved at Accrington Cricket Club, and our thoughts are with his family and friends at this sad time.

"

Mark Croasdale: "My sincere condolences to Iris and Peter's family. For the time I spent playing at the club, Peter was always first at the ground and last to leave, totally agree - he was Mr ACC! If he wasn't mowing the outfield, he would bepreparing the wicket prior to the start of the match and would then appear on the roller during the interval, wherever you looked he was there doing an important job in order to allow a game of cricket to take place.

"Such tireless workers dedicated to a club, come along but once – indeed a very hard act to follow and I suspect that his shoes will never be filled. Now go on Accrington, win the league this season for a true gentleman who will be watching down on you!

"

Trevor Hatch: "

Peter Barratt was a lovely 'gent' who always had time for a smile and a friendly conversation, it was a pleasure to know him. My condolences to Iris and the family.

"

Saf Ali: "I can only echo what has already been said, Accrigton CC really has truly lost a great servant and friend. I had the pleasure of spending time with Peter during my time at Accrington CC whilst working with the juniors, and to say Peter was supportive was an understatement. A true gentleman and friend, and someone who I will never forget. My deepest condolences to Iris and family."