Major Award for Attock
Thursday October 7th 2004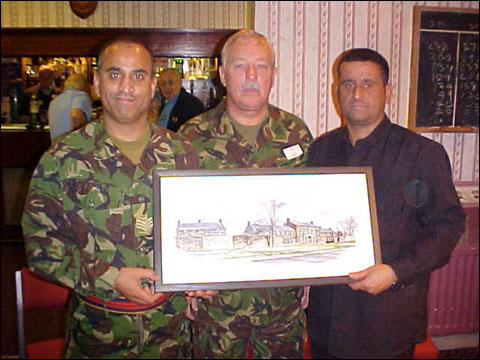 Sgt Ahmed, Major Hill and ADCL Chairman Abrar Shah
Major James Hill from the British Army was on hand to present the awards at the Accrington and District Cricket League's Annual Presentation Night at Accrington Cricket Club.
The Major presented the League Championship trophy to ADCL Chairman and Attock captain Abrar Shah. It was the fourth time that Attock had won the league title since joining the ADCL in 1983.
Attock's Liaquat Khan won the Batting Award and Fariman Suliman of All Stars picked up the Bowling Award.
The Harry Wood Cup was shared for the first time since 1985 after rain prevented the final between Kashmir and Hygate Cushions being played.
Taverners retained the Sportsmanship Trophy for the second year running.
Major Hill also presented the ADCL with a framed drawing of his base at Fullwood Barracks to mark the Army sponsored cricket tournament that was held during the summer.
Any community groups who are interested in holding a sporting tournament should contact Sail Suleman from Focus Consultancy on 07861221558.