CC's Takeaway became the first winners of a new cricket tournament sponsored by the British Army.
The competition became a two day event after rain caused the final to be abandoned at Thorneyholme Road on July 17th.
Eight teams entered the tournament which was played with two groups competing on Highams Playing Fields producing four semi finalists.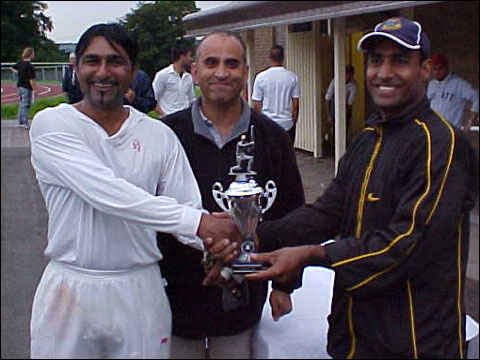 Man of the match Arshad Mahmood receives his trophy from Cherry Tree professional Zahoor Elahi watched by Sgt Ahmed from the British Army.
The knockout stages began at Thorneyholme Road but the final had to be abandoned due to rain. The match was started again on Wilsons with CC's Takeaway hitting 83-2. Rizwan Naeem made an unbeaten 32 with Arshad Mahmood hitting 30. Haslingden All Stars weren't able to match the run rate in their 8 overs inspite of Khizer Rehman hitting 24 they fell 15 runs short on 68-3.
The winners get to keep a cup but the Accrington Charity Cricket Shield will be held at the British Army offices in Burnley. Sgt Ahmed said that the British Army intend to hold the tournament annually.
Any community groups who are interested in holding a sporting tournament should contact Sail Suleman from Focus Consultancy on 07861221558.