A statistical look at 2002


The latest stats are now online with the addition of the final 2002 averages.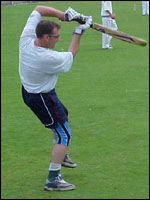 Steve Juliff's efforts in the pre-match knock ups paid dividends
But what can we take from the season?

Mohsin Ahmed became the youngest player in club history to pass 500 runs in a season and Steve Juliff became the first player since 1997 to pass 30 wickets in a season. Steve actually moved up to 13th place on the all time list with 179 wickets, just one behind Mark Aspin.
Tariq Hussain became the 65th amateur to score 1,000 league runs and Matt Wilson ended up one short of being the 66th after his great knock at Ramsbottom. Damian Clarke moved up to equal 20th place on the all time list with 147 wickets, level with Tony Gallagher and Tariq Hussain is just one behind. Who will win the race to 150?
Individually, Tariq hit his first league half century, a superb unbeaten 70 at Burnley and Adam Greenwood upped his career best to 86 in his epic at Todmorden. Mohsin also upped his best to 85 as did Steve Juliff (17 not out!).
For those people wondering how many Lancashire League games Accrington has won it can now be revealed that we have won 886, drawn 887 and lost 1035.
In the seconds, Len Dewhurst took 47 wickets and Nasser Hussain headed the batting with 376 runs at 31.3. Scot Eaton came from nowhere to top the bowling averages with 10 wickets at 12.2 and Sam Heap had most catches with 10.
In the thirds, it was Graeme Sneddon who topped the batting. His ton at Enfield helped him to 220 runs and Sajjad Sadiq was again the leading wicket taker with 18.
Tom Pendergast's 12 wickets made him the top bowler in the A Team and Nigel Stockley topped the batting with 176 runs at 29.3.
Firsts 2002 averages
Seconds 2002 averages
Thirds 2002 averages
A Team 2002 averages
Current Firsts career records
Current Seconds career records
Current A Team career records
Players with 1000 Lancs League runs
Players with 100 Lancs League wickets
Accrington wicketkeepers
Most runs in a season
Most wickets in a season
Updated club history
Clarkey's view of 2002