Second placed
Accrington
piled up a season's best 273-8 in a thrilling 3 run win over
Enfield
at Thorneyholme Road, The home side's huge total included half centuries from Matt Wilson, Graham Lloyd and professional Roy Silva. Wilson made 55 from 88 balls with seven boundaries whilst Lloyd's classy 55 came from just 51 balls with nine fours. Silva's first Lancashire League half century lasted 74 balls as he hit five fours and a six in his 57, the Sri Lankan adding 87 for the 5th wicket with Lloyd. Jimmy Hayhurst added a late unbeaten 20, Stuart Crabtree hit 20 and Paul Carroll 26 before being caught on the boundary by Enfield professional Brandon Hiini. Mas Ahmed responded with a fine 65 with six fours and a six before he became one of Carroll's five victims. The off spinner finished with 5-86 and skipper David Ormerod 3-103. Keith Barker made 16 and Hiini a painstaking 16 but Andy Barker (39) and Chris Maudsley (43) took the total to 202 to give Enfield some hope. Skipper David Bracewell (21) upped the tempo as Enfield went into the final over needing 14 for victory but inspite of Matloob Khan (13 not out) and Simon O'Loughlin's (6 not out) best efforts they fell four short of victory on 270-9.
Accrington v Enfield
Saturday May 31st 2008
Saturday May 31st
Score
Score
Accrington
203-8
Enfield
202-8
Scorecard
Accrington beat Enfield by 1 run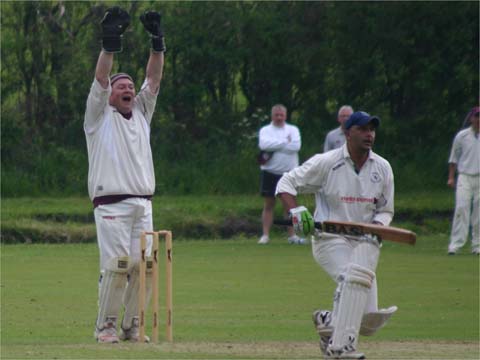 Roy Silva claims the vital wicket of Mas Ahmed
If you thought last Sunday's heart stopping 3 run win over Enfield was dramatic then read on....
A remarkable match at Accrington saw the home side scrape into the semi finals for the first time since 1989 with an amazing 1 run victory over Enfield at Thorneyholme Road. Without a win in the cup since 2001, Accrington were in trouble at 12-3 but a middle order fightback by Graeme Sneddon (31), Toby Bulcock (32), Graham Lloyd (33) and Simon Hanson (34 not out) saw the home side post 203-8. Brandon Hiini picked up 3-27 for the visitors. Accrington professional Roy Silva removed Craig Fergusson at 3, but Adam Bracewell took control with a hard hit 38 before trying one big shot too many off Paul Carroll, losing his off stump in the process. Opener Mas Ahmed then re-affirmed his liking for Accrington's attack, following up his 65 last week with a well paced 47 before falling leg before to Silva. Without addition to the score Hiini was stumped for 39 as a comfortable 133-2 became 133-4 with two new batsmen at the crease. The return of David Ormerod (3-32) saw the Accrington skipper remove Keith Barker (6) with a peach as Accrington assumed control of the game. Chris Maudsley (8), David Bracewell (0) and Mark Burns (16) all came and went as Accrington looked to have a foot in the semis. But Matloob Khan and Simon O'Loughlin had other ideas, the 9th wicket pair adding an unbroken stand of 32 to put Enfield back in control after Ormerod conceded 14 off his final and the penultimate over. With one ball to go, 2 were needed for victory, but Carroll bowled a dot ball to end a valiant Enfield comeback in a remarkable match