Community Award for Lionel

Tuesday June 4th 2013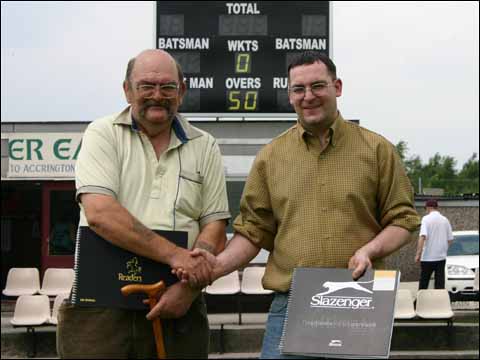 Lionel Cooke lining up against his son Julian in the scorers room


©Nigel Stockley
Accrington's long serving scorer Lionel Cooke has been rewarded for his long service to sport in the community at the prestigious Fusion Awards.

Lionel received the Mumtaz Ellahi Community Sports Award at the ceremony which was held last Saturday at Ewood Park.
Former Lancashire League Secretary Lionel became the scorer for one of the North East Lancs League's top sides Zumla in the 1980s. He became the league's secretary in 1985 and was Lancashire League Secretary between 1999 and 2005 when he retired from work.

After a season's break he returned to be Accrington's scorer once again, a position he first filled in 1997 after a long spell as scorer with East Lancs 2nds.

Lionel is of course also well known for his work with football in the Blackburn area and for his duties on his allotment.