England cap for Matthew
Wednesday July 14th

Accrington Under 13s star Matthew got an England cap on Wednesday evening.
Matthew was helping Elite Cricket Coach Russ Cuddihy give Mark Pickup, who plays for England's visually impaired team, some practice ahead of this summers internationals in August.
Mark, who plays county cricket for Warwickshire because Lancashire have no team at the moment, has won 12 England caps since taking up the visually impaired version of the game after having to give up playing normal cricket four years ago after losing full vision due to illness.
A former Lancaster second team player, Mark has travelled the world in recent years facing the world's top visually impaired cricketers. "I've played in Barbados and in India and I'll be playing against Australia next month in England. Next year I'm hoping to go on tour to Sri Lanka. Every cricketing nation apart from Zimbabwe and Bangladesh has a team. Australia are the top side with Pakistan next followed by South Africa and then England," said Mark.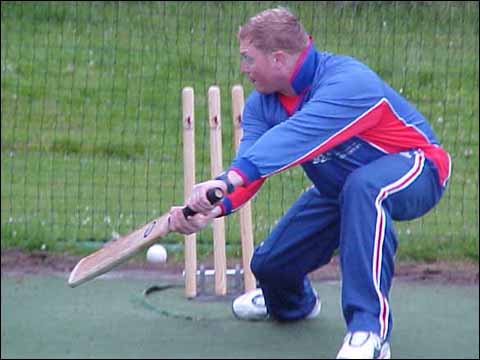 Mark in action at the nets
Test standard teams play with a normal size white ball which contains ball bearings but county sides use a size three football. Mark has obtained some international size balls hence the reason for his trip to Accrington to see his coach Russ Cuddihy.