Accrington v Accrington and Ross. College
Friday May 31st 2002
Winning formula found at last

After a poor start to the season Accrington finally found that winning formula at last. The answer in the end was quite simple. The team was changed almost completely, the pro' left out and only young Jimmy Hayhurst retained.
Jimmy had been wrapped in cotton wool last weekend in preparation for this game. An altogether more experienced outfit, with a Hyndburn Labour Party feel about it, was selected. We provided the umpires, the scorer and hand picked the opposition, none of whom had ever played cricket before. The masterplan worked.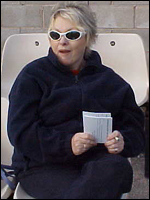 Our hero, Jan Wilson
The one real bonus of the victory was the discovery of a scorer who actually helps us to win matches. It's all very well using different coloured pens and taking down the opposition scores in detail, but Jan's method of card scoring is certainly quite effective.
Detailed analysis of the card revealed that Accrington scored 141 and the College 113. Some of our players scored quite a lot, others quite a few and one or two scored some. Some of our bowlers took wickets and some didn't.
Winning captain Rockin' Rod commented: "An excellent all round team performance, especially the two youngsters that we had. We have some good all rounders but the worse one was a first team player that we had to draft in at the last minute Mr Jimmy Hayhurst who made a bit of a faux pas behind the wicket, but at least he turned up."