Memorable Matches
Accrington A v Manchester Road
Harry Wood Cup Final
September 7th 1997
New B Division champions Accrington A completed the double when they won the Harry Wood Cup by defeating Manchester Road by 1 run in a dramatic final at Highams.
Manchester Road went into the last over needing 5 runs to win with 5 wickets in hand. The first 5 balls brought 3 runs and a run out. A single off the last ball would have given the batting side the cup by virtue of losing fewer wickets but Mus Shah clean bowled Tony Andrews to give Accrington the trophy.
On a damp wicket, Accrington made a brisk start with captain Mick Donnelly, returning after a recent hand operation, and Nigel Stockley putting on 32 until Stockley was run out in the 6th over. The scoring rate slowed and new batsman Dave Pickering didn't last long, being bowled by David Heys in the 9th over for 4. Mus Shah followed second ball and Manchester Road were on top.
At one point, the runs dried up altogether with only 1 run being added to the total between the 15th and 20th over. Tony Andrews dismissed Donnelly, Mick Demaine, Paul Burrows and Nadeem Mohammed to finish with figures of 9 overs, 3 maidens, 4 wickets for 16 runs. After a flurry from David Stubbs, who made 10, a last wicket partnership of 24 between Tom Pendergast and Imran Hussain took Accrington to 118 - 9 after 36 overs. The last over in each innings proved to be vital with 14 runs coming off Ken Dunne's final 6 balls, the former Accrington man finishing with the wicket of Alven Burrows for 45 runs.
Manchester Road got off to a terrible start, losing Ian Persechino for 1 to Nadeem. Phil Hodson and Rob Bailey then built a second wicket partnership of 40 before David Stubbs took the first of two catches to dismiss Bailey off the bowling of Mus Shah. Stubbs removed Dunne, superbly caught by Donnelly for 14 but still Manchester Road were in control. Indeed in spite of losing Hodson for a top score of 35 and Heys they still looked comfortable. Neil Sanderson and Mick Wilcock edged their team closer, but with 2 overs to go 14 runs were still required to win with 5 wickets in hand. Nine runs off the penultimate over made the task a lot easier, but then sheer panic set in. Wilcock missed the first 2 balls of Shah's last over but hit the third to long leg and set off for a suicide second run, being run out by Stockley's return to the keeper. With 3 balls to go, 3 runs were enough but singles off balls 4 and 5 left Tony Andrews to face Shah's fateful last delivery and Accrington had won the Harry Wood Cup for the first time since 1939.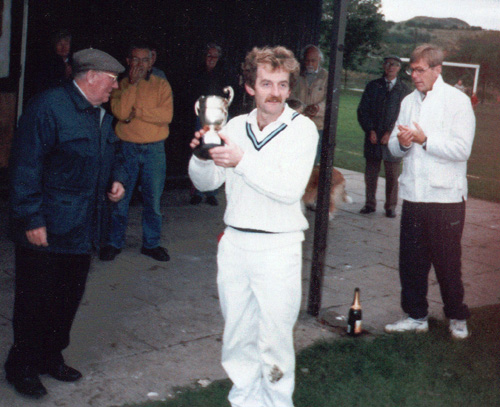 Accrington A captain Mick Donnelly with the Harry Wood Cup
Tom Pendergast was named as Man of the match by the umpires for his tight bowling and his innings of 26 not out.
Accrington A made history in the 1997 season in that they became the first team from Accrington C.C. to win all their league matches in a season and it was also the first time that an Accrington team had achieved a double.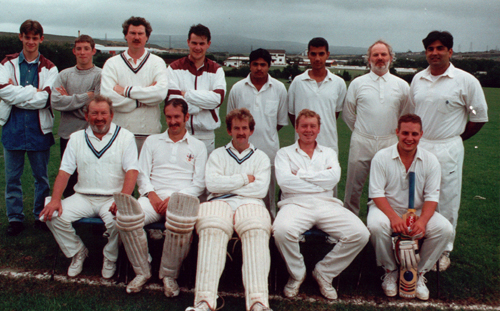 Accrington A Harry Wood Cup Winners 1997
Back: Geoff Stockley (Scorer), Adam Barnes (12th man), Tom Pendergast, David Stubbs, Nadeem Mohammed, Imran Hussain, Mick Demaine, Mus Shah
Front: Alven Burrows, Nigel Stockley, Mick Donnelly, Paul Burrows, Dave Pickering