Paul Barratt On Shane Warne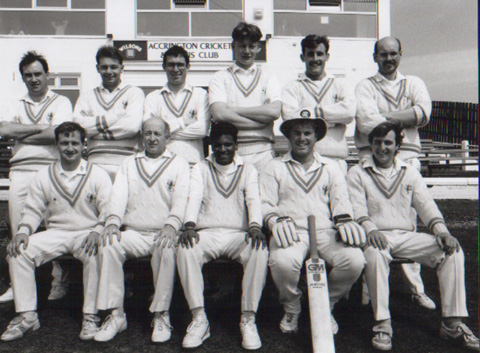 Accrington CC 1991
My sincere condolences to all at Accrington CC, it's been a huge shock to me losing Warney, compounded by the news of the very sad passing of Neil Jones, who was also a larger than life character in the ACC dressing room in the 80's.
In terms of the memories of Warney, George Wright from the BBC did an interview with a few ACC players from that era and put a nice piece together on their website, the link is below.

This is a good insight to how the season went.

https://www.bbc.com/sport/cricket/53465043
From my own perspective, I guess I remember Warney as a young and vibrant 21 year old pro who was full of life, lots of fun and looking back we were incredibly lucky to have at the club for the 1991 season.
When he turned up at ACC, he didn't look or act anything special, we had had a number of similar Aussy pro's previously who all did an amazing job at the club, so he initially he didn't stand out, apart from that is the obvious bleached blonde hair, slightly stocky frame, the Aussy surfer look and a chain smoker.

It did take him while to find his niche and it was probably around a third of the way into the season where he really began hit his straps with the ball and worked out the pitches and opposition batsman; he did show glimpses of brilliance with the bat, but I think by his own admission probably fell short of his expectation with willow in hand.
We all knew he was talented, but I don't think anyone could have honestly predicted how good he was going to become.
I would like to think in some small way we all played a part in influencing the player he became, but I do feel there were probably two people at the club who had the most positive influence on Warney.
These being, the ACC legendary leggie the great Eddie Robinson and the Club Captain at the time Andy Barker.
Eddie spent many hours with Shane, practising and mentoring him the nets as they worked on how to bowl on the Lancashire League pitches and more importantly how to set batsman up for a potential dismissal.
Fascinating to watch and on the odd occasion I would be the victim batsman in the nets so he had a target to manipulate and confuse.
His control and variation was outstanding, and he only went on to improve this as the season progressed.
Andy Barker was a great captain for Shane, Andy himself was a very flamboyant player, so he gave Shane the licence to be himself, set his own fields and set traps for batsman that basically no one else would have dared to think of.
I was fortunate (or not) to keep wicket to him on a few occasions and would be party to some of the discussion with Shane and Andy between overs, there were often differences of opinion, but to Andy's credit, he would always let Shane have a go at something, which more often than not proved to be the right tactic.
Occasionally, Andy did have to pull Shane into line as his competitive spirit did cross the line with the odd batsman and umpire, but in general most of Shane's banter was good intelligent banter.
There are probably lots of stories out there about Shane being on the beer in the Accrington area, frequenting various pubs and clubs and generally having a bloody good time as any 21 year single cricket pro would have been entitled to at the time.
However I was newly married at the time and hence the leash was fairly tight, so didn't get much opportunity to witness any of those so alleged antics.
What I do remember though was on a few occasions going round to catch up with Warney at his digs (a modest terraced house somewhere near the club ground) and just generally having a decent chat about the game of cricket we all love, including his experiences at the academy and what he had learnt about the Lancashire League in a short space of time.
Anyone who was fortunate enough to have those conversations will know, he was passionate about the game, always looking for information to improve and always willing to chat and help others by sharing any info he had compiled.
I would also pay respect and credit to the ACC committee at the time who had the bottle and foresight to sign somebody like Shane, he was definitely a gamble, but one that over time paid off for the club.
It's hard to process he's gone, I am sure he still had so much to give back to the game and I would have loved to have seen him become the Coach of a Test side (preferably England).
I am sure he would have reinvented and reinvigorated whoever he coached.
I know he will always hold a special place in my Cricketing memory and definitely within Accrington CC history.
Paul Barratt