Dibber Dave Brings Down The Curtain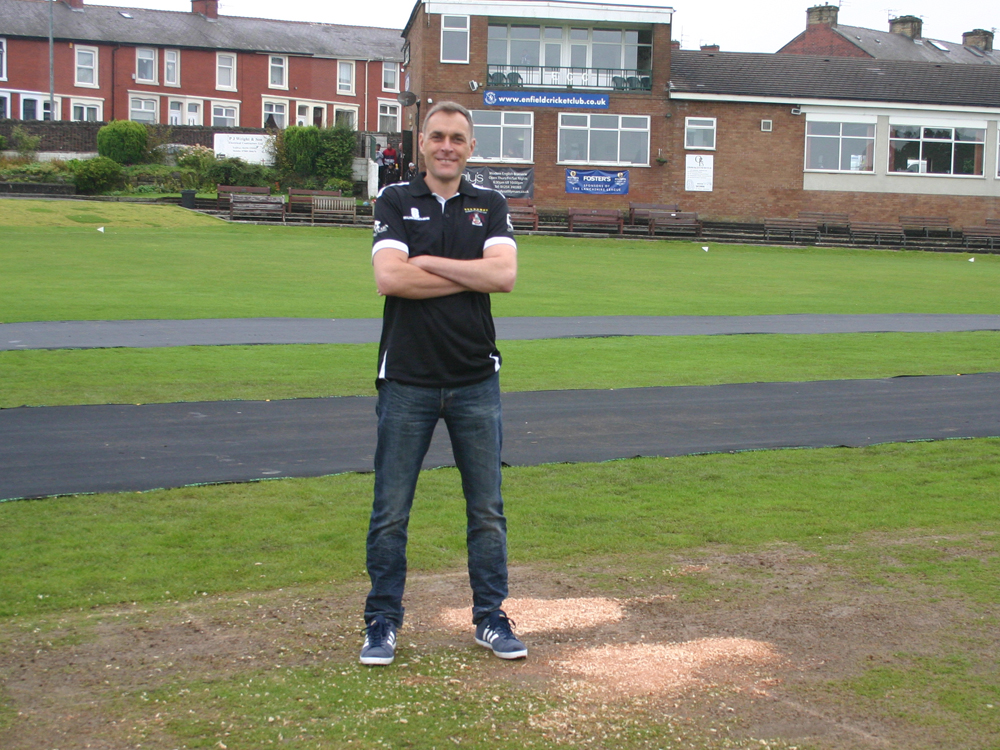 Dibber bows out on a wet wicket at Dill Hall Lane
©Nigel Stockley
One of the Lancashire League's all time greats David Ormerod brought down the curtain on a glittering career spanning three decades on Sunday after Accrington's final match of the 2017 season at Enfield.
David began his career at Thorneyholme Road as a junior alongside the likes of Graham Lloyd and Paul Barratt.
David's move to Bacup saw him develop into the Lancashire League's leading bowler of his generation. An inswing bowler with a variety of surprises for the batsman, David took a total of 876 wickets in helping Bacup to three successive titles during his 15 year spell at Lanehead.
David has now taken over 1300 Lancashire League wickets and has taken 5 wickets in an innings 96 times with a best of 8-45 against East Lancs in 2002.
He has picked up the Lancashire League Senior Bowling Award eight times (1996, 1999, 2001, 2002, 2003 2004, 2006 and 2008).
He captained Accrington to a league and cup double in 2008 and the league championship again in 2009.
Also in 2008 David was named as the Wisden Cricketer Club Cricketer of the Year.

Tributes to Dibber Dave:
There will be many much deserved tributes paid to David for both his outstanding cricketing career and his contribution for title successes at two Clubs. His bowling statistics speak for themselves. What will stand out for me is the manner in which he played his cricket. You always knew that David would play hard and play to win but he was always fair and a gentleman both on and off the field. The younger generation could learn a lot from him about how you can be competitive and yet still make friends of opponents. David enjoy your well earned retirement, look back on your long career cricketing career with pride you certainly deserve it and I look forward to still seeing you around the Lancashire League grounds.
Phil Sykes

I can't speak highly enough about Dibber both as an opponent and a person. Such a difficult bowler to face with his subtle variations, knowledge of the task in hand and all round experience in all kinds of game situations. A true Lancashire League legend. Hopefully Dibber will stay involved in LL cricket in some capacity and is seen around the grounds for years to come.
Jon Fielding

Dibber joins a very short list of league legends in my lifetime. He has served his clubs with distinction and deserves his outstanding wicket tally for his skill with ball. Equally importantly he was a pleasure to play against as whilst he was a winner, he did so with a smile on his face. Youngsters in the league today would do well to follow Dibber's example and his retirement will be a loss to us all.
Stan Heaton


Getting older as a player, I always had mixed feelings when good, younger players emerged at other clubs. It was always good for the League to see the next generation emerge, but there was every chance you were stuck with the good ones for the rest of your career! That was definitely the case the first time I batted against Dibber in 1990, because I knew he was steeped in Lancashire League cricket and was in it for the long haul. As a kid in Tod seconds I'd played against his late, much-missed Dad, Alick. I knew Alick quite well and he told me early in Dibber's career – even Alick sometimes called him Dibber! – that he'd studied the successful bowlers in the League and worked very hard to model his bowling on them. The bowlers Alick mentioned were Pat Calderbank, Ian Birtwistle and Barrie Hill. All were very accurate, slow-medium bowlers who drifted and cut the ball, were more skilful than they looked, and were particularly effective in limited overs cricket. I don't think I was alone in preferring to bat against seam bowlers who were a bit quicker or spinners who were a bit slower! Dibber developed his own medium-slow style, mainly swinging the ball in and denying the batsman room. Part way through his career he added a leg-cutter to his armoury, making him a more attacking bowler. He combined his skill with the concentration, perseverance and stamina to bowl long spells. As a batsman you would eye the gaps in his off-side field but rarely got anything to hit there. He didn't need to say anything – you could sense the determination, initially to get you out with men round the bat and, if he felt you had settled, to frustrate you into submission. He set high standards, and any mutterings were aimed at himself, on the rare occasions he missed his line or length. Over his career, which included lots of bowling at the death, he went for just three an over. Bacup were a well-drilled outfit in the 1990s and Dibber was key to this, along with Roger Harper's accurate off-spin at the other end. Both were helped by John Chapman, a very good and lively wicketkeeper who spent most of his career up to the stumps, and a good fielding team. It all built towards the three titles they won at the turn of the century, Dibber giving miserly support to Australian pros Adam Dale and Shaun Young. Dibber's move from Bacup to Accrington in 2006 was a shock. It was a pleasure and privilege to play alongside him there for a season in 2007. Beset by injuries, we were 60 points adrift at the bottom of the League half way through the season, but Dibber's return to fitness, and to captain the team with calm authority, led a recovery. We could not bridge the gap, but we were markedly improved. Not many teams got more points than us over the last dozen matches and the team had some momentum to take into 2008. In 2008 Dibber used the nous and ability of the returning Graham Lloyd to maximum effect, got the best out of his players, and led the team from bottom to the League and Cup double, surely a unique achievement for a Lancashire League captain. Further honours followed for the club and himself, including 61-year-old Bumble's return in the 2009 title win, and Dibber's 1000th wicket, later extended to over 1400 in League and Cup. Like his Dad, Dibber has been a gentleman on and off the field. He will be missed as a player but will hopefully still be around to offer sage advice and to enjoy the game from the other side of the ropes.
Brian Heywood

Congratulations on an outstanding career Dibber. A top performer and championship winner with two separate clubs speaks for itself. A quality cricketer and even better fella, it was a pleasure to compete against you.
Vinny Hanson

Congratulations David on your retirement from all your friends at Lowerhouse Cricket Club. You have also an incredible role model to us all over the years. Play hard but fair and then enjoy a pint after. The Lancashire League as a whole owes you a debt my friend – thank you for your incredible service to Bacup & Accrington CC's. The League is richer for the memories you have provided but will be considerably poorer for your absence #UTA #UTB
Frank Entwistle
'A Printable Selection From The John Chapman Repertoire Of Nicknames' – written by A. Mole
David Ormerod – Ramrod, Ramski, Rammers: Dibbley "The first three are corruptions of David's surname (honestly); the fourth an abbreviated version of Dibbley-Dobbley, which refers to David's extreme velocity through the air."
An extract from the 1993 Worsley Cup Final Souvenir Programme (Rawtenstall vs Bacup).

Now that 'Dibber' has retired, there'll be plenty of players across the Lancashire League breathing a huge sigh of relieve. His record speaks for itself, almost 1000 League runs in a career spanning three decades! Everybody knows about Dave's great abilities on a cricket field, and the person who could describe his talent and achievements best would have been his late father Alick. As a person Dave is one of the nicest people I know, a true modest gentleman. Off the field whilst doing his laps he would always stop and chat to anybody and everybody, often resulting in increasingly long lap times. One of Dave's lesser known qualities is his patience, it's not everybody who will traipse around Ramsbottom, Haslingden and Helmshore whilst his pesky dog Oscar goes on a pub crawl. The League as a whole will miss 'Dibber' and all that he has brought to it over the years. Congratulations on everything you've achieved Dave, you deserve a well-earned rest…at least until next season when Lenny makes the call!
Anthony Pooler
"Dave O! Dibbly dobbly Dave O! Six more dot balls and another maiden." Heartfelt congratulations from everyone at Bacup on a most magnificent Lancashire League career. David wasn't an early starter in second team cricket, making his debut as a late teenager, putting in some steady performances in the second eleven championship seasons of 1988 and 1989. However, his potential had been recognised and he was catapulted into the first eleven at the start of the 1990 season, taking four wickets on his debut, including that of the Burnley professional Mudassar Nazar. Dibber had arrived and was to become a permanent fixture in the team for the next sixteen seasons. I don't need to quote statistics. They are there for all to see. For several years he formed a deadly partnership with Roger Harper. His initial success was based on prodigious inswing and unerring accuracy. However, David always worked hard on his game and was keen to keep improving. He would bowl for hours in the nets to hone his skills, thereby increasing his stamina to stand him in good stead for regular marathon 25 over spells. Soon he developed his leg cutter and the rest is history. Dibber was of course instrumental in the team's championship winning years of 2000, 2001 and 2002, bowling virtually unchanged from one end in tandem with firstly Adam Dale and then Shaun Young. Early finishes and long sessions in the bar were often the order of the day. Dibber, "the ice man", was never flustered and his cool temperament won many a game, even with the bat at times! However, above all, Dave is a genuinely nice guy who never sought the limelight and I, like many others, will forever cherish my playing days with him. It's now 12 years since Dave represented Bacup where he attained legendary status. He remains a legend at Lanehead and his name will feature forever in the annals of Bacup Cricket Club. Enjoy your retirement from the game Dibber and thanks for the memories.
Neal Wilkinson

Dave's record as a bowler is there for all to see and, without him, Bacup wouldn't have won three consecutive championships in the early 2000's. However, the biggest compliment I can pay to Dave is to comment on how he played the game. In all the time I played with or against him he never once had a crossed word with an umpire, never 'sledged' a batsman (even though most of those he bowled at were made to look foolish) and never appealed for a wicket unless he thought it was out. He proved beyond all doubt that you can be an outstanding player and at the same time be a good bloke. He is a class apart both on and off the field and I'm sure Alick is looking down, a very proud man!
Tim Farragher

This is a day and age where superlatives such as "a cricketing great" and "a legend of the game" seem to be bandied about on a regular basis. However in the case of Dibber, they are not only accurate but probably a little understated. Most of the tributes that will be paid will mention his 1383 Lancashire League and 72 Worsley Cup wickets, his six league titles and various other stats. What I would also like to pay tribute to is his attitude to the game. Most people who achieve what Dibber has achieved in their given sport will certainly have a competitive nature, but are also likely to have an "edge" to their game which can see them at odds with opponents and officials from time to time. Not DN Ormerod, no sport can have encountered a more universally liked and admired participant than this. There is not a player, official or umpire who has anything but the utmost respect, both for him and his achievements. But maybe the secret to that is that throughout his career he has always shown that same respect towards those self same players, officials and umpires. The legacy no doubt of his upbringing and his Father's wonderful attitude to the beautiful game. I can honestly say that it has been a pleasure to share a dressing room with Dibber for the last eleven seasons, an intelligent man with a fabulous sense of humour who can more than hold his own when the "abuse" starts flying, you certainly have to get up early to get one over on him. Enjoy your retirement Dibber you have certainly earned it, I look forward now to many more laps of the field putting the world to rights.
Ian Wilson

As a young man trying to make my mark in league cricket, I imagine I could not have been exposed to many better examples of how to play and conduct myself on and off a cricket field. David Ormerod and his Bacup team where the epitome of hardness, resilience and fairness. The friendly smile and firm handshake that you would always receive pre-match from not only Dibber, but his absolute gentleman of a father Alick was so warm and welcoming. Yet, this was totally at odds with the uncomfortable and incessant inspection of physical technique and mental toughness that any individual had to show in order to stay at the crease. With Chappy always two feet away, Killers at short leg and Roger Harper lurking at point or cover, it was the sort of examination and evaluation that, looking back, one realises has been a foundation stone of ones career. Dibber's statistics speak for themselves. However, to be a great player and equally a great gentleman is a template that Dibber has provided for so many opponents over so many years. Other league greats I have experienced the pleasure and pain of playing against, such as Kes, Blez, Payney, John Harvey and Trigger, have all displayed the same fantastic qualities. It has been a pleasure to play against Dibber for so many years and I would like to wish him and his family all the very best when attempting to drag him around B&Q on a Sunday next June!
Paul Turner
I met Dibber when I first came to Accrington Cricket Club and he made me feel really comfortable hope you have a happy retirement and thank you for all the laughs we had.
Stephen Brankin

My memories of Dibber only go back a dozen years both as an Umpire and for the past years as League Chairman. His reputation as an great outstanding bowler was well known but to witness him in action was always a pleasure. As an umpire, you were always confident that if he claimed for a dismissal, then there was a fair chance you would have to agree with him and raise the finger He rarely appealed unless he thought it was out or at least, very close. But he didn't just stand out as a top bowler, it was the manner in which he conducted himself both on and off the field. Never argued or swore if you turned an appeal down, even if you had possibly got it wrong, he would just smile and raise his eyebrows as he trudged back past you. He was the perfect example of how a player should behave and a perfect model for all junior cricketers to follow. On behalf of the current League Executive, I wish him well for the future and do hope we continue to see his cheery face at League grounds. Thank you Dibber for enhancing the League over all these years, you truly are a legend.
Mike Bibby
Dibber as he is known by most is a true great of the league. A gem of a bloke and always played with a smile on his face and with skill and accuracy was comfortably one of the best players of my generation and the one before. But the best thing he brought to us at Accrington was to play with a smile on your face, be respectful to the officials and enjoy a good drink in the bar after the game.
James Hayhurst
When contemplating a tribute to anyone you would normally relate most topics to the experiences that you have shared with that person. "Dibber" or David Ormerod is not a person that just deserves personal references, he actually deserves respect from the highest echelons within cricketing nobility. I first meet David (that is what his dad called him and I always gave him that respect) when his father Alick brought him to Bacup Cricket Club as a young lad, he was quiet he was respectable to the seniors at the club, he didn't question the advice from all who were to offer, he just listened. It was just after I had been "stood down" as Captain at the club and I was playing in the second X1 when David made his debut, he had to challenge for his place between other youngsters at the club in the bowling division, namely John (winky) Nuttall and Peter Cook. When David got his chance he took with both hands, he worked on his game and with the gentle encouragement from his father Alick and the other seniors within Bacup, Neal Wilkinson Peter Mulderrig Peter and David Thompson David soon developed his skills that were to be so excellently and effectively used against all of batsmen in the Lancashire League. It is undoubtedly accepted that in tandem with the clubs professionals that were employed at Bacup he played no small part in the halcyon days of championship trophies collected by the club. During his time at Bacup his skills and knowledge were used by most captains at the club and it was towards the end of his career at Bacup that he accepted the captaincy. I had had many a conversation with his father Alick on this subject and if Alick was being truthfully honest he did not want David to accept the position, but I was trying to convince him that David was the natural successor to Captain. Bacup did not have the most successful season whilst David was Captain, players leaving, a poor season by the Professional and having to blood many a youngster were issues David had to contend with. At the end of that season the club decided to look elsewhere for a Captain, it was never a decision that I was very comfortable with, it was this decision that forced David to maintain his self respect and return to his first club Accrington. I totally understood and respected his decision. Success was soon to follow at Accrington and was proud to be one of the first to congratulate him. To me David has always been and always will be the same young lad that I meet some 30 odd years ago, a genuine honest likeable most modest person that you ever likely to meet. It was just a few seasons ago when I was umpiring a fixture at Accrington (opposition not named because some may remember) and a claim for an lbw decision against David was asked of me to which I declined, I just couldn't give him out, he is too nice a guy and of course I did claim to be his first batting coach at Bacup. David I always said you should have made more of your batting. Good luck in whatever you do and if you get the chance, please pass on your knowledge and experience of all your cricketing skills to those who will listen in whatever capacity they stand.
Brian (Sammy) Davies

So in 2006 the Ormerods returned en masse to support David at the ACG, it was a bit surreal but business as usual for Dave, more wickets, more maidens, more frustrated batsmen and more Pro scalps for the collection. I've always been hugely proud of my little bro and his achievements, but his attitude and his demeanor are just as worthy of praise, his cool, calm reactions totally at odds with my own often loud and often sweary outbursts! His captaincy brought out the best in his teams, commanding respect and encouraging the younger members whilst remaining diplomatic and coping with whatever the great game threw at him. He's soldiered on through shoulder injury, the infamous Ormerod knee issues, Bells Palsy and God only knows what else, never complaining and trying anything to squeeze another season out of the body! The Lancashire League will be a duller place without him and as many have said the young players of today could learn a lot from our Dibber. Always a gentleman and a real credit to every team he has ever played in, he really deserves the plaudits and the invite to play with some of the games greats at Burnley CC at the end of September is truly deserved! Nice one Dibber, and I know a certain bearded, nicotine stained scruffy old gent would have been very, very proud.
Lindsay Ormerod
I first came up against Dave in 2000 as a 16 year old. Adam Dale was bowling what seemed rapid to me, and I felt sure if I could just get down the other end I'd be safe. Walking off 1 ball later (ct Wilkinson b Ormerod 0) I reflected on my decision. Perhaps I could have played a different shot? Was it not there to drive? Next time I'll charge him! I wonder how many batters have since walked off thinking the same thing. And how many wished they'd taken their chances against the pro rather than Dibber?! As a bowler Dave's record is impressive, but not nearly as impressive as the bloke he is. I am proud to have opened the bowling with him just once for the League team, and just as proud to have shared a beer with after many years of wins and losses. Always generous in his advice, I tried to soak up as much of his wisdom as possible, and I'm sure it made me a better cricketer. Dave always played the game in the right way, and never took himself too seriously. Young lads starting out in league cricket would do well to find him and have a chat about what it's actually all about. They wouldn't regret it. Well done on a fantastic career pal. Despite spoiling so many people's days, you've made playing in the League a much more enjoyable experience.
Andrew Bentley

I started my career as a 15 year old trying to work out how I was ever going to score any runs off Roger Harper at one end and Dibber at the other. How did they become so good? There never seemed to be a bad ball and, fortunately for me, I managed to avoid playing against Dibber for most of my career. What I did miss were the games against a good set of lads at Bacup and most importantly Dibber and his dad always having time for a quiet word with a young cricketer - as I was at the time. A top bloke and excellent bowler. What League Legends are all about. Enjoy your retirement Dibber and congratulations on a wonderful career.
Michael Brown
Dibber and our very own legend Keith Roscoe are a perfect example to younger players that contrary to popular belief, with all the T20 and one day cricket about you don't need 5 or 6 different deliveries to be an incredible bowler. As Dibber has recently said, master your stock delivery, add in a variation, practice hard and you will have success. Had many a battle with Dibber over the years, and although you pretty much knew what was coming he always seemed to come out on top. A great bloke off the pitch and a hard, fair competitor on it. Enjoy whatever you do next Dibber, you've certainly earned your reputation as one of the all time Lancashire League greats.
Andy Payne
Aspiring young cricketers should note that only real way to get better is to practice, practice, practice. Dave didn't get as good as he was by luck or pure talent but by putting in the hard yards. Back when he was a young up and coming bowler he would bowl for hours upon end in the nets at Bacup , long after most others had retired to the changing rooms and the bar. These 100 hours of practice meant Dave could control the ball as if was on a piece of string and add many variations to his stock inswinger. In all the years I played with him at Bacup CC you could count on the fingers of one hand the number of bad balls he bowled each season whereas he invariably dismissed the opposition professional. It was a privilege to play with Dave for so long and he was a perfect team mate, always encouraging you if you had a poor score or dropped a catch and good company in the bar after the game. We will be friends for all our lives. I'm just glad I only had to bat against him in the nets!!! See you on the golf course?
Mark Taylor
Dibbers record speaks for itself, a phenomenal amount of wickets, with many top players falling to him along the way. From a personal point of view I played under Dave in 2010 and quickly learnt what a gent he was, as good a mentor as a young player could wish for. To be as competitive as Dave is without ever upsetting any team mates, umpires or opponents along the way is an example to us all. League cricket is a poorer place without him, but congratulations on a fantastic career, a real credit to Bacup, Accrington and the Lancashire League. Was a pleasure to share a field with you, enjoy retirement mate.
Will Driver
What a guy!! I can only echo what everyone else has said. He brought us glory days at Bacup that will never be forgotten, but to top that he also brought us Jo Jo. Make sure them aching bones get a good rest. Enjoy retirement pal.
James Cunliffe

So I've taken some time to think about this....partly because I know a page full of tributes to yourself is the last thing you wanted! Your impassioned plea in July "Please Kim don't let them do it, can you not stop it pleeeeeease Kim!!" was proof positive of that. However, I've come to the conclusion that it's better to have a tribute page that you can read and see what your friends, teammates and peers think of you rather than have one that you'll never see!! Back in 2006 when news broke that you were returning to Accy I have to admit I didn't really give it much thought, yeah you were one of the best bowlers in Lancs League history (according to Birty) and you'd contributed to Bacups success but I didn't have much opinion on the news.....little did I know what that one decision made by you would mean for me and my family!! It's no secret your return contributed towards the resurgence of Accy and any success we've had since 2008....all that can be seen in the records of the club, so you don't need me to big you up or sing your praises (you'd think there was something wrong with me if I did) so I'll keep it short and sweet.....as good a cricketer as you are, and there's few better, you are an even better human being and I am thankful and honoured that I can call you a friend and think of you as family. There's been a lot of ups and downs, highs and lows, laughter and tears but it's been a privilege to go through all of those with you (and the extended Ormerod clan) .....so thank you Dibberoooooo for being you! I can't end this without paying tribute to the real hero.....Jo! I have known of no other WAG who has shown so much patience and understanding over the years as she has, not once have I seen her pull a face or try and drag Dibs away home even though she must have been tired or fed up at times and to Holly and Alice who have spent their whole lives losing their Dad for 5 months of the year....thank you for letting us borrow him!! Enjoy retirement Dibs.....you really have earned it!
Kim
I'm more than happy that I will be able to slip away into retirement overshadowed by in my opinion 1 of only a hand full of true Lancashire League legends that I have played with and against in my 30 yrs. I can now reveal I used to love a little verbal battle with a feisty opening bowler, really heightened the senses and concentration levels. No chance with Dibber a little smile and a nod of the head I wouldn't even have dared to try and start an angry outburst he would have probably just smiled harder. I think the only time I saw him angry was when he bowled a bad ball which if you were lucky was half a dozen times in a 20 over spell. I look forward to sitting at the bottom of the pavilion steps at Accy glass of red in one hand and BBQ burger in the other, we can really tell those youngsters 'it's not like it was in our day!!!'
Mark Lomas
The older generation still wandering round the boundary would call your Dave, "Alick's Lad", in reverence to your dad and all he accomplished during his years in the Lanky League. Those of us, although younger, but still with greying, receding hair & expanding waistlines, having watched David's career wax & wane can honestly say that David & your dad are stood on the same step. Alick must have been so proud of the many achievements & milestones that Dibber clocked up during his years in the game, but more so for manner in which he carried himself whilst playing the game. When reading through Dave's Appreciation Thread on Accy's website there is a common recurrent theme which is immediately apparent… just how much respect there is, especially from all the other "long in the tooth" amateurs, who played not for money but for the love of the game, for your Dave. Never has the phrase, "Respect is earned, not bestowed" been held more truly. Rumour has it that Dibber is turning out for Michael Brown's World XI v Burnley CC at the end of the month; it would be a fitting send-off, if the weather holds fair.
Graham Haworth

Send your tribute
Images
David rejoins Accrington in 2006
Selection for League Team with Zed 2006
David bowling v Colne 2006
A warm welcome From Chris Cairns at Bacup 2006
David celebrates his 50th wicket of the season 2006
Lionel Cooke presents David Ormerod with the mounted ball that he took his 900th Lancashire League wicket 2006
Lionel presented David with five awards 2006
David Ormerod picked up the Senior Bowling Award at the Lancashire League Dinner 2006
Skipper David Ormerod welcomes back the returning Graham Lloyd and Jimmy Hayhurst 2008
A time for contemplation 2008
David bowling v Enfield in 2008
David appeals v Church 2008
David Ormerod's 1,000th victim at Todmorden in 2008
Presentation David Ormerod's 1,000th victim at Todmorden in 2008
Accrington skipper David Ormerod holds the Worsley Cup 2008
Captains David Omerod and Andy Payne agree to call the match off and the title goes to Accrington 2008
Accrington skipper David Ormerod with the Lancashire League Trophy 2008
Matt Wilson picked up the Senior Wicketkeeping Award and Telegraph Tankard and David Ormerod won the Senior Bowling Award at the League Dinner 2008
David Ormerod and Todmorden skipper Jon Henderson meet before the Colne Trophy 2009
Skipper David Ormerod welcomes professional Roy Silva back at Bacup 2009
David Ormerod bowling during his spell of 7-70 in the win against Haslingden 2009
David Ormerod took his 200th Lancashire League wicket for Accrington 2009
It's our title again 2009
David Ormerod bowled through the innings for the second day running as Accrington completed the double over Rishton in 2011
David Ormerod claims the wicket of Bacup opener Adam Highley to reach 50 wickets for the 14th time in a season in 2011
Dibber took 5-38 in an historic win at Lowerhouse in 2012
Plenty to ponder for the Think Tank in 2012
Andy Riley about to become Dibbers 49th victim of the season in 2012
Dibber reaches 50 wickets in a season for the fifteenth time in 2012
Early action from Enfield's reply as David Ormerod gives Matt Wilson a testing time in in 2013
Dibber and Sam Excell in conversation in 2013
Dibber claimed his 1300th league wicket by clean bowling the legendary Chris Bleazard
David Ormerod strikes sending back Nelson professional Ryan Canning caught by Matt Wilson in 2013
Dibber picked up 2 wickets to finish on 49 for the season in 2013
The injured David Ormerod and Team Manager Ian Wilson on the morning of the game against Enfield in 2014
Dibber returned to action with the seconds at Rawtenstall in 2014
Dibber claims the wicket of Burton de Wett in 2015
Dibber opened the bowling in 2015
The first lap about to begin on the tea round at Bacup in 2015
David Ormerod takes his 499th Lancashire League in 2017
David Ormerod got Accrington off to a flyer with the wicket of Church professional Zain Abbas in 2017
Church skipper Levi Wolfenden is Dibbers third victim in 2017
But it turned out to be one of those days as Church won the match by 40 runs in 2017
Dibber made ten at eleven in Accrington's 64 all out in 2017
Dibber to Alex Davies in 2017
Dibber and Ross were all smiles before the match at Bacup in 2017
Both teams give David Ormerod a guard of honour before his last home match against Rawtenstall in 2017