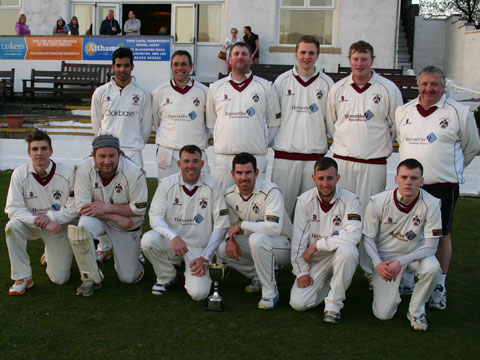 Accrington 2014
The 2014 season began on Good Friday with a LCB Cup fixture against local rivals Church, a game in which we were comprehensively beaten, although the new Pro announced his arrival scoring 76 on debut. The next day saw us retain the Ron Singleton Colne Trophy with an emphatic 86 run victory over Burnley, with new skipper Stuart Crabtree leading the way with 93. The Sunday saw us complete a triple header weekend with a first 2014 league win against Ramsbottom. So all in all not a bad start as we started off the campaign with a trophy and a 12 point win that put us top of the table. The following weekend at home to East Lancs we played poorly and were well beaten, however that game saw a season defining moment for us when Dibber pulled up with a shoulder injury that finished his season before it had got going.

On the personnel front we went into the season with a few changes, gone were a record breaking pro and Ajaz, Marley Ali not available to start and Lloydy likely to miss many games due to his umpiring commitments. Then in the second game we lose one of the finest bowlers to have ever graced the Lancashire League. Despite all the doom and gloom, solid performances saw us win the next three games against Burnley, Colne and Bacup followed by a very narrow 7 run defeat to Lowerhouse in the Worsley Cup. It was at this stage that the early season promise started to wain and holidays robbed us of Matt behind the sticks for 4 games and disciplinary measures cost us the services of the skipper for 8 games. Later in the season would see the retirement of Graham Lloyd which would stretch our resources even further. So some major changes at the ACG have thrown up many challenges this year and I think it is fair to say that if you took 4 or 5 regular players out of any team they would struggle and in fairness on occasions we have.

But it has not all been negative and whilst I make no apologies for telling our tale of woe, the players who have come in have stepped up to the plate admirably. New Professional Ockert Erasmus has settled in brilliantly and had a fine season with over 1,000 runs and 70 wickets. His contribution on and off the field has been first class and I am delighted that he is returning next year, a top pro and a top bloke. We all wish him well for his marriage next Saturday and look forward to the arrival of Mr and Mrs Erasmus in April next year. On the amateur batting front Sam Excell has over 500 runs, a fine effort in his first full season in the firsts. Ramiz Hussain and Ali Hasham both came into the first XI and showed that they are very good cricketers, although their challenge for next year has to be more consistency.

With the ball the star of the show for 2014 has to be Jimmy Hayhurst who has bowled magnificently all season and his 40 odd wickets have been hard earned, with a little more luck he could have been well over the 50 mark. A great season Jim well done.

So in summary, going into the last game against Haslingden we had a chance of a top four finish. In my view a terrific effort considering the trials and tribulations we have undergone this year, and I congratulate all the players for their hard work during the season. I am as proud of the players this year as I was last when we won the League.

I am already looking forward to 2015 and a coming of age for some of the "established youngsters" For some of you it is time to go on a bit further and make a name for yourselves. I also hope we see Dibber back where he belongs - in the first team, but on that we will have to wait and see.

Finally I cannot let the retirement of a certain GD Lloyd go unmentioned. When he announced his retirement I wrote the following, I can think of nothing different to say now.
"It is almost impossible to describe what Graham has brought to Accrington Cricket Club over the last few years (other than more trophies than you can shake a stick at that is). Graham returned to his roots for no other reason than the desire to "put something back" where it all started for him, a rare quality these days and he has done that in spades. So what exactly did he bring to ACC that enabled us to be successful? Quite simply a plan as to how we should play to give ourselves the best chance of winning games. This plan has certainly served us well in recent years and Graham will be the first to confirm that if he was the Architect of the plan, then the very good players around him were the builders (or bag carriers) who built the foundations on which such good times were had. An excellent motivator and tactician on the field, his off field influence has probably been as important to the club, as he instilled in everybody the philosophy of winning and losing in the right manner, a rare skill that has proved vital at times. On top of all this his contribution in the dressing room is almost impossible to evaluate, one of the most naturally funny men I have come across he just made the game a whole lot of fun for everybody involved with some legendary tales to brighten up even the darkest moments. A super guy, a fantastic cricketer and somebody I am proud to call "a mate", I will miss the political debates with him and "Red Dave" (Dibber) and look forward to a few beers with him in the future. Thanks Graham for being a driving force in putting Accy back on the Lancashire League map. Don't be a stranger to Thorneyholme Road - or the dressing room. Oh by the way, it's been a pleasure."
Thank you.
Ian Wilson