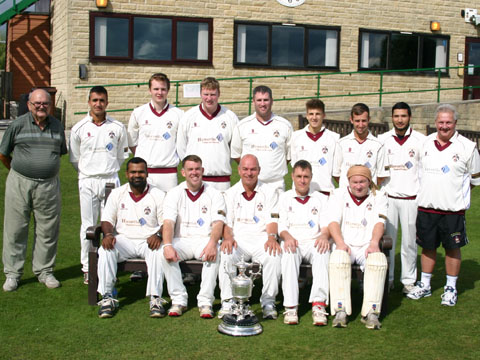 Accrington 2013 Lancashire League Champions
The 2013 Fosters Lancashire League season saw Accrington dominate from start to finish, the omens were good when we went to Lowerhouse for the Ron Singleton Colne Trophy on Saturday April 20th and came away with the silverware having beaten the 2012 double winners by 3 runs in a hard fought game. The league campaign got off to a winning start the next day with a victory against Haslingden, a game which like many at the start of the year was interrupted by the weather and restricted to 27 overs per side. Having made 113-5 from our overs we rolled out the visitors for just 84, prompting the first but by no means the last dig at "Lucky Accy" in the press after the game as the pro and dibber took 5 wickets apiece, including one of the most amusing moments of the season of the season, but more of that later.

We followed up this good start a week later with a win away at Todmorden as we were able to take advantage of being over the hills in Tod and being the only game to finish that day, a game that saw us achieve our 1,000th Lancashire League victory. This was followed up by a comprehensive home mauling of Rawtenstall, Ash and Ajaz both hitting centuries in a total of 292-4 before squeezing Rawtenstall to 160-8 to secure a ten point win. During May we continued the good start with wins against Enfield and Burnley before taking part in the one game that caused more controversy than any other during the year, the home win against East Lancs when we once again secured a victory in the only game of the day to start let alone finish, the highlight being a fine half century from Simon Hanson. The fallout from this game carried on for a while, however if some of the other teams had worked as hard on the ground as we did that day, maybe a couple more games could have taken place. So May came and went with us unbeaten in the league after victory at Rishton on the 26th the highlight of which was a fantastic unbeaten knock of 98 from opener Simon Hanson before fatigue robbed him of well-deserved century.

June almost finished in the same way as May as we trundled on winning against Church and completing a league double over Burnley before going to Rawtenstall where Graeme Sneddon reminded us all how good a player he is with an unbeaten 60 seeing us home to a 6 wicket win. Another win against Colne saws us go to Ramsbottom on the last day of the month still unbeaten, but alas this was not to be the story at the end of the day as our club record 15 match unbeaten run came to an end. Chasing 197, a total we thought was very gettable we never really got going apart from Simon who hit an excellent 85 as we finished up 20 runs short. This had proved to be a great day for Simon as before the game he had been presented with his award as Lancashire League Under 23 Player Of The Month for May.

So into July and a visit to East Lancs where we again tasted defeat on a day when without doubt we played our worst cricket of the season, that is to take nothing away from East Lancs as they were worthy winners on the day, the highlight of their day being a hat trick from Usama Chaudry. From our perspective this was the only time all season that we were completely flat in the field, we had scored 204 with the pro hitting a fine 84 ably supported by Crabby who got 48 before a disastrous tail end collapse saw us go from 185-5 to 204 all out including the hat trick, a total we thought might just be twenty or so short. This proved to be the case as in the second innings we struggled to impose ourselves and left with our tails between our legs.

This defeat proved to be a watershed moment in the season. We do not tend to hold inquests after a game but prior to the next day's game against Rishton, Lloydy reminded everybody that we could not expect to just turn up and win, but had to work hard to get results. A few of the players contributed to that days "warm up" discussion, no egos, no falling out just a collective will to win and win we did by 30 runs to extend our lead at the top to 23 points. Lowerhouse away followed and so did another 12 points as we truly showed our class, 50 from Snedds, 60 from Lloydy and 39 from Marley saw us finish on 215-8. After a good start we put the squeeze on "The House" and a fine 5 wicket haul from Ash lead us to a 72 run victory. The next game was away at Bacup and if we ever deserved the moniker "Lucky Accy" this day was surely it. The home side batted first and finished on 182-9, so no bonus point. We then proceeded to lose wickets far too regularly and crawled to 174-9, enter Dibber last man in, he promptly edges his first delivery to the Bacup Pro Aubrey Swanepoel at first slip and it is all over, except that inexplicably – he puts it down and Dibber and Simon (batting at 8 due to a broken finger nail) saw us over the line.

Nelson next up and another 12 points, so to against Bacup at home, 10 more at home to Nelson with another 82 from Ash. Then 10 more at Hassy with Ash contributing a magnificent 138 not out, another 10 against Lowerhouse and on Sunday August amazingly we were Lancashire League Champions with four games still to play. A great sporting gesture came from the deposed Champions as they applauded the team from the pitch. Cue four weeks of celebration.
Predictably we then lost the next game to Church, but did anybody care – no not really. We finished the season as most of the rest of it had gone with wins against Enfield and Ramsbottom before pitching upon the last day at Colne with Ash needing 90 runs to beat Bobby Simpson's club batting record. For a long time it looked like it would not happen as we restricted the home side to 142, so we needed 143 to win and Ash needed 90 of them. Snedds unselfishly got out for a duck to allow Ash to come to the crease, what followed was a remarkable innings from a remarkable Professional. Quite simply he bludgeoned his way to the record finishing on 91 not out with a new club batting record of 1446 runs. It is a real pity that Ash cannot be here tonight, I am sure we will be in his thoughts. We all hope he gets his chance in the first class game next season and if he does he will certainly make people sit up and take notice.

So 26 games, 22 wins, and one no result and just three defeat a record winning margin of 55 runs, what a season. But then we are "Lucky Accy" !!
Ash 1446 runs, Simon 567, Aijaz 507, Crabby 367,Snedds 300. Bowling – Ash 79 wickets, Dibber 49, Jimmy 29, and Simon 20. Well these lads certainly had some luck – didn't they !!

Why did we win the league, the weather ? luck ? or could it just have been a magnificent group of cricketers who were not only very talented but never knew when they were beaten, I know which I would go for.

Every player who represented the first team played a part and all gave match winning performances In one game or another. Stalwarts like I have already mentioned, Pro, Graham, Dibber, Matt, Crabby and Snedds. Youngsters like Simon, Bryn, Jake, and debutants like Liam Smalley, Sam Tattersall and Sam Excell who grew into the first team like he had always been there.

To all of you I give my thanks from everyone involved with the club for giving us such a fantastic season and on a personal note it is a great dressing room to be part of and a pleasure to be involved.

Thanks as always to everybody who has contributed: Rod and the committee, the Groundsman and his team and the staff of the best tea room in the Lancashire League - whatever the umpires say !!
Finally please do not be offended if I have missed anybody, this has truly been an incredible season and we should all be proud and bask in the glory.
Oh by the way – I haven't forgotten the Worsley Cup or 20/20, as usual we were crap in both.
Thank you.
Ian Wilson
November 16th 2013