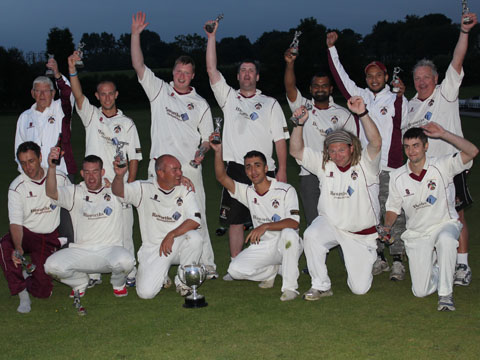 Accrington 2012 Holland Cup winners
The 2012 Fosters Lancashire League season turned out to be a considerably more successful campaign for Accrington Cricket Club than most people expected. Most that is apart from the people in the dressing room! We believed right from the start that we were capable of if not challenging for the title, to at least be in the top four come September 9 th. As things transpired, right up to around 6.45pm on the last day we could have ended up as champions, but it was not to be and our congratulations go out to everybody at Lowerhouse as they retained the Lancashire League title.
The 2012 season will go down as probably the wettest in most of our memories. But not only was the weather wet, for the most part of the summer it was not warm either. Two and three layers in July is no fun! Many congratulations and thanks should go to all the league groundsmen for their sterling efforts in getting matches on.
We started off very well with four victories before losing our fifth game narrowly to Lowerhouse, a game we could well have won. Another couple of wins saw us go in to the Jubilee Bank Holiday home fixture against Enfield full of confidence, only to suffer our worst defeat of the season after being bowled out for just 76 runs. Following this reversal it seemed as though any serious Accrington challenge had disappeared as we lost two away games, won two home games and promptly lost two more away games which saw us drop to sixth place in the league. Not exactly a model of consistency!
After the loss at Todmorden on July 29 th we suddenly found our top gear again and went on to not lose another match, ending the season with six straight wins to almost take the title and eventually finish second to retain The Holland Cup having recorded the same number of victories as the champions. All in all a fantastic Lancashire League season for Accrington.
The Fosters Worsley Cup competition brought mixed fortunes with relatively straightforward wins against Colne (1st rd) and Nelson (2nd rd) taking us to a home semi-final against local rivals Church. Batting first on June 30 th we had raced to 104-2 in just 23.3 overs and looked set for a decent total only for the heavens to open and wash the game out. In the replay missing Graham Lloyd and Jimmy Hayhurst, we were never really in the game as the Church pro Saeed Anwar hit a blistering 93 in their 277-5, our reply of 188 all out leaving us to rue what might have been as we missed out on a home Fosters Worsley Cup Final.
The 2012 Moorhouses Brewery 20/20 came and went in typical Accy fashion as we made our customary little impact, with a record of won one and lost one both on the field and by the toss of a coin!!
Player wise we welcomed back Professional Ashar Zaidi who once more showed his class by scoring 755 runs on what for most of the year were difficult batting wickets and also taking 89 wickets. We are delighted that he is returning once again in 2013. We also welcomed Aijaz Shah who proved to be a very useful addition chipping in with almost 400 runs in his maiden season. Individually there were some great match winning batting performances during the year, Stuart Crabtree's 68* away at Bacup, Matt Wilson's 65* at home again to Bacup and the home fixture versus Ramsbottom where Graham Lloyd's brilliant 93 was only overshadowed by a quite sensational 53* off just 24 balls from Simon Hanson. Bowling wise the evergreen David Ormerod defied "dodgy knees" to once again finish with 60 wickets and Jimmy Hayhurst took 36 wickets including 5-31 in a magnificent display of fast bowling in the penultimate game at home to Rishton.
A few interesting stats occurred this season, Matt Wilson passed 4,000 runs for Accrington and also took his 100 th career stumping, whilst Graham Lloyd became the first Accrington amateur outfield player to take five catches in a game against Rishton.
I would also like to take this opportunity on behalf of all the players to thank everybody who works so hard to make Cricket happen at Accrington. The list is lengthy and without each person playing there part the club could not function, no individual mentions this time just a heartfelt thank you to all of you.
Ian Wilson