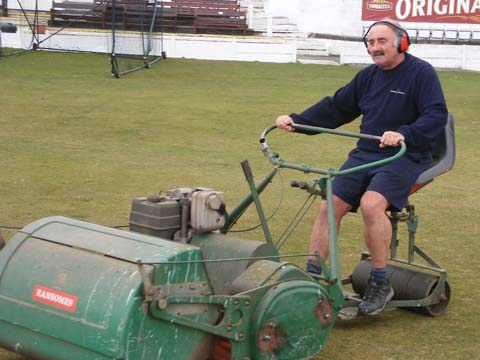 Ian in action
Superb March weather, dry sunny and warm. Then the wettest April on record, followed by the coldest early May I can remember, and now the start of a hot and dry spell.
No sport is affected as much as cricket as regards the playing conditions.
Variety is the spice of life, and therefore a variety of different surfaces on which the game is played should be expected and acceptable.
As regards fitness for play, Groundsmen will err on the side of unfit. Players will want to play unless they have ulterior motives not to.
If the weather is ok, who wants a rearranged fixture? Not players, committee, spectators or the tearoom etc.
Groundsmen are in the minority of one. Even umpires, unless there is rain, and are conscious of health and safety, will leave it to the captains.
Back to the Groundsman … isn't he paid to prepare and repair wickets, and if you wait for the weather, would cricket be played in the North of England?
Of course, grass is a tough cookie and will repair with help during the growing season.
Judgements as to fitness to play will remain open depending on individual desires rather than a cold impartial view by an experienced person.
This subject will debated this season, next season, as it has, in previous seasons.
Ian Mac