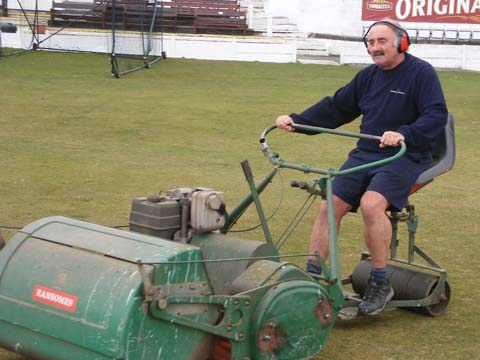 Ian in action
Fri 26th March Back at Acc and just completed my first week back as Accy's part time groundsman. Little grass growth over the winter, the outfield is poor in colour with moss prevalent throughout, it will recover as new grass growth will be dominant over the moss. Grass is a tough cookie! Hopefully Peter and Arthur will help me with the scarifying and slitting needed to be done on the outfield over the summer to help remove the compacted thatched surface and help the water penetrate through. I think that junior football on two sides of the outfield is acceptable in bringing in extra money for acc during the winter. This spring I may fertilize the outfield to give it a kick start. The square, that is eleven senior wickets and eleven practice and junior wickets, is not too bad a colour for the time of year and will have benefited from being fertilized last Wednesday. Only a light fertilizer was applied so as not to force too much growth so early in the year with cold weather still around. This week I've managed 6 hours pre-season rolling on the square. Reluctantly I may worm-kill the square if a wet spring materializes, to avoid unsightly worm casts on the square. I have re-measured and re-marked the square.
I am disappointed that no provision for repairing or replacing the two artificial practice wickets has been addressed and that it is intended to practice all summer on both junior and senior grass wickets on the square. I haven't produced these extra wickets just to be looked at, but to be used, but only in dryish conditions. No doubt many problems will occur during this summer about fitness for play, especially if we experience a wet summer again! artificial back-up is essential for club cricket if practice sessions are expected nearly every night of the week. However I understand that to enable me to spend more time on the square the club are going to get someone to cut the outfield.
The excellent work done last season on the perimeter of the ground as regards seating by Jimmy Hayhurst and Graham Haworth, and Martin Young in mowing the perimeter grass areas, together with Bert Ormerod's indispensable weekly general multi-tasks that hopefully will continue this season, has produced good results. One sight screen has been damaged, some lats are broken and some are rotten and need replacing before the season commences.The tea room, and the clubhouse, and Huncoat end, look so much better for the coats of paint which have been applied
To end on an opinionated note, whilst mowing /rolling with my mind in automatic pilot, I often pick my "best" football and cricket teams..but sometimes I pick tall teams, bald teams, happy teams, miserable teams...whatever..
This is my best Accrington cricket team who I have seen play as amateurs...Beech, Fowler, Lloyd D.[capt], Lloyd.G, Swanney, Ratcliffe, Rawstron[wkt], Worsick, Robinson, Birtwistle and Ormerod.
I hope I haven't offended any other probables ..I wonder if any other Lancashire League side could beat that in the last 30 odd years.
Sat 27th March. Working party - Players and members down to white paint anything that doesn't move! As usual,some players worked,some didn't, as Dibber noted, "dress sense indicated the workers and non-workers!" Caz looked the part in his green hunter wellies!..a real yuppie! Mick, and Matt Donnelly did a good job of edging off and scraping then stiff brushing unwanted growth on the two artificial wickets, which will have to be used this summer. I wonder what happened to the grants Peter has been polyfilling and repainting the committee room, Marion and Jill have spring cleaned the dressing rooms, including taking up the old stained carpet tiles to make a better flooring. I re-measured and re-marked the boundary line.
Friday 2nd April I was pleased to see Jimmy Hayhurst and Graham Haworth working all day on a bank holiday preparing for new concrete area around the entrance to the disabled ramp and up to the old rugby building..[the old concrete was dug up by a contractor during the week] Used acquired paving tones were laid on route down to the cellar, this work must cost a few bob. I rolled and cut the entire outfield.
Sat 3rd April. Working party - white painting of pavilion outside walls .also the seating was power jetted. although the sunken posts in concrete at the Huncoat end to hold poles for a net to catch "sixes" was not erected as intended. Problems with teenagers on the ground at the Higham's end..Rod was verbally abused!
Tuesday 6th April Again problems with teenagers at Higham's end playing football on the outfield and generally hanging around on the seating under shelter. After ignoring, firstly a reasonable talk from me to move on to play football on the pitches on Higham's playing fields and then from me and Rod, reluctantly Peter tried to contact the community police as they refused to move on. I think problems could develop here during the next 2 weeks due to the school holidays.. I managed to slow roll the square for two hours. Noticed that the tea room has been tidied ready for Christine and the team of helpers this summer.
An early season reminder that surviving as a league cricket club in the north of England is hard work and hard graft.

No idyllic scene in the sun with a picturesque ground and other dreamy additionals, this is cricket in a hard, harsh and sometimes unfriendly environment.
"Let battle commence, be it financial, playing or ground-wise! "
Ian Mac