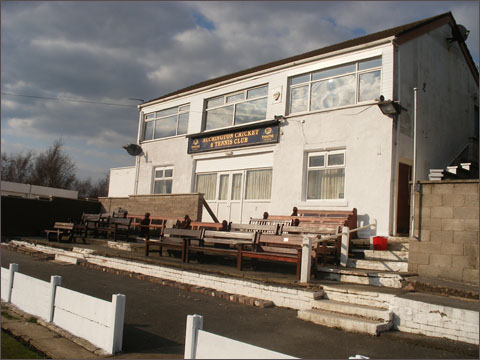 The Clubhouse
TUESDAY 13th OCTOBER 2009
- The cricket square at A.C.C. has been put to bed for the winter. It's been severely scarified three ways, reseeded, top-dressed with 100 bags of loam, fertilised and today received its final cut before a "friendly foreigner" verti-drained, (i.e. deep spiked), the square at 4 inch intervals to a depth of 5 inches. The outfield or rather the Highams and Huncoat sides have been re-measured and re-marked for junior football by Peter, (the engineer) and Alvin, (the mathematician) ! I understand that four junior teams are playing this winter and why not, if damage is minimal and money comes into the club. Incidentally the outfield has really benefitted from the mid-summer weed-killing done by the same "friendly foreigner". It was last done about 15 years ago. Thanks to the anonymous benefactor who paid for this. How wise is it to identify essential operations to maintain and improve the ground now, and then get the jobs done, rather than leave them and then have to spend silly money further down the line. The ground is the club's major asset.
A few thanks to other ground workers. To Peter for his continual work involving ground matters at A.C.C. To Arthur for all the rolling he's done and the slitting he intends to do this winter. To Martin for mowing and strimming the grass areas around the perimeter of the ground throughout the summer. And finally to Bert, a real unsung hero around the ground, for doing a multitude of tasks each and every week. The club needs more Berts and less "berks" who moan, criticise and offer little.
A few problems concerning the three grass wickets at the end of the square at the Cemetery end. These have to last all summer and are for senior practice only and should only be played on in dryish conditions. Junior practice should not occur on these wickets. To help the junior section this summer, two extra wickets at the tea room side have been prepared, i.e. scarified, fertilised, and rolled. Again, these should be used only in dryish conditions. Therefore, in wet conditions, the two artificial wickets come into play for both senior and junior practice. We have now experienced three wet summers emphasising the importance of the artificial wickets. Yet, they are still in need of repair/replacement, and because of this they are under-used. Neither is time available for a part-time groundsman to prepare and repair grass wickets for six months without artificial back up. I might add that about half the clubs in the Lancashire League provide practice on artificial surfaces only. I understand that finances are restricted, and improvements limited, and that a percentage of contribution from the club to a grant is sometimes essential. However, as a final thought on this matter, may I suggest, that as A.C.C. have an exceptionally wide ground, one new artificial wicket laid at the cemetery end of the ground could certainly be another option. With having a decent sized boundary at that end, as well as a huge one at the tea room side, it could accommodate schools, fun games, charity and pub games as well as doubling up for practice nights without cancellations. However this issue needs addressing by the club, not the part-time groundsman.
Finally a few statistics and comparisons.
In 2008 – 80 matches planned – 53 played. Total runs in first team games 4066 for 208 wickets. Average match 310 runs for 16 wickets, average runs per wicket 19.50.
In 2009 – 100 matches planned – 72 played. Total runs in first team games 4229 for 242 wickets. Average match 307 runs for 17 wickets. Average runs per wicket 18.00.
Winter well ........... IAN MAC.
Tuesday 5th May

Pleased to report, as most Accy supporters are already aware, that the club has wisely invested in much needed ground improvements. Primarily in the purchase of in excess of 200 white fold-up seats from St Mirren F.C. Jimmy Hayhurst and Graham Haworth, both victims of the recession, have spent their extra hours away from work securing the seating to the concrete concourse in a very professional way. The disabled ramp has been constructed, rendered, sealed and painted. Additionally the front of the pavilion and a section of the wall nearest to the pavilion have been painted. Two pre-season weekends work tidying up both inside and outside the pavilion have also improved the appearance of the ground. Thanks go to players and other helpers. Also thanks to Martin Young who has done a great job in hand mowing and strimming the perimeter grass areas. Again a big improvement from previous summers. Mick Donnelly's work in cleaning the artificial wickets is also appreciated. "Bert the brush", be it paint, stiff or scrubbing, continues to clean up the ground nearly every day, whilst Marion weeds and plants the small garden areas formerly tended to by father David Lloyd.
On the playing area more money has been made available to me to maintain and improve the outfield, which has received little or no attention for several years, save mowing.Obviously the club must be prudent in spending money and ensure that priorities and essentials are identified and addressed.Already nearly 50 hours rolling has been done on the square, which consists of 22 wickets including junior and practice wickets. Arthur has done the majority of this and has even stripped off on a couple of occasions, (waist up only, save his braces!)The first two games of the season were both played on dry wickets and resulted in four innings producing over 900 runs. However I thought the bounce was more inconsistent on Saturday's wicket. Why? I'm not sure. I prepare all senior wickets in a similar way, variations occur because of weather. Both wickets received the same attention in preparation and also in regular maintenance, (i.e. fertilising, top dressing , scarifying , aerating etc). Accy's wickets tend to play slow and low, due primarily to the top dressing we use, Kettering loam, which has a clay content of only about 20%. It's advantage is that it's more manageable to work with when wet than say Surrey loam which has a clay content of 35% and therefore produces quick, bouncier tracks but need covering, more of that later. Also Accy's roller, although weighing over a ton, is not as heavy as some heavy rollers.My own theory is that over the years squares become tired and worn out. The problems lie under the surface e.g. top dressing on top of thatch layers producing a soft undersoil with air pockets that don't roll firm, poor rooting not holding the soil together or different types of topdressings that do not bind together. I think it no coincidence that over the past thirty years nearly all county wickets have been dug up. You can start again with say 8 inches of virgin topsoil, hand chosen with the ideal amount of clay content, correct PH and fertility and used together with modern cultivars of grass seed with qualities of being hard wearing, having good colour and density, fineness of leaf and able to stand close mowing would produce far better pitches than old ones. Groundsmen ,like players, are experts with excuses and apportioning blame elsewhere. Anyway it may be a good idea when people complain about the wicket to say "Yes, it needs digging up." End of argument.A final thought on the problems of sheeting up wickets in wet weather. Take last week for instance. Light rain on Thursday morning so I put the white sheet on Saturday's first team wicket. The white sheet only covers one wicket. I could neither move or want to put the large, new, green sheet that covers about four wickets on because there was an under 13 cup match on in the evening. Drizzle continued throughout the afternoon/evening and the under 13 match finished in a "bowl out." By now, (mid evening), water would have covered the white sheet and would need removing with the waterhog. Then the large green sheet should have been put on top of the white one. Some senior players were down but probably didn't know, notice or bother. The result was that on Friday morning I immediately removed the water from the white sheet then the sheet from the wicket. The water has got under the sheet at the Highams end, (Dibber's end!) and was wet. Later on Friday, with more showers forecast, I sheeted up with both sheets. On Saturday morning I removed the water off the sheets and, with help, uncovered the wicket. Of course the sheets lying on top of damp grass results in sweating on the top. The resulting damp wicket played poorly. Couple the above scenario with the fact that in windy conditions several bodies are needed to control handling the large sheet and have to be down at the ground at the same and the right time and that several up to date weather forecasts need to be studied at regular intervals prior to decision making makes sheeting up a wicket very difficult, especially when junior matches are played each week on the square. That last long winded sentence just about sums up what a long winded job it is . I would sooner put water on the square than take it off. As I finish this ground diary at 5p.m.Tuesday it has rained for two days with more rain forecast all week sheeting up now becomes pointless the wickets this weekend will be damp/wet/very wet. Getting the outfield and square cut become priorities not the wickets which will receive more thought as the week develops but will not get the normal preparation. Still that's northern league cricket.
IAN MAC