GROUND DIARY 2009

GROUND WORK REQUIREMENTS AT ACCRINGTON CRICKET CLUB FOR 2009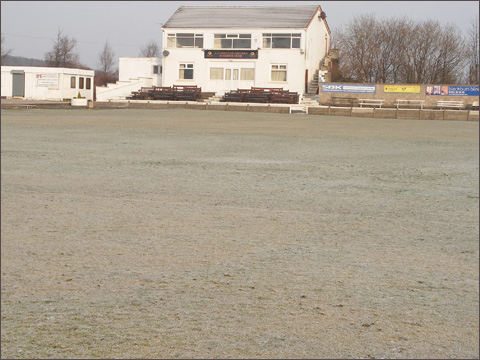 A frost bound Thorneyholme Road on a freezing cold January morning
Service of wicket, square and outfield mowers, (includes full service and regrind of bottom blades and cylinders)
Additional cost for transporting mowers and other machinery to and from ACC during the year.
Allowance should be made for probable mower costs during the mowing season.
About £10 per week will be spent on petrol for

,

say thirty weeks of the year.
The mower and strimmer used for the perimeter grass areas will need maintenance, service, petrol etc for the growing season.
Renovation cost to the two football pitches on the outfield.
Minimum fertiliser requirements 3 bags of spring, 3 bags of summer and 3 bags of autumn fertiliser.
One hundred bags of top dressing, (soil).
The cricket square needs verti-draining in the autumn , (i.e. deep spiking), to alleviate the 100 hours of rolling on the square.
Obviously ACC do not have the machinery to do this operation.
Ideally the outfield should be done every third year if winter sports are played on the outfield.
In 2009 I hope to weedkill the outfield. This was last done well over ten years ago.
Again we

do not have the spraying equipment to do this task. The outfield is riddled with weeds and needs attention now.
I can get this done by a professional groundsman.
An anonymous benefactor has already given me a donation toward this cost.
I strongly advise that this work is done this summer or the club will have to find considerable more money to pay for this maintenance operation in the future.

ACC can then forget about weedkilling for a few years.
I suggest that that unless grant money was available to ACC

,

it is more cost effective to hire or loan expensive equipment which is used only occasionally in maintaining the ground

,

but ensure that essential machinery is budgeted for.
In this regard a long term budget cost for mower replacement should be implimented.
In 2003 a "new" roller was required. To ACC's credit this was purchased.
This roller should in the next few years provide good use at small cost, as it has in the last five years.
In 2006 a "new" outfield mower was required and purchased, (provided for by a grant that Peter Barratt obtained for the club).

This machine should, with maintenance and servicing, provide ACC with good service over the next few years as it has in the previous two.
However the square mower is on its last legs after many years use

,

and more importantly the wicket machine will eventually need replacing . It is well over ten years old. Having said that its had so many second hand

part

replacements

,

it may go on for a few more years!
However the point being is that ACC should review and prepare for essential mower replacement

,

either through cash availability or better still through grants.
The old Sisis outfield scarifier, roller and slitter continues to chug along although the slitter tines which were originally 4 inches now have worn down to about 1 1/2inches and should be replaced.
A final thought on the two artificial practice wickets.
ACC excellently provide cricket for all ages nearly every night of the week throughout the summer. The last two summers being so wet has meant that the artificial wickets are often the only suitable ones for practice.
However they need attention and that involves money. This matter certainly needs resolving soon.
Rod and Alven are aware of this situation.
Two flix wickets were inserted in the outfield, by the mast, a couple of years ago. However despite them being weedkilled, fed, reseeded and rolled

,

I have not received a favourable impression as for their suitability for practice.
This again emphasises the importance of the artificial surfaces should the grass practice wickets at either end of the square be too wet for use.
Ian Mac.