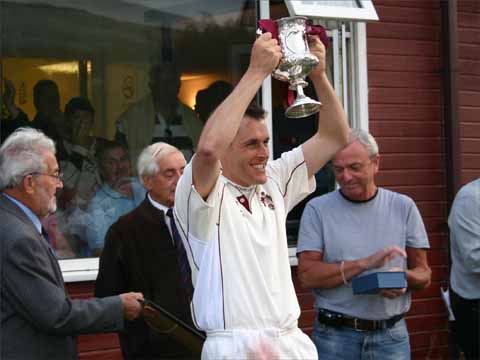 Accy's Cup
Brian Heywood: "
Congratulations to all at the club on a well deserved victory. The team's performance brought to mind an incident at nets early last season. DC was hitting slip catches with DC jnr fetching the ball back when we missed it. Following the first dropped catch, DC ordered 'three press-ups'. 'Only three!' exclaimed DC jnr. 'It should be at least ten for that! You can see why we're bottom of th' league. There's no discipline!'
"And you know what, the young 'un was right. I'm sure DC jnr would agree that no-one could accuse the team of that this season. The quality of the fielding, the team batting plan and the tightness of the bowling was terrific on Sunday. One of the highlights for me was the statement of intent that went out when David brought himself on to bowl immediately Ghulam Bodi came in, a move which contributed to his dismissal.
"Peter Davies of the Cricket Heritage Project at the University of Huddersfield has added a photographic record of the day, including many pics of supporters, to their website at
http://www.ckcricketheritage.org.uk/index.htm
and is happy for these to be downloaded and reproduced. They are currently under 'Photographic Chronicle of 2008 Season' on the home page and will later be added to the Todmorden section under the Calderdale Clubs dropdown."
Accrington Stanley Chief Exec Rob Heys: "Congratulations on the Worsley Cup win. I was at Todmorden on Sunday and thoroughly enjoyed the day. You've had your troubles in the past but it was great to see everyone so happy at the end. Good luck with the league campaign now, make it a double! If everyone is free at the end of the season it would be great to get the lads on the pitch at half time with the cup(s), the pa announcer could have a quick chat with a few of them and it would give our supporters the opportunity to congratulate the town team on a fantastic season."
Colin Wolstenholme: " Well done Accrington CC As one of the original "Heavenly Choir" from the final of 1976, I'm sure I speak for all supporters in congratulating the team of 2008 on a fantastic performance at Todmorden. Great day. You're all a credit to yourselves and the club."
Andy Gardener: "I just thought I would drop you a line to say well done and congratulations to you all. It only seems like last year we won the cup with "Tucker" and the rest of the "pros's" Well done to you all and to the club and all the members who have stuck with you through thick and and the thin. My cap and Cup cap are still in my cricket bag and yes I still play a little ( in my ACC cap ) with Chipping CC. Fancy a friendly next pre season?? Congratulations again to you all !

Andy, Bacup fan
: "Please tell everyone at Accrington well done helps when you have a good skipper and fine bowler to boot, well done Dibber. Win the league now too."
David Ormerod: " I'm overjoyed. I thought the lads performed really well as they have done all through the tournament. Toby Bulcock was exceptional but Stuart Crabtree laid the foundations. Graham's knock was fantastic. It was an all round good performance by the team. People have said that Roy Silva is not a good enough pro' for this league but he has proved them wrong today. I thought they were all great. We fielded well and we bowled well and batted superbly."
Graham Lloyd: "Very pleased. It's a great day for the club. Much deserved, a lot of effort has gone in , lots of patience has been shown by people who have never given up. I'm absolutely delighted for people like Peter Barratt. The wheel always turns and it has done."
Graeme Sneddon:"I'm glad we won obviously. Me and Crabby did the hard work by protecting Roy and Lloydy. Simon fielded and well Toby deserved to be Man of the match"
Stuart Crabtree: " I just batted to look after the pro' and Lloydy and then they did the business. Toby came in and finished the game off."
Simon Hanson: "Unbelievable to win it especially at my age. "
Paul Carroll: "I'm delighted. I'm just an aging 46 year-old fat boy but I'm just pleased to have made a contribution. I'm delighted for the guys because they are a really good set of lads. I wish I had moved here about 15 years ago when I could bat. "
Man of the match Toby Bulcock: "A good team win. Everybody has chipped in . We've had some criticism in the papers about being a two man show but today everybody has performed today to prove we are an eleven man side. There was a lot of pressure on me today because it's the first time that all the family has come to watch. It's nice to take the catch but one wicket doesn't change a game, a lot of pressure had built up to make that wicket."
Zahir Afzal:" It's been a fantastic day and a great day for cricket. we would have settled for 200-220 so to finish on 290 was a bonus. having said that Todmorden came out and batted really well but just fell short. We batted and bowled really well and Toby Bulcock deserved the man of the match award. Simon took three catches to turn the game round. "
Professional Roy Silva: "It's been absolutely brilliant today to win the Worsley Cup after 22 years. We've achieved one step now we have another step to take to become champions of the league. The ball was swinging for the first 15 overs but after that myself with Crabby and then Lloydy managed to score some runs. I was very happy to score a hundred ."
Damian Clarke: "I'm relieved and very very happy. I've won a couple of mid week trophies with the dairies and an under 15s which I don't remember much about but that's it. I've never even been close in senior cricket so. I'm making the most of the moment. A good team performance. "
Matt Wilson: "I'm really happy for the boys and for everybody who has worked so hard over the years whilst we have been struggling. Most of the lads have played here for a long time so it's great to finally taste some success because we all deserve it. "
Accrington Observer Sports Editor Dany Robson: "I have been to a couple of Worsley Cup finals but I couldn't believe how many people were at this one when I came in. I must admit at 11-2 I did begin to think that perhaps it wasn't going to be a fairytale ending but Graham Lloyd and Roy Silva came in and the score suddenly went up and up. I spoke to David Ormerod as he paced around the ground and he said he would have been happy with 180 - so 291 was certainly a dream. Tod were never really in the hunt and when the pro Gulam Bodi was out that was it. You could see what a huge achievement it was for all the Accrington players - even Graham Lloyd who has won bigger honours but he really enjoyed the day. David Ormerod had to prise the cup from chairman Rod Kenyon who was drinking beer out of it and Damian Clarke looked like he was never going to let it go! The party looked like it was going to be a good one so I dread to think what will happen if they win the double!"
McGoo: "I'd just like to send my congratulations to Dibber and his fantastic squad who have played brilliantly throughout the season and got half of their just rewards yesterday at Tod. The team played with such assurance yesterday that Tod were never really in it chasing a big total like that. Highlights for me......Roy finally silencing his critics, Simon taking that fantastic catch, Toby batting and bowling so well and Graham reverse sweeping his first ball to the boundary.....oh and Paul C not getting out first ball. A richly deserved victory for all concerned with the club. Anyone for a double???"