GROUND DIARY 2006
Follow Accrington Groundsman Ian McCrae and his team in action through the season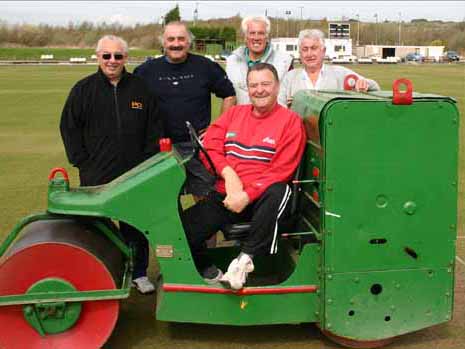 The team - Peter, Ian, Bert, Arthur and Harry on the roller
©Nigel Stockley
Monday October 16th
A full day mowing the rest of the outfield, (with Arthur's help in the afternoon). I cut the square again, taking another four full boxloads off since mowing it on Friday! Roll on a few frosts to check this growth. I fancy the mowers are still poised for more action. I again mentioned to Rod that the outfield mower needs replacing or major surgery. I can probably arrange for the square and wicket machines to be serviced at a cheap rate. But i feel that the cricket club should address the responsibility for sorting out the finances involved with the outfield mower. With Peter away from January till the end of March, (pro-ing in New Zealand) I hope that some decision is made before the New Year. The last operation on the square is to be done this week, verti-draining. The cost £200 plus, Peter is paying for it. I mentioned to him to make sure that the tines were not worn down from earlier work so that the promised depth of penetration, (minimum 4-6 inch), is attained. The best test is to place a pencil in a few holes to check the depth of the penetration. if you are paying good money for a service always have a "clerk of works" checking it out. Surely, now ends this Ground Diary?
Friday October 13th
Another beautiful, sunny day although the ground is wet through due to the dew. I cut the square , another three boxloads, and then started cutting the outfield. I left the Coppice end because of rugby training. Rugby needs 2 inches of grass at least for play, football 1-1,1/2 inch and cricket outfields 1/2 inch. I cut about a third of the outfield. Bert assumes a new role at ACC." I'm a lumberjack and I'm OK, etc" he is dismantling, with a handsaw, the partially dismantled fence around the tennis court. Bonfire night will destroy all evidence of his work. Axle loaned a hand mower to cut the grass around the car park area. Another good job at ACC. and free of charge. It's easy to get lazy this time of year and leave things, but the more work you do now, the less in Spring.
Sunday October 8th
After rain throughout last week, today is a beautiful, dry windy day, so I decided to come in and cut the square. I needed to cut it twice and took off twelve full boxloads. I'm on double pay for Sunday work! Seriously though, no doubt the club would pay me for any extra work I do if I ask, but if I pick suitable sunny days this month, "my pay", is the satisfaction I get from leaving the ground looking good over the winter. This usually means cutting the ground until the end of October. Axle, from the Rugby Section informs us that the Junior Section of the Rugby side are to continue at the cricket club, but the senior section have moved on to Blackburn Rugby Club together with their regular drinking habits. So how much are ACC going to benefit from Accy Rugby Club Junior section using the ground and bar? Axle, as positive as ever, talks about grants for showers, machinery and manual ground maintenance. Positive thoughts, hopefully not ripping yarns.
Tuesday September 26th
Another late summer, warm, sunny day. I cut the square, took off four full boxloads, remarked the square and then hand fertilised the square with a light dressing of autumn/winter feed. Rain forecast to follow later this week to wash the fertiliser in. I've now finished my work at ACC this season, save perhaps a couple of cuts of the square and a final cut of the outfield spread over the next month. The square looks good, the reseeded ends have greened up, the topdressing has levelled out the low, uneven areas and with the fertiliser on the square it will retain a good balance of nutrients and colour. Although fusarium disease is always a dangerous enemy this time of year.
The season has ended as the season started with Bert tidying up and painting, (brilliant white only), Peter moving the sightscreens with the roller, this time to their winter positions. Also re-storing the large wicket cover and hand roller in the old, now unlocked with no doors roller shed. And to complete a full set Arthur turned up, pottering around doing "bits and bobs". On a personal note I've completed another years work in my shorts. I use about three pairs each season.
So ends my ground diary, with no sequel to follow. My title for this diary, "the maintenance of a league cricket ground, the problems and solutions". However I think perhaps it's title should read " the maintenance of a league cricket ground, the problems and some solutions".
Monday September 25th
Yesterday's "fun day", after a bad start weatherwise, still brought in a few hundred quid. Well done to all concerned.
A few statistics over the last four summers I've worked at ACC
.
2003-90 matches planned- 68 played.
Total runs for 1st team games 4723 for 169 wickets
average match 360 runs for 13 wickets.
average runs per wicket 28.


2004-82 matches planned- 60 played.
Total runs for 1st team games 3753 for 174 wickets
average match 316 runs for 14 wickets.
average runs per wicket 22.


2005-71 matches planned- 60 played.
Total runs for 1st team games 4153 for 215 wickets
average match 300 runs for 15 wickets.
average runs per wicket 20.


2006-76 matches planned- 59 played.
Total runs for 1st team games 3673 for 172 wickets
average match 306 runs for 14 wickets.
average runs per wicket 21.
Judge whatever you want into these statistics. Perhaps consider the weather, rain reduced games, no result home matches, groundsman's commitment!, equipment, standard of batting and bowling etc. Form your own conclusions, if you haven't already.
Thursday September 21st
A very warm, breezy day. I decided to cut the outfield except the "rugby pitch", and enjoyed it. The ground looks good, but it usually does in bright sunshine. Next week is my last week, although I usually call in each month over the winter to check primarily on the square for disease etc. I understand that an anonymous benefactor has or is to pay for verti-draining, i.e.deep spiking the square, in mid October. The cost £200 plus. Thanks Peter!
Wednesday September 20th
A dry, windy day, ideal for topdressing. Peter helped load the bags onto the autotrac and drive them to the square. I then positioned them on the square, (i.e. fifty bags on wickets 9-19). Then Arthur opened and emptied the bags, each 25kgs, ready for me to spread by shovel. After speading, I chain harrowed the square in three directions to really work the soil into the grass. it was ideal, dry conditions and took about three hours to do everything. meanwhile axle with Haggis's help measured and marked out half a rugby pitch at the coppice end of the ground, for rugby practice each Wednesday evening throughout the winter!
Tuesday September 19th
Top dressing the square is a regular autumn operation. It's better to use the same topdressing each year, as the same marl binds together better. at ACC we use kettering loam. You usually need at least three cwt for each wicket. the dressing is applied after the season has finished, after scarifying, aeration and overseeding. The topdressing, marl, loam, (call it what you may), levels out small indentations, covers the seed and levels worn wicket ends. Although care has to be taken that the wicket ends are not overly topdressed and the middles left. This causes a saddle, high ends, low middles. This has happened at ACC. and over the last five years we have hollow tined the ends to remove surplus soil, (especially at the higham's end). The cores are collected and removed from the square. Today the top dressing arrived on time at 9.30a.m. so did very heavy showers which prevented any topdressing work. i did, however, fertilise the main central wickets i.e. 6-17 with a bag of autumn /winter fine turf feed. I applied it by hand. At least the rain will wash it in nicely.
M

onday September 18th

Peter slit the square four times in different directions. It will help keep the top open after 130 hours rolling during the season. I then reseeded any bare areas and the practice wicket area. The corners of the square are measured and marked at right angles. Also all wickets are measured and marked at 10 feet intervals. Today I remeasured and remarked the square just to check. Then I fertilised the six junior and three practice wickets at both ends of the square. The fertiliser was surplus to someone's requirements.It wasn't an ideal autumn/winter feed but o.k. beggars can't be choosers. The fertiliser for the main wickets arrives tomorrow with 80 bags of top dressing, (30 of which i will save for next season). I hope to get the top dressing and fertiliser on tomorrow and then let the rain wash everything in. We'll see.
Friday September 15th
A lovely sunny day. Finished cutting the outfield, then cut the square before hand weeding the square. Two more weeks work for me. Topdressing and fertilising still to done plus mowing then I'll finish my work at the ground and finish this Ground Diary with a few statistics
Thursday September 14th
Rain all day. Axle phoned me, re - marking out half a rugby pitch at the Coppice End of the ground. Why? for junior training each Wednesday evening during the Winter with a generator providing lighting from the banking. I referred him to the chairman and thanked him for the call.
Wednesday September 13th
Received a phone call from Rod informing me that football will not be played on the outfield this season by Greyhound Ford. I understand that the cricket club talked to officials from Greyhound Ford to try to resolve the matter, but they are seeking pastures new. Less income, less ground damage.
Tuesday September 12th
I gave Peter my order for Autumn/Winter fertiliser so it can be delivered next week with the top dressing. When I first worked at ACC. In 1978 I had just finished at Myerscough Agricultural College and was able to take some soil samples from the square and outfield and send them to the college laboratory for testing. A definate help. The report informs you of the soil content, i.e. % of clay, sand, silt etc, the p.h. of the soil, i.e. whether the soil is acid or alkaline and the presence of major nutrients in the soil. You can get a similar report from your supplier, but as we don't spend much, suppliers will not provide this service. Our last report was five years ago and, similar to nearly thirty years ago, it showed that the soil is acid (I could tell that from the grass/weed/moss/lichens) and that there is a potash deficiency. So I base my fertiliser selection on this information. Science at work at ACC.! On the ground Arthur with his son, Robert, dismantle one practice net frame and stored it away. The outfield mower fired up and I mowed the Coppice and Huncoat Ends.
Sunday September 10th
Despite three dry days we have had heavy dews which certainly keep the ground damp. today I dragbrushed the dew off the second's wicket, cut it and Peter rolled it. Usually Peter or sometimes Alven tidy out the dressing rooms after Saturday's match before Sunday's. I also repaired the third's wicket from yesterday. The sooner you get seed into the ground the better when you are in September. It's been a difficult season weatherwise. A poor may, a very good June and July, (yet three home matches were rain affected). The weekday weather was great, the weekends poor. Then we had an awfully wet August. Now at the end of the season, with no first team home matches the dry, sunny, weather returns. Not a gripe, just an observation. No, a gripe.
Friday September 8th
Aanother fine sunny day so Bert is out with his brilliant white masonry paint looking for the next wall. However as Arthur was finishing cutting the outfield yesterday, our old, smokey, goosed mower conked out. Big end gone! (whatever that means). Anyway with the roller's physical power and Bert's presence Arthur towed it into the garage. Today, surprisingly, it fired up and I finished cutting the outfield. It has done its job this season, but needs either buriel or heart (engine transplant) and a good service. It will not stand up to a winter 'rolling' and topping off the football pitch. Incidentally although cricket finishes this weekend the grass doesn't know and will continue to grow for , at least, another month. So mowing continues as does reseeding and repairing worn ends which I will complete next week. Then scarifying, spiking, fertilising and topdressing finishes the work on the square.
Thursday September 7th
I understand money will be made available for top dressing the square. The junior wickets i.e the first six plus the next three wickets are not in desperate need of top dressing. The main, central wickets i.e the next nine need topdressing. I also think that the end three practice wickets need topdressing after the heavy use over the summer. So instead of using the usual ninety bags I'll make do with fifty this back end, although we will order an extra thirty bags which I will use next season in repairing and releveling worn wicket ends. rolling of the square upto 130 hours. Football news - I understand only one match will be played each weekend. Total matches to be played eighteen plus cup matches. No doubt there will be discussions, disagreements etc on the use of machinery, storage availability and operatives of machinery. All, no doubt, will be amicably resolved!
Tuesday and Wednesday September 5th and 6th
Two more rainy days.
Monday September 4th
Arthur and Bert have been checking the security, or lack of it, of the seating around the ground. slowly but surely the unsafe seating is dismantled, some resecured. Replacements will be needed. Meeting at the ground tomorrow night re. football. With all this wet weather around I'm on the lookout for a fungus disease, (fusarium), which attacks the square this time of year. It thrives in moist, dewy conditions. It kills the grass so needs immediate chemical control to check it and its rapid spread. Cold weather i.e. frost naturally checks it. I'm ready for its early attack. The defence is ready.
No play yesterday, yet nearly £90 paid to umpires, scorer and gateman without a penny coming in! However I understand the Ladies Committee, (the tea room), have made about £2000 profit for the club this season. A marvellous effort. They face the same frustrations as anybody as regards bad weather even though they are based indoors! Finally I understand the raffle may have brought in another grand. Well done to all concerned.
Sunday September 3rd
After rain all day yesterday I removed the water from the sheets covering the wicket. Then with Peter's help we removed the sheets. Today's wicket is worse than a "pudding", it's a "jelly". I re-cut it and re-marked it. The very strong wind will help dry the top, so I left the sheet off from 9a.m. I left the ground at 11a.m. By the time I arrived back in Blackburn unexpected heavy rain arrived. Sod's Law!
Friday September 1st
I managed to cut this Sunday's last first team wicket, then the square and finally re-seeded all worn wicket ends. Later with Peter and Bert's help we placed the large sheet next to the wicket, ready to sheet up tonight before tomorrow's rain. In the meantime with only light showers forecast for today and a strong wind, it needs to be left uncovered to dry out naturally.
Thursday August 31st
Rain all day! I understand the pro's homesick. Perhaps our August "monsoon" will make him feel more at home.
Wednesday August 30th
Weather forecast good for today, must make hay. I intended watching Lancashire playing at Blackpool one of the days this week, but decided to get the ground done. I cut the square, hand raked and cut Sunday's wicket. Peter then rolled it. I started cutting the outfield, Peter did some and, after Arthur finished slitting the outfield, he completed mowing the outfield. A satisfactory, full days work. Rod, quite rightly, paid thanks to Bert in his Chairman's programme notes the other week. Now it's my turn to thank Peter and Arthur for their work on the ground over the last four seasons I've been here. Their help has been invaluable. Keep taking the tablets lads! An additional note - I'm well qualified horticulturally on paper. I've over twenty five years practical full time experience as a groundsman, yet when I returned to ACC I needed re-educating. As regards e.g. ground league rules (covering, watering, rolling wickets etc.), becoming re-acquainted with ground peculiararities e.g. where are the wet wickets?, which dry quickest, which play the best? And finally becoming acquainted to new machinery and their idiosyncrasis. I've certainly learned a lot about ACC's ground in the last four summers and have had to re-think and re-apply my maintenance programme to the ground. I've benefitted from adapting head knowledge into practical application and enjoyed it. Primarily I work for my satisfaction in doing the job to the best of my ability, as cheap as I can irrespective of comments from the ill-informed. A final note, unless more money is spent, I can only maintain the ground at it's present state which I'm willing to do at the moment. We'll see.
Tuesday August 29th
Ridiculous heavy rain showers. The ground is waterlogged. So much for the predicted hot, dry, sunny August. It's been awful, but you can't do anything about it.
Sunday August 27th
I was disappointed with the low scores on yesterday's wicket. On these occasions the batters usually blame the wicket, the groundsman usually question the batters and the bowlers enjoy their statistics. But as someone once said 'statistics are like bikinis, they reveal but also conceal'. At the end of the season I'll compare first team scores over the last four seasons. Back to the ground. I rarely come in to work on second team matchdays, Peter usually does the necessary, but after last night's rain and speaking to Peter early this morning I decided to come in. There was a lot of water to be removed from the sheet covering the second's wicket. It also needed to be recut and remarked and as it turned out recovered again. It's not an easy job removing and dispersing unwanted water from the sheet, then removing the sheet to an appropriate place without spillage and finally deciding to sheet up again or hopefully let the elements dry the wicket dependant of weather conditions. Bank Holiday tomorrow, a day off, so I will forget about the ground until Tuesday.
Saturday August 26th
Took the water off the tarpaulin sheet covering the wicket. Then cut and rolled the wicket and with Peter and Arthur's "manpower" help we resheeted the wicket as rain was around.


Thursday August 24th
For the first time this season we got the sisis autotrac out. The slitter was already attached to it and, surprisingly, It fired up on the third pull. Arthur used it on the outfield. Unfortunately the tines are worn and only penetrate about two inches. Still it's better than nothing. I understand that football is commencing on Sept.17th only one week after cricket finishes. The square will have to be fenced off by then. There's a fair bit of work to be sorted out on the football side in a short period of time. I remain an observer. I've enough work on the cricket side to do before I hibernate at the end of September.


Wednesday August 23rd
Grass growing as fast as any time this summer with the soil warm from the hot summer months plus the steady supply of august rain. The rain has also brought the worms back. Generally speaking you are probably better without them. the accepted policy is to kill them off certainly on the square. not for me! For starters I'm naturally against killing them and prefer to suffer them for the short period of time they trouble me. I look at their advantages; they aerate and remove dead organic matter. Their disadvantages occur in damp, wet weather in late April/early May and late August/September. At these times the worms work closer to the surface producing wet casts. In the drier summer months and in the colder winter months they disappear deep in the soil therefor producing no casts. The best time to kill them is when they are working close to the surface. Anyway, although at times tempted, I refrain from homicide due to their small period of inconvenience. incidentally they appear mainly at the wicket ends. Why? Dunno. Perhaps because the soil is more alkaline there? It is a nuisance when the wet casts stick to the rollers on the mower causing an inconsistent and messy cut.
Monday August 21st
A wasted morning. The square was too wet to cut and it was too wet to repair yesterday's wicket. With more unsettled weather to come it looks like it's going to be a hard week's work ahead.
Sunday August 20th
After yesterday's rain the ground is saturated. This confirms the need of aeration. I cut the wicket for today's match and with Peter's help we sheeted it up as it was raining. I had to remark the boundary line. Finally put the flags on the boundary line, measure and place the discs around the square and finally fill the containers with sawdust
Friday August 18th
Last night and today the rain arrives. The nights are now drawing in. After this week I've no more junior matches on my fixture list and practice night numbers are dwindling. I think good, then I think, winter next stop. Mixed feelings. Sunday's wicket against Church is certain to be a wet one. Tonight's annual friendly between an Accy XI and the rugby lads is called off. ground waterlogged.
Thursday August 17th
I understand the club are trying to pool in money from various 'pockets' to cover the cost of cricket till the end of the season. I deduce from this that minimum money will be available for Autumn operations. I've already decided to forget about scarifying the outfield at a a cost of £400 plus. The reason-does the contractor collect the debris? Does it do a better job than our autotrac with rake attachment? Also this work would be done at the back end when the ground is wetter with regular dews which make it difficult to pick up the debris with the mower and grass box. Also, when you book it, you never know what the weather is going to be on the day the work is done and scarifying needs dry conditions. So forget it. When it comes to money, (as regards the ground), only back on certainties. A solution-' next year try to scarify say, once a month in the dry summer months, (June, July and August). As regards aerating the outfield, I feel that verti-draining should be done if football is played on it. If not, again using the autotrac with slitter attachment, (old tines or better still new longer ones), should be used say, once a month throughout the year. Both these operations take about three hours each to cover the entire outfield. Both operations would improve the outfield. Peter and Arthur do these operations. That's a statement not a hint! As for the square, scarifying it, no problem. I can arrange that. As for aerating the square, I feel that, after three years of using council slitters and spikers (at no cost to the club) the square is in desperate need of deep aeration, and that is attained by verti-draining. Incidently I have an arrangement with the council. Our second roller is kept at Highams and is used on the rugby and cricket squares. In return I can use their scarifyer and spiker/slitter. A good deal. As for topdressing, this should be done as a regular maintenance operation in Autumn, full stop.
Wednesday August 16th
When enquiring about machinery etc, you always hear about clubs obtaining grants, e.g. sports council grants. How are they obtained, who qualifies for them and why? And how do you show that the money made available was spent appropriately? I know of only one grant, quite substantial, made available for cricket coaching at ACC. I think Peter arranged it. It's certainly seems an avenue that needs exploring. Haggis is aware of the potential of grants, more from the football point of view. Still any help, helps. I started cutting the outfield today, in fact I nearly finished it. The reason-wet weather forecast for the next few days.
Monday August 14th
The wicket from yesterday's rain interrupted game is in decent nick, especially after sweeping, mowing and rolling. Of course the wicket is sheeted up during the match if rain falls, but the rest of the square is unprotected. worn wicket ends are a problem on these occasions because squeegees make these areas a muddy mess then sawdust follows and, of course, this later needs to be swept up together with any seed that's been put down! The other problem is players slipping, sliding and turning. This can scar other wickets, especially a problem if the scar is "on a length". Enough waffle for this week.
Sunday August 13th
Back to the ground, decided to save wicket 12, in the middle of the square for next weeks "derby" against Church. I will use wicket 6, with a shortish boundary at the tearoom side for today's game. An additional reason in wicket selection with rain this morning and more forecasted for later there will be less cars down near the short boundary. Less cars, less potential damage. A thoughtful lot us groundsmen. After a quick cut and roll with Peter's help we sheeted the wicket with gentle rain falling. Horrified to hear on Radio Lancashire that despite heavy prolonged rain, a great effort by the players and umpires to try to complete the match in, and I quote, "conditions unfit for cricket," have been made. No doubt there will be scuff marks, slides and divets to repair tomorrow. The game goes on.
Friday August 11th
Visit the lawnmower specialists at Darwen with Peter. Intentions, to price up new mowers, or more appropriately, price up second hand mowers. Only window shopping, but there was a very good ransomes 36inch outfield mower with a kohler engine completely done up e.g. new cylinder, bottom blade with little wear, for sale at £3000, apparently at 1/5th of it's present selling price. I wonder?
Thursday August 10th
Peter showed me the quotes for (1) verti-draining the square £180 plus VAT, (2) verti-draining the outfield £400 plus VAT, (3) scarifying the outfield £400 plus VAT and (4) the cost of 120 bags of top dressing, (i.e. 2 1/2 ton to cover the entire square, including the practice and junior wickets in the autumn) and 20 bags to save and use the following season to re-level wicket ends, cost £425. These operations only maintain the ground, not necessarily improve it. We will see what operations will be done in the next few months. how many cricket squares have, in a cost saving operation, been neglected and have deteriorated over say three years. Then the club has to re-address the operations not completed and the materials not applied. This, of course, involves spending extra money over the next three years to restore the ground. False economy this "equalising effect". The same applies to the outfield, although it takes longer to notice the deterioration. Ideally a cricket club should have so much money put aside each year for basic ground maintenance operations and that money made available. If you work on a very small budget, as we have, so far this year at a.c.c. then this minimal budget is often expected the following year. Additionally it's important that regular maintenance and replacement of basic machinery is assessed. Otherwise again a club could suddenly be caught out, stumped or cleaned bowled financially if money is not set aside for "basic" machinery. By "basic" machinery i mean the wicket, square and outfield mowers and the roller. This is what we possess at ACC. Plus our old sisis autotrac and a waterhog that hasn't worked properly since Accy Stanley loaned it at the end of the last football season. It's not unreasonable to also expect the following at a cricket club at this level, a scarifier and spiker for use on the square, a knapsack sprayer and fertilizer spreader. I can loan these machines which are used occasionally but are essential, so no problem, While I can loan them, however I reiterate mowing machinery needs regular maintenance and replacement,( like a car). At ACC. within the first few weeks of my return in 2003 the roller needed replacing at a cost of £2500 and, credit to the club, they found it. However that sort of money may be needed in the coming months for repairing or replacing our old three mowers.
Wednesday August 9th
Fairy rings always appear this time of year on the cricket square and they are back again! The fruiting bodies, i.e. puffballs or toadstools also appear. No problems. No doubt when the weather gets wetter worms will also appear, working closer to the surface causing their messy wet casts on the square. I will discuss these friends or foes when they arrive.


Tuesday August 8th
I decided to cut the outfield whilst the grass was dry (the first time in three weeks). Showers are forecast for the next few days and, with the autumn dews appearing, it can make mowing both hard work and messy. I completed mowing the whole of the outfield, took 28 boxloads of cuttings off, all in all a job well done. I continue to reseed the worn wicket ends. I must get the seed germinated and the grass established in the next two months or else bare areas will be present for next season, unless I re-turf, an operation I'm not keen on.

Monday August 7th
Back to aeration - during the cricket season there is little to be done on the square, except pricking the surface, i.e. shallow spiking to a depth of about one inch, this keeps the surface open. You cannot aerate any deeper because the slits etc, can cause problems to the wickets in dry, summer weather. However at the end of the season it's important to aerate the square to alleviate the effects of one hundred hours rolling and shaving the grass which reduces root growth, which holds the surface together. Spiking to a depth of four inches should be aimed for at two inch intervals. This operation will help root growth, integrate the top dressing material applied at the end of the season and also help the new seed establish itself. The square should be spiked at least monthly during the winter months. The wetter the ground the deeper the penetration. Meanwhile the outfield can be aerated throughout the year, the more the better. Our sisis autotrac slitter is useful but the tines have worn down from about four inch to two inch. Replacement tines cost about £200 plus. If winter sports are played on the outfield then everytime you roll you must aerate afterwards.
Peter collected my first purchase this season, a bag of grass seed, and has asked our suppliers to quote us prices for topdressing material and for verti-draining the square and the outfield. Figures for the cricket/management committees to chew over.
Friday August 4th
Loan of the use of a scarifier from a "close" friend. Scarified four unused first team wickets. I also measured the ground for Peter who is pricing up the cost of verti-draining, (i.e. the best form of aeration), the ground. The total area is approximately 14000 square yards, (the square 1400 square yards). Bert and Arthur are on holiday for a fortnight.
Thursday August 3rd
Heavy overnight rain. Ideal for, first peter and then me, to spend three hours rolling unused wickets to prepare them for the last four first team home games. before preparing wickets you need a good amount of water already soaked in the ground to roll them out. the rain has greened up the square noticably, the outfield is better but, still patchy. upto 108 hours rolling done on the square this season. Aanother additional note, this time on winter sports played on the outfield. several people think that i approve. wrong! obviously it can't improve the outfield unless great sums of money were pumped into it. however, if finances dictate it's got to be done, then i suggested several procedures to be followed by the club such as,the club reserve the right to cancel fixtures in the event of bad weather on the day of the match; a regular maintenance is followed during the winter; money is made available for reseeding, topdressing and fertilizing at the end of the football season. additionally football fixtures fit into the cricket calendar, especially giving sufficient time for renovating work on the outfield prior to the cricket season commencing. Finally reappraisal of the ground is assessed for future use at the end of the season. Hopefully this clarifies my thoughts!
Monday July 31st
A full days work for me today because for the next three days, starting Tuesday, there is another football course on the outfield from 10am to 3pm. I think Perv organises it with Steve Juliff as the coach plus usually about twenty five kids. Pleased that we had heavy showers. This handicapped my work on the square, but I still managed to cut the square, repaired two wickets, cut and rolled this weeks practice wicket, Mondays Under 17s wicket and Wednesday's Under 15's wicket. Plus mark them all out. A typical days work on a Monday.
A note on the outfield-with it looking so brown and impoverished, how do I improve it? Basically rain is needed to green it up. Rocket science! I don't worry too much about the outfield being parched. It means good weather and less work mowing. I know that grass is a "tough cookie" and will recover. I do and am concerned about the square in these hot, dry conditions, that's why I've watered. Back to the outfield, what else would improve it? On the plus side it's smooth and soft on the feet to field on, although perhaps a little slow with the excess moss/thatch. If the moss is killed off it will blacken, look a mess, and will probably need scarifying out. Additionally the problem will return unless the reason why it appeared is corrected. This is usually caused by lack of aeration, scarification and feeding (fertilizing). ACC's outfield confirms the last statement to be true. As for scarification, this could and has been partially addressed by using our old sisis auto-trac with rake attachment, (it also has brush, slitter and roller attachments). It does still work and in dry weather, usually June and July, it should be used at least two to three times per summer. It takes about half the time of mowing the outfield,(i.e. about three hours), but when mowing, after scarifying, you remove about three times more in boxloads that you would remove if you mowed only. More work, more men needed. All in all it's easy to neglect scarifying the outfield, like spiking, leaving it to the next man or "next generation". If you scarify at the beginning or the back end of the cricket season, moisture or dew is often present and in these conditions it makes it difficult to pick up the debris. You need dry conditions. Like scarification, aeration needs to be done on the outfield on a regular basis. I will mention this subject later this summer or should I say autumn in the ground diary.
Friday July 28th
Another beautiful, hot day. For the first time in the last two weeks I cut a small part of the outfield. Later Phil Hodson with Haggis prepared the buffet for tonights "all stars" game against Ossy Mills. It was a good buffet certainly better than the standard of cricket played. It was, however, an enjoyable evening, with a few good laughs and a drink or two plus nostalgia to finish off with. Stiffness will, of course follow, last for a few days longer as a "gentle" reminder to us. After the game I sheeted up the wicket for Sunday's game against Rishton. It's hard to imagine rain tomorrow, but it's forecasted. We'll see. The wicket looks a "good un".
Thursday July 27th
I spent three hours watering three central wickets by hand. Hot weather continues. Bert and Arthur are on holiday for two-three weeks, they will be missed. By the way, Arthur, Haggis and Bert put the net on the frame on Tuesday afternoon.
Tuesday July 25th
About 25 youngsters using the ground for three days, five hours per day doing minimal damage to the ground, but the club receiving minimal reimbursment. Peter doing the opening up and locking up, as usual.
Monday July 24th
The front of the pavilion has been repainted. I know, I was there. I believe it was last done several "continents" ago by Mark Stevenson. Now it looks more inviting and, of course, so is the refurbished interior. So it's a question of selling and advertising it for "do's". that's not "my pigeon". "My pigeon", this time of year is repairing and reseeding used wickets which will not be played on this season. I suppose each wicket is played on about three times each season. Back to pigeons, they continue to peck at wicket ends all day long. I always try to deposit the seed down some shallow spiked holes, covered with topdressing, to cover or hide the seed. Am I successful in my deceit? Ask the pigeons. I spent four hours handwatering the square, (i.e. about four wickets). It's an easy job. I was grateful for the visits from Bert, Peter, Haggis, Ian Wilcox, Arthur and Nigel. So I had a few good natters in the sun. The subject matter for discussion - the re-signing the pro for next season. From my point of view, or rather from the ground point of view, it's not good news. Why? The pro will, no doubt, have received an increase in salary. Where does this extra money come from? The club are already struggling to pay their way this season, (in fact, from what I've heard desperate). Will any money from the use of the ground this winter be returned to the ground? Or will it go to the pro's extra money? We all have our opinions on whether a club has a goodish pro and is cash strapped or has an ordinary pro but is financially OK . I know what I would prefer for my club. Incidently Marion, bless her, left me an envelop with the end of season raffle tickets to sell. If the profits goes toward ACC no problem, if it's to supplement the pro's extra salary forget it. I think any reasonable person connected with ACC has the right to ask why has the pro been injured for the last few weeks? When and how did he sustain his injury? Who is paying his physiotherapy costs? Down at the ground we try and make do and mend with old machinery at as little cost to the club as possible. My observations of pros, generally speaking, is that they want, want, want. i.e. they want better accommodation, better cars, better facilities with better services, (all in all a selfish lot who have little or no loyalty or affection for the club they play for).
Friday July 21st
The rain on Wednesday night was sufficient for me not to water the square yesterday. Today Arthur repaired and readjusted the ailing clutch on the square mower. Hopefully it will last the season. Additionally Peter collected a throttle cable from Darwen for the same machine. Again Arthur fitted it. total cost £10. Thanks mates. Peter also spent all morning talking to an insurance company rep trying to sort out a cheaper, with decent cover insurance. The rendering to the front of the pavilion has been completed and is now being painted. Hopefully it will be finished today. Bert continues to paint,usually in brilliant white, to good effect. Harry Stevie, after two weeks holiday, a month of illness, has been back to "his normal self" for the last fortnight. However his allegiancies are now with Accy Sanley. His decision as a voluntary worker. This means, for me, more "work" rolling. Rolling is an easy, but time consuming task. I'm employed on a part time basis. Originally my responsibilities were to maintain the square only. Now it includes the outfield, (that means cutting it). No problem. One of the two net frames has been re-assembled. (despite being distorted). It doesn't have a net on it yet. the "new frame" is locked away , unassembled. Another month or so and net practice will be finished. A sad thought.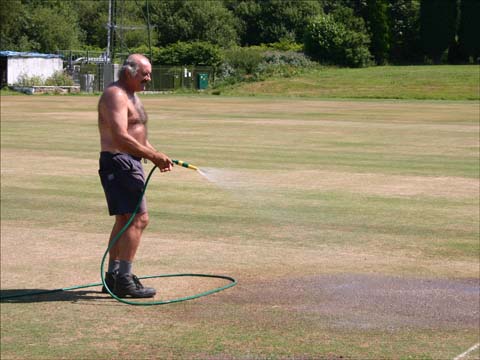 Ian with his hose pipe
©Nigel Stockley
Wednesday July 19th
Another boiling hot day, the square is now discolouring badly due to this heat wave. tomorrow I will hand water the square all day. I should have the time because there is no need to cut the outfield this week. In dry weather, as we are experiencing at the moment I must watch out for "lost studs" which often come out and can seriously damage machines in dry weather.

Monday July 17th
Seconds played on a central wicket earmarked for next weeks first team match. Annoying, but a genuine misunderstanding. These things happen. A note on weeds-on the square, about every six weeks, I handweed the broadleaf weeds, i.e. the daises, dandelions, plantains etc. This keeps the weeds down to a minimum and under control. Also it's inexpensive and I prefer cultural control to chemical control where possible, it's common sense. Small matt forming weeds like clover cannot be dug up by hand and need chemical control. When I worked for the council we employed a contractor who weedkilled 25 football and 10 cricket squares in Hyndburn in a day! He used a 4x4 vehicle with a boom sprayer of about 30 feet. At Wilsons playing field he would complete 5 football pitches plus the cricket square in 30 minutes! About 8 years ago I arranged with him to call at ACC when he was next door at Highams playing field. The cost of weedkilling the entire ground, (i.e. the square and outfield), £120. Great value when you think of the cost of buying a knapsack sprayer or a c.d.a. unit, then mixing, stringing out and calibrating the areas to be weedkilled. Eight years on, there are plenty of weeds on the outfield, (despite boxing off when mowing, i.e. collecting the grass cuttings which would include collecting weeds with flowerheads containing weedseeds). This helps weeds from spreading. After mowing the outfield it looks o.k., but the problem needs addressing. It's easy to leave it to the next man or generation. At Accrington Stanley there are weeds on their pitch. The beforementioned contractor quoted Stanley £350 and double that (£700), for the cricket ground. Too expensive. Eric Whalley asked Harry Stevenson to ask me what alternatives there are. I suggested that, in future, when they fertilize their pitch they use a feed and WEED. It's slightly more expensive but worthwhile, ( both operations done at the same time). In the meantime I suggested that you can buy about 12 aerosol sprayers for about £28 that you can use by hand in killing individual weeds. eric decided to use this method. Nice price! It would need about 50 aerosols minimum to weedkill ACCs ground. I will think about this next season. I am aware that if football/rugby is played on the outfield this winter then the outfield would certainly need a feed, so perhaps I will use a weed and feed, which should at least, although not correcting the weeds completely, keep the weeds in check. Can't sweep this problem under the carpet forever. An additional note on Eric Whalley or rather 20/20 cricket. I spoke to Eric on Sunday, re last Friday's final at Rishton, gate £1500, bar takings £3000 , tea room sales excellant and no doubt a great profit on the raffle. All in all a money spinner. A good idea to play qualifying stages with neighbouring rivals. Back at the ground, work has started at re-rendering the front of the pavilion. The work will take all week. The money from Iris's do plus Alven's Sponsored Walk will pay for it. Christine Greenwood bulk buying and getting the tearoom ready for two days of schools cricket. Peter, Iris and Marion Ormerod sorting things out during the matches.

Friday July 14th
Bad news, Christine Sneddon in hospital for five days at blackpool following a heart attack. Also Eddie Perry, the landscaper, who for several years has mown the ground surrounds, has died. At the ground, new metal frames for the nets have arrived . I locked them in the garage. Due to the dry, hot weather the outfield is turning from green to brown in patches. Peter and Rod are meeting the licencing authorities with a view to changing the licence from a club to a pub licence whatever that means?
Wednesday July 12th
Back to money, proud to say and boast that this season 2006, so far, the cost of seed, fertilizers, mosskiller, lime, top dressing, fungicide, wormkiller and weedkiller amounts to exactly £0. not bad eh! Enough said. Since I started this diary, (it was Nigel's idea), I've decided to try and cover all aspects of cricket ground maintenance at a Lancashire League cricket club. When I put the cricket square to bed in late September/early October I promise to put this diary to bed also. Enough for this week.
Tuesday July 11th
I mentioned last week about predicting on how wickets will play, but, of course, that involves how people perform and that I can't predict. Clever, sitting on the fence and with no egg on my face! Additionally at Lloydy's do he informed us there are outside influences which can affect things, e.g. at Accy a wire brush roughing up an area on a length to suit a slow left arm spinner, at Church an outstanding amateur bowler's use of a two bob coin to raise the seam and at Enfield CC. the "local shower" that fell on a length to suit their outstanding bowling pro. Plumber replaced vandalized broken windows, cost £100 plus. Fire extinguishers serviced and two replaced, cost £200 plus, plans to repair frames, cost ???. Ramp required for access to pavilion and tearoom, cost ??? How do clubs survive financially? On the other hand the salary of a well paid man per year would cover running the club. (I stand to be corrected).
Monday July 10th
I work every weekend day morning when there is a first team match minimum, but about once a season I have the weekend off , usually in mid season. Last weekend was my weekend off. Unfortunately for Peter, who apart from Alven, is the only early weekend bird down at the ground, it's a wet Sunday meaning more work. (By the way Christine is always down on matchday mornings sorting out the tearoom, sorry Christine). There is always plenty to do on matchdays, especially if you are on your own. For example, if the wicket is sheeted up and has water lying on top, it needs the waterhog, (hand operated), to pick up the water from the sheet then to transport and dispose of on the outfield. Additionally it may be necessary to squeegee any water lying on the square to drier areas. It is a two man job to remove the sheet from the wicket. Then the wicket needs a final cut, roll and perhaps remark. The 25 yard fielding discs need placing and the boundary flags positioning. Additionally on a Sunday, Saturday's wicket needs to be tidied up. Also the umpires, committee room and especially the dressing rooms need to be cleaned out. Until the mast was damaged, ACC.'s flag was always secured and lifted. Long live the flag, alas no more. Also for the last three seasons under the supervision of Jack, (a smashing chap), up to about ten community service workers came to the ground on weekend mornings to do whatever jobs needed doing, e.g. strimming and mowing the surrounds, moving sheets, sightscreens etc. You probably only got the equilalent of three persons work out of the ten, but still useful. Alas they are no more. Back to the present, more vandalism at the ground. One of the two net frames has been severely damaged. The frame needs to be dismantled, the net taken off, then the bent or broken metal members rewelded etc. It's so demoralising especially as the club "lost" money on yesterday's home match, (one of only thirteen plus cup matches in a season). No gate money, no tearoom sales, no raffle, little bar profits, but still umpires fees, scorer and gateman to pay. A real bummer.
Wednesday July 5th
About this time of year, every year, the seagulls arrive! I think they come from Whinney Hill tip. is it "Wakes Week"? Anyway they settle on the square, (never go abroad to Highams), and always leave their mark! It's messy and unsightly though no doubt organic and fertile, there are up to one hundred of them. Additionally birds are pecking away on the outfield, making less of a mess, they are pecking for grubs, usually leatherjackets or daddylonglegs in the making. The mess is soon cleared up when cutting the outfield, which Peter has already started. Peter informs me of two extra schools matches later this month, arranged with Russ Cuddihy. Apparently it's Burnley Schools, but they can't get a ground!. Still it's extra money. A weekend off for me, Peter says he will cover for me on Sunday, thanks mate. Having read through the diary I have made a note on mentioning the following in future weeks, subjects - prediction on wickets, weekend groundstaff and community service help.
Monday July 3rd
Bert, Peter and Rut collecting rubbish from around the ground. Peter even filled his car and went to the tip. Why so much rubbish? Friday's match followed by yesterday's match against Bacup. Even with mid-afternoon thunderstorms, spectators stayed till the end. Result-tea-room nearly sold out, the raffle was over double normal plus a large gate three times the normal. With Alven's sponsored walk and profits from Nigel's book, a day like this can save a club, (or rather sustain it longer!). It's so fickle, if the rain had come a couple of hours earlier it could have cost the club about a grand.
Sunday July 2nd
Vandalism last night, again the frames for the nets bent and broken, also the tearoom window smashed. I touched up the 20/20 wicket for today's match. It's very warm and humid. The wicket is dry, white in appearance and should yield runs.
Saturday July 1st
Peter phoned - the message - captain Matt and Dibber want to re-use the 20/20 wicket for the Bacup game. Apparently little damage was done to the wicket, it played well and more importantly it's in the middle of the square. that means less chance of chris cairns mis-hitting sixes ! I don't mind, it means that I've got a prepared wicket for next week's first team match already ready. It takes at least a week to properly prepare a first team wicket, but circumstances, (usually the weather), means that you have to be flexible in the use of wickets, sometimes circumstances make you use another wicket.
Friday June 30th
Weather good, wicket flat and hard, although it still seems to have a hollow feel to it, nevertheless I'm confident it should be a good 20/20 wicket. Alven assembled his barbecue during the afternoon. I noticed after last weeks 20/20 match that both wickets either side are quite badly scarred, obviously caused by batters scampering up and down, backing up, running quickly with plenty of turning. It's part of the nature of 20/20 cricket which again has proved a success at county and now in league cricket. Ingredients needed, mid summer sun with long, warm evenings, (Duncan Warburton thinks Friday nights are better than Thursday nights). At 11pm with no news of the result on the excellant Accy or Lancs League website I phoned the club, spoke to Kim I think, who informed me that we had lost by 2 runs. Pleased that 300 runs were scored on the wicket but feel so disappointed for the club. Still from the ground point of view another competition over. A mixed feeling because you hope for more games later in any competition but are always aware of how the weather can mess things up. Still my gut reaction is one of disappointment. The club more important than grass, that sounds right.
Thursday June 29th
Peter started and Arthur continued cutting the outfield. Rod did some rolling, (including a wrong wicket!). Bert painting walls around the pavilion. What a difference a coat of paint makes. Very busy day tomorrow, (wickets looking good), so I will finish diary now.

Tuesday June 27th
At the moment the club is doing well on the playing side, despite financial worries. Pro doing well, first team doing well, seconds and thirds doing well, and a good junior section. On the ground side o.k. the outfield is acceptable, the square as good as you can expect. the wickets are playing OK., never dangerous, perhaps a little slow and low, but still all in all plenty of runs are being scored. machinery iffy. The outfield mower is on it's last legs but has been a good buy (well done Peter), the square mower OK. the wicket mowernoisy and pulling to the right side. Told Rod soon money will be needed. Hopefully extra money coming in this week, re. Holland's Pie match tomorrow, (must make sure the wicket is a pudding!). Then 20/20 decider v Church on Friday followed by bacup with chris cairns on Sunday.
Monday June 26th
A busy day- to Blackburn Infirmary with Margaret, my wife, who had broken her ankle. Phoned Peter up to say i'd be late. Incidently under my contract of employment I have no rights, e.g. sick pay, holidays etc. Still in nearly four years back at Accy I've not had occasion to experience difficult circumstances. If I did I hope common sense would prevail. Back to the ground- I scarified 12 boxloads off the square then cut. Peter rolled for two hours, (Harry has a chest infection). Arthur repaired the square mower. Thanks mate. I really appreciate help like this as I continue with other more physical jobs on the ground. After all I am the youngest member of the groundstaff at 54!.
Saturday June 24th
I repaired last night's 20/20 wicket for the seconds match today. I use brilliant white emulsion paint to paint/repaint crease line markings (between 1/2 to 1 inch maximum). Today I ran out and had to use 'magnolia gloss'. It look's OK but was difficult to work with. Must remember to get some white emulsion next week. It started to drizzle so sheeted up with Alven and Peter's help. Note on last week re. covering wickets - with moisture in the ground the use of a large sheet to cover the wicket causes sweating underneath. Roll on covers are much better, usually in three or four sections they cost about £5000 new. Great Harwood recently bought some with the help of a very successful Sportsman's Dinner. Russell Whalley told me, a few weeks ago, that they had had problems with misuse. The beauty of roll on covers is that water is taken from the wicket and dispersed on the outfield via pipes. Additionally air can circulate under the covers so that the wickets can 'breathe'. To consider roll on covers you need a secure, enclosed ground. At ACC's ground roll on covers would be vandalised.
Thursday June 22nd
Cold, windy with showers. Not the sort of weather for tomorrows first 20/20 home match. I'm always watching the local weather forecast, morning, dinnertime, teatime and evening. Always cursing them, blaming them and their technology like now!. After hearing about light rain on Thursday I type this diary update after not sheeting up the wicket for tomorrow's match. It's now 11p.m. and has rained all night! More about wicket cover next week. Time for a beer and to shut the windows so as not to hear the rain falling in bed. Apart from my wife and any committed groundsman nobody knows how much a very sensitive lot groundsman can be, but in practical terms we shouln't be. I wonder how many others could lose sleep tonight worrying about the rain. I honestly don't think people realize how conscientious we are and how unfounded thoughtless comments can but really shouldn't hurt, because of ignorance.
Wednesday June 21st
Longest day of the year! Lloydy's do. Plenty of behind the scenes preparation. Alven and Peter sorting out seating, tables and sound system. Christine arranging the potato pie supper. Later Peter and Alven are in the tea room peeling potatoes. After a discussion and practice with different knives, they settle on their weapons before disputing the size of the slice to be cut! Anyway let's hope the evening goes well. Later, it was a super evening. Well organized, well presented with great speakers rounded off with plenty of nostalgia and a good supper. Thanks to Nigel and all concerned. Can't forget finances, it should make the club some money.
Tuesday June 20th
Me, Peter, Alven, Arthur, Brian Rutter, Haggis, Rod, Bert plus Eddie's workmen (cutting the perimeter of the ground, or part of it) all down at the ground. More men down doesn't mean more more work done. It often means a few more natters or two.
Monday June 19th
The weather forecast is for showers all week, so i decide to fertilize the square after first mowing it. Yesterday's first team wicket was not badly scarred. good! I hope to reuse it for Friday's 20/20 match. It's in an ideal position i.e. in the middle of the square ideal for big hitting.
Sunday June 18th
After three weeks dry, sunny weather with no home first team matches, guess what?. The weather changes as rain moves in. As a groundsman I always think first about the ground but then my secondary reaction kicks in i.e the clubs finances. After working at ACC. in 1978, 79, 80. It was a relief to not have to worry about money matters (e.g. ground equipment, pension or next years employment). For the next twenty years with the local authority I was free from financial worries, now back to them. Anyway with "Axle", at 10am I sheet up the wicket, which is hard and dry. Will it be at the end of the day?.
Friday June 16th
Non publicity-minded, shy David Hargeaves (Haggis) down edging off boundary from pavilion to tearoom side i.e. about 100 yards of overgrown vegatation. It's hard work but looks so much better when done. Haggis does 5 yards, has a rest, a fag and a natter then does another 5 yards. I artifically watered the reseeded wicket ends. Extra information on last week's diary, the water tap is on the Huncoat side of the ground, not the Highams End, also the best way to water by hand or sprinkler is to simulate nice steady rainfall. Arthur came down mid afternoon to do some strimming, complete with goggles, earmuffs etc !!!
Thursday June 15th
Despite the dry weather in recent weeks, why do the wickets on Accy's square still have a green tinge to them? The reason - our wicket mower does not have a superfine bottom blade that enables you shave your wickets right to the crown of the grass. Our mower has a thicker, harder wearing bottom blade, it's o.k. for cricket as it is for bowling greens, lawn tennis courts and golf greens. Again the reason is cost-a thicker bottom blade lasts longer, can withstand a few bumps e.g. a small stone or a lost spike. A superfine bottom blade wears quickly in dry weather and is easily damaged. I can also get the thicker bottom blade cheap. Incidently 1/16th of an inch makes a big difference to the colour of a wicket. Many experienced amateurs and professionals have been misled into thinking that Accy's greenish wickets are damp and will suit the seamers, (this statement applies in dry weather conditions only, like at the moment). How wickets play is more important than how wickets look. Peter and Alven met a representative from the Land Registry and spent all morning trying to ascertain the "boundaries" of the cricket club.
Wednesday June 14th
Hyndburn Schools v Wyre Schools under 11. A thirty over game played from 3pm. With practice nights and junior cricket i.e. under 9's, 11's, 13's, 15's and 17's cricket is played on the ground nearly every day of the summer and why not.

Tuesday June 13th
I managed to loan a scarifyer and took 15 boxloads off the square. Scarifying is a much underated operation in wicket preparation. Cricket is played on soil rather than grass. What grass is on a wicket helps hold the surface together with it's root system. Bert continues to come to the ground a couple of days a week to do various odd jobs around the ground. How valuable are these unpaid voluntary workers.
Monday June 12th
Heavy showers overnight so it's a good time to roll a couple of new first team wickets whilst there is moisture in the ground. Rolled from morning to early afternoon. Rolling on square this season now over 70 hours.
Friday June 9th
Players left the nets on the square after last night's practice. It needs four people to move it. Lazy! Also players practicing their running between the wickets in the middle of the square. stupid! rewatered again. Incidently in the Lancs League you can't water a wicket after Thursday for a Saturday match or after Friday for a Sunday match. Off to Rishton for the 20/20.

Thursday June 8th
Another hot un. I get out the hose pipe. There are three sections each about 30 yards in length. I couple them up and secure it to the water tap at the Highams end. It gives good pressure and would operate a sprinkler. I prefer to hand water. The pipe can reach all corners of the square. It's not often used, if it is it's usually in June or July. I use it to water the ends that have been reseeded, or to freshen up an existing wicket or to wet a new one. i'm sure most league apply water this way. Usually you find that league clubs who cater for County Second X1 or Minor Counties cricket obtain grants equipment or help to improve their facilities for watering, covering etc. Alvin down setting up the bowling machine in the nets. the batters messrs Crabtree, Ormerod and Williams.
Wednesday June 7th
14 junior schools or 150+ kids playing on 4 sixteen yard wickets on the outfield in great weather. Kim and Iris open the tearoom and it proves profitable.
Tuesday June 6th
I started cutting the outfield.today. Ideally thursday is a good day for cutting the outfield because it's close to the weekend. Friday is out because of wicket work and in case of bad weather or machinery problems (too near the weekend). I usually start Wednesday and finish off on Thursday. It takes a good six hours. However schools are down tomorrow all day. The outfield is cut at 1/2 inch, the square cut usually on Mondays and Fridays at 1/4 inch and the wickets cut at 1/8 inch.
Monday June 5th
Time to repair some used wickets. I always repair out of use wickets during the season. The procedure-stiff brush debris from wicket ends, cut the wicket low to collect any other debris, then fork over bare areas to a depth of 1/2 to 1 inch (creating many small holes for the seed to settle in). Reseed then cover the seed with marl and level using a straight edge or lute. A bag of seed (i.e. 1/2 cwt.) costs about £70 and will just about last the season to repair the wicket ends. Returfing is seldom done on cricket grounds these days. incidentally after a wicket has been played on in dry conditions, like at the moment, it should be well watered (artificially) and lightly fertilized to help it recover. At ACC we rely on it raining. Sign writer Jim was down taking advantage of the good weather. He's working on a key site, over the tea room, with a new advertisement. It's very interesting watching a skilled tradesman at work and, of course, he works on ladders. Peter down doing some rolling in Harry's absence. He's wearing his hot weather, rolling cap. Peter knows and can fill in so many roles at the club, he has been a great help to me over the last three years.
Wednesday/Thursday May 31st/June 1st
Haggis (Dave Hargreaves) has managed to loan a strimmer. He is strimming the surrounds, the boundary edge, around the seating etc. It looked a mess and really needed doing. It should be weed killed with a total weedkiller afterwards. Brian Rutter always weedkills around the pavilion area. Finish the diary now, an easy weekend one match and dry weather forecasted.
Tuesday May 30th
Only one home first team match in June. It's certain to be a dry, sunny, warm month!. Steve Juliff is running a three day course for about 30 youngsters, playing cricket, rugby, hockey and football on the outfield. No objections, no problems. The thirds game, played on Monday, was played on a wet wicket with further rain during the match. Result-the wicket was a mess and the adjoining wickets, both unplayed on, were heavily scarred. I can understand that players want to play. I can also understand starting a match on a damp wicket, but when you hear of after eight finishes and see the waterhog full of mud you know conditions were unfit for play.
Sunday May 28th
Arrived at the ground early at 8.30a.m. The wicket from Saturday's Worsley Cup match was cut up. Ball marks which take the top off the surface always ruin a wicket for further use in the near future. Forget yesterday's wicket think about today's. Normal wicket preparation follows a standard procedure. If wet weather intervenes then there is little you can do. Today there has been no rain. The wicket has dried out on the top. I intend to cut and roll early and let the wind and sun dry the top before the match. It's certain to be wet underneath. I could continue to roll, that would bring the moisture to the surface producing a soft, damp wicket, but perhaps a dead one. Which wicket plays the better? Personal observations then players opinions give the best indications. Incidentally rolling with the big roller was out of the question. A car, (left overnight), had blocked access to the garage. I couldn't get the roller out. So after I cut the wicket I hand rolled it with the 5cwt roller. One thing I've learnt at ACC is to carry on in adversity. Back to wickets, if in dryish weather you prepare a wicket in the correct manner and the wicket doesn't play well then there are likely to be problems under the surface. Not an excuse just a fact. Every county ground has or is relaying their square, (perhaps about 3 wickets per year). It's the best way forward. The reason-in the top 4-6 inches there is likely to be excess thatch (dead organic matter), different layers of top dressings that have not knitted together, poor root growth and perhaps small air pockets that will not roll out. You can then replace with marl (i.e. a soil with a high clay content). Today soils are laboratory tested for suitability e.g. binding qualities, fertility etc. Finally a suitable grass seed mixture can be used. Today there are so many cultivars tested as to ability to survive close mowing, giving a good root growth, fine leaf texture and good colour, so you can choose according to your needs. You never returf only reseed. The work is done immediately at the end of the season. Relaid wickets usually need a year before use. However the cost is beyond most league clubs.
Friday May 26th
Peter and Harry phoned to say that the overnight rain had left the ground flooded, so it's pointless me coming in. With so much rain around there is no point in sheeting up. Water gets underneath and with the water table high the ground sweats underneath the sheet. It is better to let the natural elements, wind and hopefully sun dry things up. It gives me an opportunity to do this diary.


Thursday May 25th
A dry day at last . I managed to cut the outfield. Harry did some rolling on the square. A.C.C's ground is a fast draining ground. Yes water holds on the square after heavy rain but that is because of compaction and a lack of aeration. The outfield is soggy that is because of the build up thatch and moss and lack of aeration. water holds rather than penetrates the surface. bert continues to tidy up around the ground,painting jobs etc. It was good to see Eddie mowing and strimming the bankings, car park areas etc. Unfortunately his health is poor. He comes about once a month and for the price does a very good job.
Tuesday May 23rd
With no junior matches on the square this week and with the wickets too wet for practice its a good time to fertilize the square. First I cut the square so that after fertilizing the square can be left untouched while the promised rain washes in the fertilizer. I apply the fertilizer by hand (we have no spreader), the freshly cut mowing stripes help me evenly distribute the granules. The first spring/summer feed was applied in mid April. Then ideally about every 6 weeks further treatments during the summer. The square is 70yrds x 22yrds i.e. 1500 square yards, the fertilizer is usually applied at about 1oz per square yard. so for each feed about 1 cwt is needed. Cost about £20-£25. I can get it at a discount sometimes! The fertilizers are usually chemical, can scorch or burn the grass if applied in dry conditions or applied in access. The best fertilizers are organic based with a slow release, but these are more expensive. it takes about 7-10 days before the grass greens up. A.C.C's square has a poor quality of grass. It is predominately annual meadow grass, its characteristics are poor colour in dry weather, poor rooting and needs regular nitrogen feeds. Incidentally ideally the outfield should be fertilized at least once a year preferably early May to give the grasses a boost. Cost approx £100. In my four summers here we have not fertilized the outfield. The reason cost. That situation will change should the outfield be used this winter. A feed will be a priority. A word of warning - it's better wearing protective clothing when handling any chemicals and follow manufacturers recommendations (on the label).
Problem with the up and over garage door. When locking up,the door came off its runners. Fortunately the door rested on the roller. I phoned Peter who immediately came down. Jonathan happened to be down and we resecured it on its runners.


Monday May 22nd
Ground saturated can't do anything. Pleased that the Worsley Cup match didn't start. A partly completed match to be continued next week or worse still the game continuing on weekday evenings is hard work for all concerned.
Thursday May 18th
More food for thought, our outfield mower is supping oil like mad! From filling the oil to full, say about 1 1/2 pints by the time you have finished cutting the outfield (i.e. about 6 hour) the tank is empty! The situation has deteriorated over the last few years, now its getting serious. Plenty of oil is being burnt through the exhaust. Far from being out in good fresh air me and Arthur are likely suffering from carbon monoxide poisoning! I wonder if ACC have a health and safety policy, if so I think I will ask for a risk assessment study! My mechanic friend says re-bores etc are not the best policy. It would be better to fit a reconditioned engine (about £400) if the frame and other mechanical parts are sound. Reason, a new outfield mower would cost £3500 plus! Hope it lasts this season. Matches on each of the next five days plus rain forecast on each day, therefore I will end this weeks diary now.
Wednesday May 17th
Discussions are underway concerning having rugby training and junior football on the outfield during the winter months to bring in much needed extra revenue. From a groundsmans point of view hockey is acceptable, other winter sports need to be very carefully considered e.g. who inspects the ground as to fitness of play in wet weather , what maintenance programme is to implemented, who does the work, how does the cost of the extra work compare with the extra income and what effect will it have on the ground? Food for thought.
Tuesday May 16th

The square is a poor colour . It needs to be fed to green up, but the rain will help. Today with 2 days rain soaked in the ground it is a perfect time to start 2 or 3 new wickets off. After scarifying and cutting the wickets down, by rolling each wicket while damp you compact the top couple of inches with a nice smooth finish. Never roll if it blackens the surface or if it brings water to the surface and always roll as slow a possible. Then we roll for about half an hour each day aiming for a nice, dry surface for the match. Our roller is 1.25 ton, but has a narrow rolling width, so although it takes longer it has more weight i.e. lbs per square than a heavier roller. The really heavy rollers at county level are 2 ton plus. Were up to 50 hours rolling so far.
Monday May 15th
No work done rain.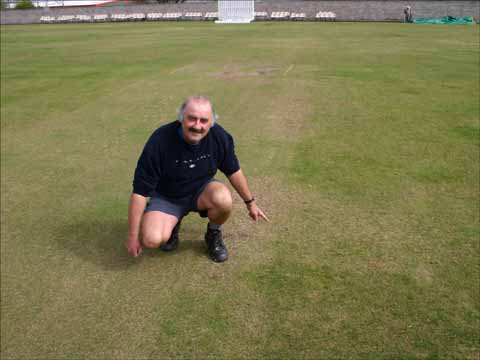 Ian shows the difference between the square and outfield where a new wicket will be cut during the next few weeks
©Nigel Stockley
Thursday May 11th

I started new wickets either side of the
square. Since I started 3 years ago the number of wickets has increased from 17 to 23. 4 extra practice wickets at the Coppice end plus 2 extra wickets at the junior side of the ground, i.e. the tea room side. This has been done, 2 wickets each season over the last 3 years at my time with the club. The idea is to scarify all debris, thatch, moss etc out of the (wickets to be), then to cut regularly very low to remove coarse weed grasses and then to treat the new wickets as the rest of the square .i.e. fertilize, weedkill, cut low and roll, aerate and top dress. The wickets look rubbish at first but can be used the following season. I have now moved as far as I can, tearoom side (boundary too short) and as far as I can move Coppice side (ground too uneven). Still 23 wickets is a big square, especially with the possibility of having up to 15 senior games on the square.
Tuesday May 9th

I can assess the moisture content in the wicket after inserting the stumps in the holes before a game. 10 days ago the stumps went into the ground reasonably easy, by placing my finger in the stump hole tells me how damp the soil is underneath. Last Saturday's wicket (i.e. the 341-5) needed water adding to the holes to insert the stumps, meaning the wicket was dry on top and underneath, always a good sign, providing the wicket is flat with an even coverage of grass. With the help of Peter Barratt picked up the wicket mower. Peter negotiated and paid for the repair at a very reasonable cost to the club.
Monday May 8th
Measured the length and width of the ground. 144 yards from tearoom to Coppice side. 122 yards from Huncoat to Highams side. In width most of the central wickets have a distance of 60-72 yards (county size). The other way, i.e. playwise, the boundaries of 50 yards plus are good for league cricket, short for a higher level. Still a big league ground.
Added weedkiller to the lime in marking out the boundary. Worthwhile I always mark out with lime/water every Thurs/Fri, but with weedkiller added the boundary line is permanently visable throughout the summer.
Friday May 5th
Despite all the machinery problems the wicket v Rawtenstall looks a good 'un. It has had 7 hours rolling, it is smooth, flat, firm with an even coverage of grass. There is still moisture underneath so perhaps will play a little slow and low. Nevertheless I'm happy with the preparation. The only problem is that rain is forecast for tomorrow then who knows how the wicket will play. See how it played
Thursday May 4th
Problems with machinery. Our roller not engaging in forward gear. Arthur re-adjusted and it works better, but will probably need more professional attention. Our old second roller which is kept at Highams and used primarily on the rugby pitch by the rugby section (i.e. Axle) ran out of diesel and wouldn't restart. Arthur again to the rescue, he bled the roller and eventually got it restarted. Lesson always check fuel levels before use. Despite good weather frustrations with machinery. Twelve bladed mower which cuts wickets not running well. On examination the large roller at the back of the mower is loose and distorted at one side. Certainly bearing problems. A "former friend" says he will look at it and see what he can do. Another "former friend" supplies me with a replacement mower. (both "former friends" are, of course, "present friends"). I owe them a favour (or rather Accy CC owes them a favour!!!)
Wednesday May 3rd
Practice night. Instead of using prepared practice wicket players moved to a used first team wicket on the square. Very annoying. If players and coaches do not follow groundsmans instructions as to where to practice on the square it creates big problems in the preparation of wickets. Committee should ensure that the groundsman decides on the practice wickets to be played on, otherwise players will practice wherever they choose on the square. This shouldn't happen.
Saturday April 29th
Arrived at ground to find one of the net frames had been vandalized. The frame had been turned upside down and the frame members bent. Apparently about 20-30 youths were down drinking on the seats at the Highams End. The police were called.
Thursday April 27th
Decided to move first team wicket from wicket 6 to wicket 11 [in the middle of the square]. Normally matches are played toward the ends at the beginning and end of the season as they are drier than the middle ones which are used mainly in June/July. At the moment the square is dry on top. I always have two wickets in preparation for the first team because of the uncertainty with the weather.
Wednesday April 26th
Arthur came in the afternoon to finish off cutting the outfield. He attached the seat to the mower so the outfield was cut and rolled !!!
Monday April 24th
First team wicket from Sunday in good nick. A few foot holes and bat "holes" but only an inch deep. I will be able to use this wicket for the seconds this weekend. I always hope to follow this procedure. The reason is that 4 to 5 hours are spent rolling the first team wicket in the week before the match plus scarifying and brushing the wicket prior to the match. It's cost effective to re-use the wicket as wicket preparation warrants two games on the same wicket, but this can only be done in dry/dryish conditions.
Sunday April 23rd
Wicket sheeted up overnight, but as so often happens water gets underneath. Anyway wicket still fit enough for Peter Barratt to roll with the heavy roller for one hour.
Friday April 21st
Bert sweeping around seating areas. New pro down at the ground. I asked him what type of wickets he would like but before he could answer I told him he will get wet ones!
Thursday April 20th
Bert resecuring new lats to sightscreen. Father David Lloyd [soon to be 93] down tending to the " little gardens" at the ground.
Tuesday April 18th
Jonathan Hayhurst and Matt Donnelly painting new lats for sightsreen. Christine Sneddon and co sorting out tearoom
Easter Monday April 17th
Expecting a nice quiet day! Came in to one of the newly painted sightscreens having been vandalized, several of the lats being smashed. Then after the firsts friendly was called off at Milnrow most of the players came to the ground to practice on grass. This is a problem this time of year with wet weather. Wickets 18, 19 and 20 are practice wickets which have to last all the season. They can only be used in dry weather. The outfield is not suitable for practice. Anyway they did practice and on the outfield.
THURSDAY APRIL 13TH
BERT ORMEROD PAINTING SIGHTSCREENS JONATHAN HAYHURST SECURING SEATING AND PAINTING FORMS. FIRST WICKET OF SEASON PREPARED FOR FRIENDLY MATCH 2NDS V 3RDS ON SUNDAY. SQUARE WET SO WICKET AT THE END OF SQUARE, WICKET 20.
MONDAY APRIL 9TH
NET FRAMES ERECTED AND NETS PUT ON. SQUARE SCARIFIED 2 WAYS. TOTAL OF 40 BOXLOADS OF DEAD ORGANIC MATTER ETC REMOVED !!! SQUARE THEN FERTILIZED WITH SPRING/SUMMER FEED. RAIN FORECASTED FOR TOMORROW TO WASH IT IN.

WEDNESDAY APRIL 5TH
ALVEN SCRAPING SOIL/GRASSOFF EDGES OF ARTIFICIAL/SYNTHETIC WICKETS AND LIFTED ALL THE NAILS OUT READY FOR RELEVELLING AND REPATCHING WORK BEING DONE THIS WEEKEND
FRIDAY APRIL 1ST
TOO WET FOR ANY WORK ON SQUARE OR OUTFIELD ALL WEEK.
FORTUNATELY WE HAD A GOOD LAST WEEK.
WEDNESDAY MARCH 29TH
BARNEY DOWN AT GROUND CLEANING OUT GUTTERS, DISMANTLING DAMAGED FENCE AROUND TENNIS COURTS, REPAIRING PLASTIC SEATING. SKIP ARRIVED FOR THE VAST AMOUNT OF RUBBISH ACCUMILATED NEXT TO THE TENNIS COURTS. ALVEN CAME TO HELP.

SATURDAY MARCH 25TH
WORKING PARTY DOWN AT THE GROUND, TIDYING UP.
THURSDAY MARCH 23RD
COMPLETED CUTTING OUTFIELD WHILE DRY .HARRY COMPLETES 15 HOURS ROLLING
WITH HEAVY ROLLER (1.25 TON). DONE IN 2 DIRECTIONS SLOWLY SEVERAL TIMES. PETER BARRATT VISITED
OLD ACCS WHERE THERE WAS A MACHINERY AUCTION.
WEDNESDAY MARCH 22ND
HALF OF THE OUTFIELD CUT. WORM CASTS AND MOSS ALL OVER THE OUT FIELD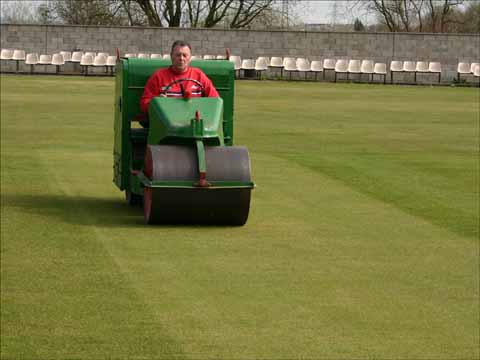 Harry on the roller
©Nigel Stockley
MONDAY MARCH 20TH
HARRY STEVENSON STARTED PRE SEASON ROLLING OF THE SQUARE
THURSDAY MARCH 16TH
1ST CUT OF SQUARE. RABBIT DROPPINGS EVERYWHERE !!!